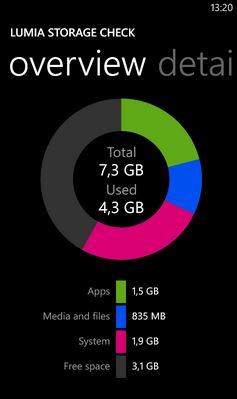 Nokia Lumia Storage Check team has released a new beta of the app for Lumia Windows Phone devices. This app came with the recent Nokia update for Lumia devices and can be used to show a detailed breakdown of the phone memory usage and clear temp files, etc,. Today, a new beta of this app is available for download with ability to manage Map data.
As before, the app will show you first an overview and then details on the second page, app details and now as a new feature, ability to manage your Maps data. The offline maps are hugely valuable when travelling and with the help of this tool, you can now store them on SD card too, vacating some phone memory.
Give it a try if you have the latest Nokia firmware.
Source: Nokia