The Lumia 640 is set to hit the market on the 16th April, and is being listed at a number of online stores.  We reported yesterday that the handset was showing up in the German Microsoft Store, and now the handset is also available to pre-order for French buyers, where Kantar recently reported Windows Phone now has 13% of the market.
Interestingly however the handset is also 20 Euro  more expensive there than in Germany, where it is on sale for 159 Euro vs 179 Euro.
The device is also available at the Microsoft Store in UK: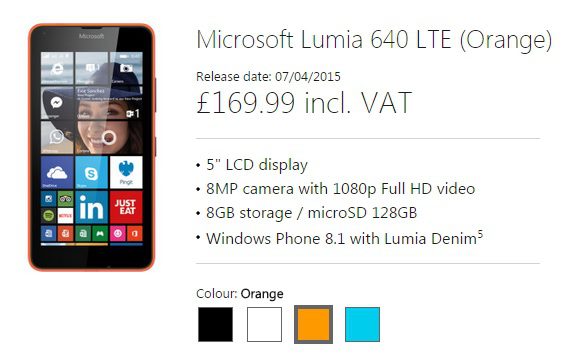 At £169.99 (235.50 Euro)  the device appears to be significantly more expensive compared to the European version, but then you do seem to get it a whole week earlier, on the 7/4/2015.
The 5 inch handset features an 720P HD screen, Snapdragon 400 processor, 1 GB RAM, 8 GB internal storage, an 8 megapixel rear and 1 megapixel front-facing camera, dual-SIM LTE, 2500 mAh battery and is only 8.8 mm thick.
Will any of our readers be pre-ordering?