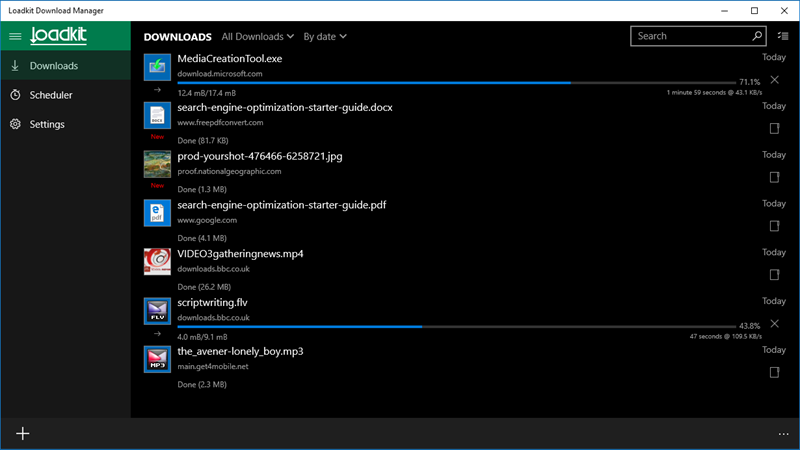 The Edge browser in Windows 10 Mobile does not offer the ability to download files in the background, but fortunately the convergence of Windows phone and Windows 10 means some apps which were previously not possible can now help fill in this gap.
Loadkit Download Manager for Windows 10 and Windows 10 Mobile lets you download files and simply track and manage your downloads.
It features support for the HTTP, HTTPS and FTP Protocols and lets you scheduling, queues, pause and resume downloads.
It also features support for background downloading, including on your phone, with notifications when downloads complete, and a Live Tile to help you keep track of what's going on.
On the desktop it integrates with Firefox and Chrome, with Edge integration coming when that app supports extensions. On the desktop it also supports drag and drop downloads and optional Action Center notifications.
The developer plans to add Cortana support, multi-language support and Edge integration when available.
The free version offers 64 downloads, with in app purchasing enabling the full version and removing the ads.
See screen shots of the app below:
[gallerify title="Loadkit Download Manager"]
[/gallerify]
The app is still somewhat rough on Windows 10 Mobile, but the developer is happy to receive feedback. It can be found in the Windows Store here.
[via link="http://winphone.ir/the-first-internet-download-manager-for-windows-10-mobile-released/"]WinPhone.ir[/via]