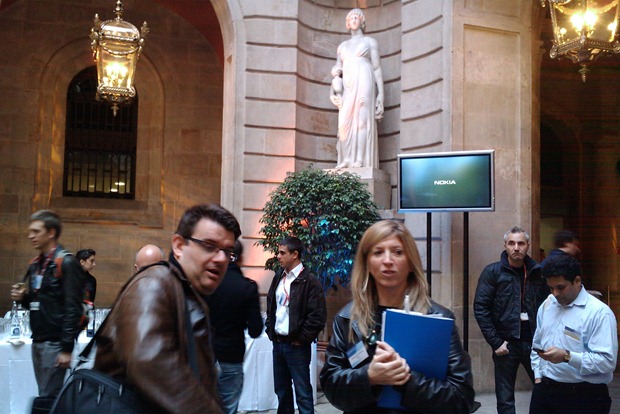 Our man at Mobile World Congress, David Gatti,  has just entered the Nokia press briefing at Mobile World Congress, where we hope to hear more about the Nokia/Microsoft deal and the future of Nokia's other platforms.
Much more after the break:
The event is due to start about now, at 17:30 GMT.
17:40: Stephen Elop has come on the stage, and spoke about the decision to go WP7 or Android.
17:42: With Android already so big, this would create a duopoly between iOS and Google.  With this move a new challenger is created.
17:44: Android is the main target, Blackberry not a competitor.
17:45: Nokia confirms they will be paying royalties to Microsoft, but will save money on R&D.  They will also contribute Ovi Maps, Ovi Store and new advertising related to mobile services.
17:50: Microsoft will contribute billions in value to the deal, and Nokia will also get advertising revenue.  Microsoft is as dependent on the deal going well as Nokia.
17:52: Jo Harlow from Nokia says they love Windows phone 7.  They are already working on devices.  The concept device leaked is real.
18:00 No QT on WP7.  Nokia will carefully manage the transition from Symbian to Windows Phone 7.
18:02: Nokia will invest in the Windows phone 7 developer community.
18:03: Nokia will invest in moving Symbian developers to Windows Phone 7.  They have now focussed from 4 development environments to only one. Windows Phone 7.
18:04: There was discussion of Microsoft buying Nokia. Nokia + Microsoft together have a remarkably strong patent portfolio.  This will be used fairly.
18:05: Microsoft did not buy Nokia, as it had parts they were not interested in.
18:07: Nokia investment in Meego is real, and insurance against future disruption.
Q&A time.
18:10: There will be a single infrastructure for the OVI store, with all devices available, supported by operator billing.  Apps which are available in the OVI store will also be available in the WP7 marketplace.
No date for when Nokia WP7 devices will be released, but "a little bit" of pressure to release ASAP.
Operators very invested in making sure the deal is successful. They want 3 main OS's, not just one or two.
18:14: Asked about employee walk-out. Nokia is going through journey with employees. Intellectual and emotional journey.
18:16: Nokia sales team are positive about the WP7 move, anticipates stronger, easier sales. R&D team (who will be cut) are much less happy.
18:19: Developers will be able to make more money on Windows phone 7 than Symbian, and Nokia will help them transfer.
18:20: Asked about "monetary value transfer from Microsoft to Nokia".  Microsoft will pay for services which they get from Nokia. No direct payments however.
18:21: Elop asked about his Microsoft shares – could not sell those shares legally, due to inside info.  Had to stop selling shares due to deal, but when the deal is concluded and he is legally clear he will sell shares again.  He will soon receive Nokia shares also, but it is not legal yet.
18:23:  Asked if he is a Trojan horse.  Denies this, saying the board of directors and management were very involved, and the board of directors made the final decision in the end
18:25: Q&A ended.  Applause.