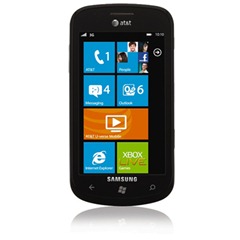 The Samsung Focus has an easily accessible microSD card, but that does not mean every microSD card will work reliably with it. 
If fact, with many cards will appear to work, and then all the data disappears after a soft reset.
emjee87 over at XDA-Developers have  been compiling a list of cards known to be working, which reads as follows:
Confirmed Working(Data remains after soft reset):
Centon
Kingston
Kingston 4GB Class 4
Kingston 8GB Class 4
Kingston 16GB Class 4
Kingston 32GB Class 4
Microcenter
SanDisk
SanDisk 8 GB Class 2
SanDisk 16GB Class 2
SanDisk 16 GB Class 4
Currently Unstable/Unsure:
Confirmed Not Working(Data gone after soft reset):
A-Data
A-Data 4GB Class 6
A-Data 16GB Class 6
Lexar
Transcend
Transcend 8GB Class 6
Transcend 16GB Class 6
Are there any more cards we should be adding to the list? Let us know below.
Thanks Ken B for the tip.