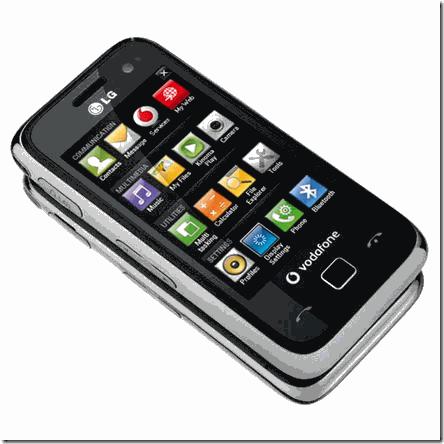 Vodafone and LG Electronics today announce the launch of the LG GM750, a new Windows® phone based on Windows Mobile 6.5 from 6 October. Fully loaded with fun, easy-to-use features and services that help people take control of their lives thanks to fast internet browsing, access to personal and work email accounts and calendar synchronisation, the GM750 packs a lot into its sleek, slim form.
With LG's S-Class user-interface and fast internet browsing via Vodafone's high-speed mobile broadband network or WiFi, information is always at the user's fingertips. Its large 3.0" full touchscreen makes it easy to navigate while browsing the internet, writing text messages and memos, or getting directions with its in-built GPS navigation function.
The intuitive user-interface on Windows Mobile 6.5 is easily customisable so Vodafone customers can personalise their phone to their own particular style. Using 3rd party applications, customers can change the look and feel with a personal background or designer themes and personalise the home screen so the information they need, such as weather reports, the latest traffic information or stock prices, is always easy to find. Microsoft Exchange ActiveSync email ensures you never need miss an email again, be it from your personal or work account. As one of a new generation of Windows phones, the GM750 Smartphone is poised to take advantage of future Vodafone services.
In addition to internet and email connectivity, consumers will be able to download applications directly to their phone via Windows Marketplace for Mobile, automatically back up and synch photos, music and texts to their PC using the free My Phone service, plus use Windows Live to check Hotmail or IM with friends on the PC or Xbox video game system. With a 5 megapixel camera as well, with the GM750 customers will have all the tools, features and widgets they'll need to get the most fun from life, and never miss or forget a special moment.
Patrick Chomet, Group Director of Terminals for Vodafone, said: "We're excited to be bringing a new Windows phone with Vodafone high-speed mobile services to our customers through the LG GM750 Smartphone, exclusively until the end of 2009. This stylish, touchscreen Smartphone will have great appeal to both consumer and business customers, and ensures Vodafone delivers on its promise to constantly bring customers new services and greater choice."
Harrison Lee, Head of LG Mobile Communications Europe, explained: "A significant group of consumers demand mobile phones with the most advanced features and services to help them do their job and stay in contact with friends and family on one, easy-to-use, device. They need the technology and services to access email, the internet and the ability to download widgets, applications and fun tools without complexity. The combination of Vodafone's services, Windows Mobile 6.5 platform and our S-Class UI, technology and design expertise, makes the GM750 the mobile package consumers with busy lives have been waiting for."
"Vodafone, LG and Microsoft share a focus on delivering great customer experiences, and the LG GM750 is a powerful example of how customers benefit when industry leaders rally around a common goal," said Todd Peters, corporate vice president, Microsoft Corp. "This new Windows phone benefits from our work with LG to deeply integrate the phone's software and hardware as well as our continued work with Vodafone to make Windows phones broadly available on Vodafone's high-speed network."
The LG GM750 will be available in store initially in seven countries – Germany, Greece, Italy, Netherlands, Spain and the UK, and also in France through SFR, with further countries following soon after.
Click for larger versions