At IFA consumer electronics show in Berlin today, Lenovo is announcing the new Yoga Book, the world's thinnest and lightest 2-in-1 table. The Yoga Book comes with regular touch screen and a flat keyboard surface that can also be used as a writing surface. The keyboard surface is pressure sensitive. Users can write on a regular sheet of paper keeping it on top of the keyboard surface to create a virtual version of since it the surface is pressure sensitive.
The real-pen accessory can be used both for wiritng on a normal paper and this keyboard surface. With the real-pen accessory, users can draw with the precision of a pencil or paintbrush, with 2,048 pressure levels and 100-degree angle detection.  In addition, you'll never have to charge or replace it – the real-pen accessory doesn't require batteries and its ink can be replaced with standard ink tips, just like that of a conventional pen.
With two panels that open up like an ultrathin notebook, the Yoga Book is unconventionally slender. As the world's thinnest 2-in-1, the Yoga Book is 9.6mm closed, tapering to 4.05mm at its slimmest edge – a thickness of just under three pennies.
About the keyboard,
The Yoga Book's first productivity feature is also what makes the thin and light design possible: the halo keyboard, a full touch screen backlit keyboard that weaves software and hardware into one fluid interface. The touch screen is made with glass that was meticulously chosen to give a rough, matte feel and finish, along with anti-glare coating to ensure the best possible touch-typing experience. The keyboard lacks any physical keys, showing up as a solid white outline on the Yoga Book's second panel only when it's needed.

The halo keyboard constantly 'learns about and adapts to' the typing habits of its user, with built-in prediction and artificial learning software. This software also allows for continuous optimization. Along with built-in, sensitive haptic technology, which enables touch feedback to guide typing and reduce mistakes, the halo keyboard far surpasses the typing experience and speed of a normal tablet, and is comparable with that of a physical keyboard.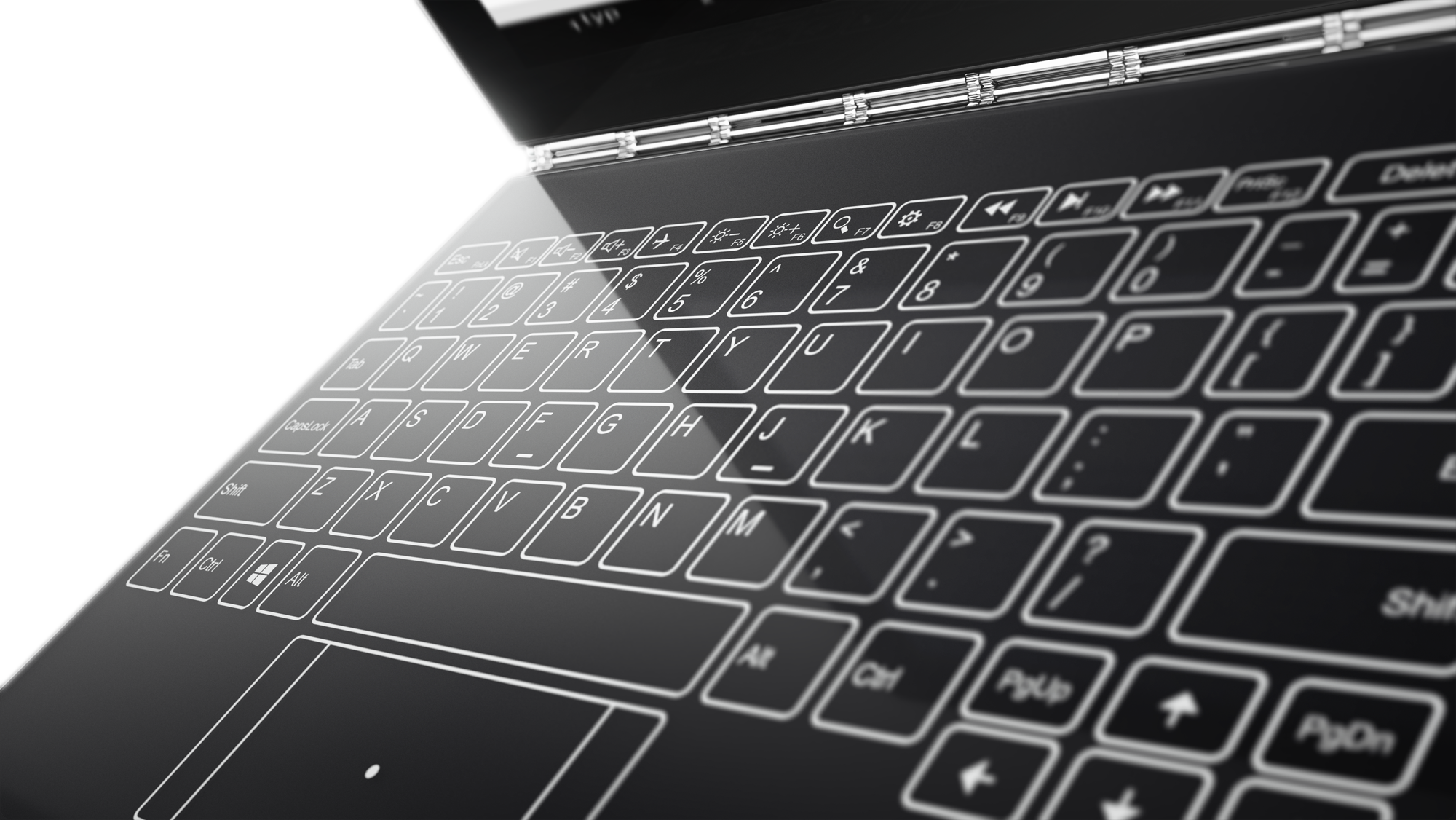 It is powered by Intel Atom x5 processor, 4GB of RAM, 64GB of storage, and a 10.1-inch FHD display, weighing in at 1.52 pounds and measuring 9.6mm thick. It offers 15 hours of battery life and it starts at $549.
It will be globally available beginning in September. In the US, the Yoga Book will be sold online by the end of October.