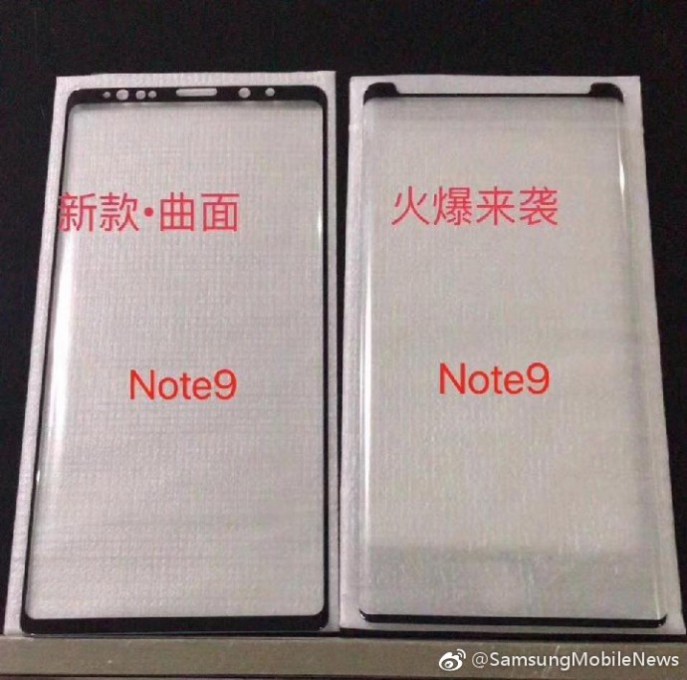 Samsung's Fall flagship is always the Samsung Galaxy Note series, and this year it is expected earlier than usual, to help set it up against the iPhone X successor.
As far as we know it will only be a slightly refined version of the Samsung Galaxy S9, with the features in that handset adopted into the Note 8 design, but a screen protector leaked via Weibo suggests there may be slightly more to the story.
AndroidHits note that the device's sensor cluster appears to have been reconfigured slightly, with different spacing. It is clear that the proximity sensor area, in particular, appears to have been reconfigured, and AndroidHits suggests this may be for a more sophisticated proximity sensor, dual front-facing camera or even face scanner like on the iPhone X.
The screen protectors also suggest bezels have been trimmed a bit more, but this is of course expected.
SlachLeaks have now posted a hands-on video with another screen protector for the device, which once again shows the proximity sensor has been expanded.
It is widely believed Samsung will unveil the Samsung Note 9 on the 29th July 2018, for release soon after, and that the device will be powered by a Snapdragon 845 processor in some regions, with up to 6 GB RAM and up to 512 GB storage.
Read more of our coverage on the upcoming handset here.