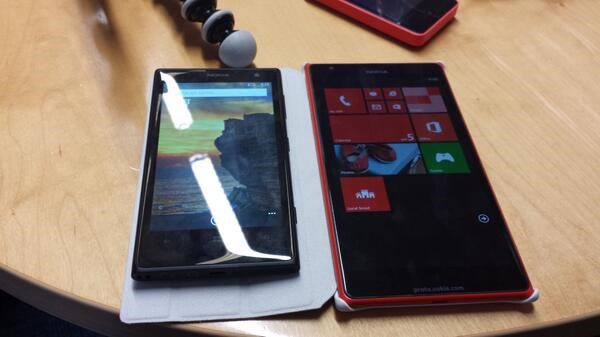 WPCentral received a picture from an unconfirmed source, claiming that this is the upcoming Nokia Phablet, rumoured to be announced in "late September" according to Reuters.
The Phablet has been said to actually be called the Lumia 1520, if evLeaks is believed to be correct. And based on WPCentral's "confirmed" specs, the massive phone will have a 6-inch 1080p screen, quad core processor, and a whopping 20 MP camera. Unlike the impressive 1020, this phone will only have a slight camera hump similar to the 925.
See a perspective-corrected version after the break, which shows the relative sizes of the devices well and also shows what appears to be a Galaxy Note-like flip case which presumably also folds to create a stand ala iPad.
It should be noted that while the picture bears a close resemblance to earlier leaks, WPC was not able to vouch for its provenance, and unfortunately hoaxers have become pretty good at mocking up photos, so we will still have to wait and see if this is indeed the real deal or not.
Hopefully this device can be as massive of a hit as it is big.