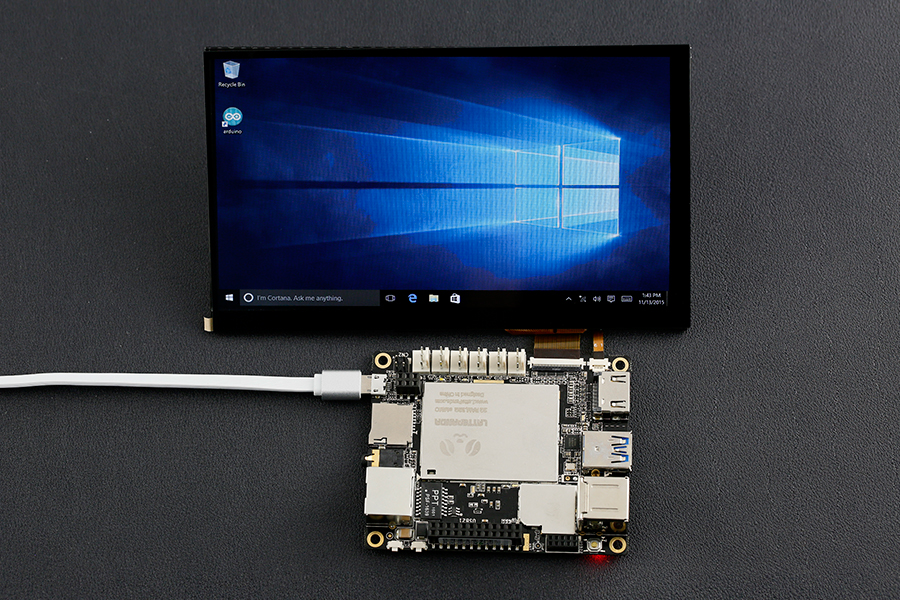 LattePanda is a palm-sized powerful PC powered by Windows 10. It is turbocharged with 1.8GHz quad-core processor, up to 4GB RAM and 64GB onboard flash memory. It comes with wide range of connectivity options including integrated WiFi, Bluetooth 4.0, HDMI, and USB 3.0 interfaces. You can connect and control your products remotely, deploy firmware, collect data, and more. The LattePanda is powered through the micro USB port. Any standard USB adapter (such as a cell phone wall charger) with at least 2A of current can be used as a power supply for the LattePanda.
LattePanda is compatible with a wide range of peripheral devices. You may connect any USB supported devices, such flash drives, mouse and keyboard, or a webcam to USB 3.0 and 2.0 ports. The SD card socket supports extra storage from a mini SD card. You may also connect the LattePanda to an external speaker device through its 3.5mm audio jack. The LattePanda's Arduino compatible co-processor with plug and play headers and GPIO pins supports standard 5V sensors and actuators that enable it to interact with the physical world.
You can buy LattePanda Windows 10 device with various configurations here.