Frustrated by unwanted applications and their notifications on your computer?
These are called junkware, which often offers minimal benefit and alters various settings on your computer. Some common examples include unwanted toolbars, adware, and trial software.
While not all junkware is inherently harmful, it can slow your device, and it raise privacy concerns. Since these apps can change multiple settings on your device, it might be difficult to remove them from your computer using Windows Settings. Even if you uninstall the app, it might leave the settings unchanged, further hampering the user experience.
A Junkware Removal Tool efficiently identifies and eliminates these unwanted programs, enhancing your computer's performance and security.
Is Junkware Removal Tool Safe?
Junkware Removal Tools, when obtained from reputable sources and used correctly, are generally safe. These tools are designed to target and remove unwanted and potentially harmful software from your computer, which can help improve its performance and security.
To ensure data safety and maximum performance, here are some additional tips you need to keep in mind.
1. Source: Always make sure to download your Junkware Removal Tool from reputed sources. We have attached secure links for each of the top junkware removal tools mentioned below.
2. Updates: Always make sure that your Junkware Removal Tool is up to date, as outdated software might not be effective against newer threats.
3. Follow instructions: While these tools are generally secure, always make sure to follow the onscreen instructions as closely as possible, and be cautious when it prompts you to remove software, as you should review the list of items to be removed to avoid unintentionally deleting something you need.
4. Back up your data: If you suspect that your computer is affected by viruses or malware, immediately back up your data before running a virus or malware scan. These scans will often delete some data from your computer, so you need to make sure that nothing important is removed in the process.
5. Read reviews: Before selecting a junkware removal tool for your PC, make sure to read and compare the user reviews for them. This way, you can find the best tool for your specific use case. The following is a curated list of the best junkware and adware removal tools available in the market, so make sure to check it before downloading on for yourself.
What is the best Junkware Removal Tool?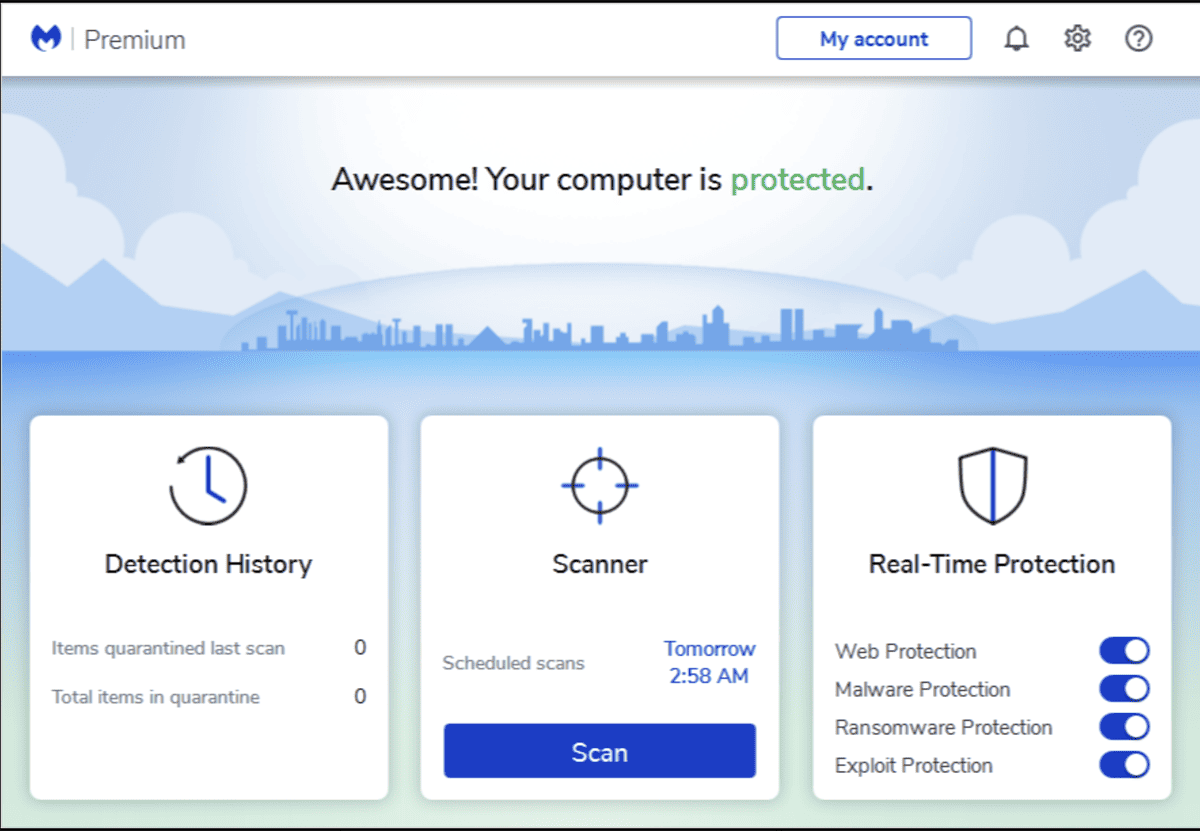 Malwarebytes is arguably one of the most popular antimalware and junkware removal tools available in the market. It is a complete cybersecurity software designed to protect computers from a wide range of malicious threats. This is an easy go-to choice if you need just one tool to handle all types of online threats.
The desktop app works with almost all types of computer setups. It can detect and remove various types of malware, including viruses, trojans, spyware, adware, and more. Malwarebytes deploys advanced scanning and heuristic analysis techniques to identify even the most complex and evolving threats, keeping your system secure.
Malwarebytes is available for a 14-day free trial, following which, you will need to upgrade to a premium plan. Personal plans are available for 1, 3, and 5 or more devices, which include advanced features like real-time protection, scheduled scanning, and automatic updates.
Pros:
Effective at removing various types of malware.
User-friendly interface.
Regular updates to tackle emerging threats.
Real-time protection.
Free version available.
Cons:
Limited features in the free version.
No firewall included.
---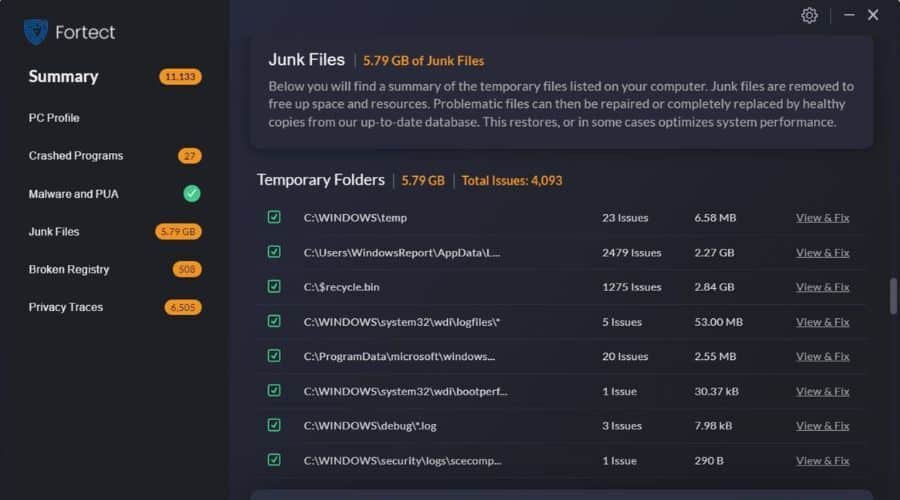 Fortect is a relatively new yet powerful junkware removal tool available exclusively for Windows 7 and above. While it does not have a full-fledged antivirus yet, it offers an all-in-one system repair solution that handles junkware efficiently.
One of the standout features of Fortect is the real-time scanner, which detects system Windows files (Registry Keys, DLL Files, etc.) that are changed or are corrupt and replaces them with new ones, keeping the PC clean from the effects of malware. As a result, you can use Fortect to solve system freezes, crashes, and the dreaded Blue Screen of Death errors. You can read the full Fortect review here.
Fortect offers a free plan, which can be used to scan your computer for issues. To apply these fixes, you will need the premium plan. Recently, the tool has partnered with Avira to expand its antivirus capabilities.
Pros:
No impact on system performance
Easy to use and configure
Powerful junk removal capabilities
Repair or replace corrupt Windows OS files
Real-time scanner
Cons:
Antivirus features yet to be released
Free plan does not allow fixing issues
---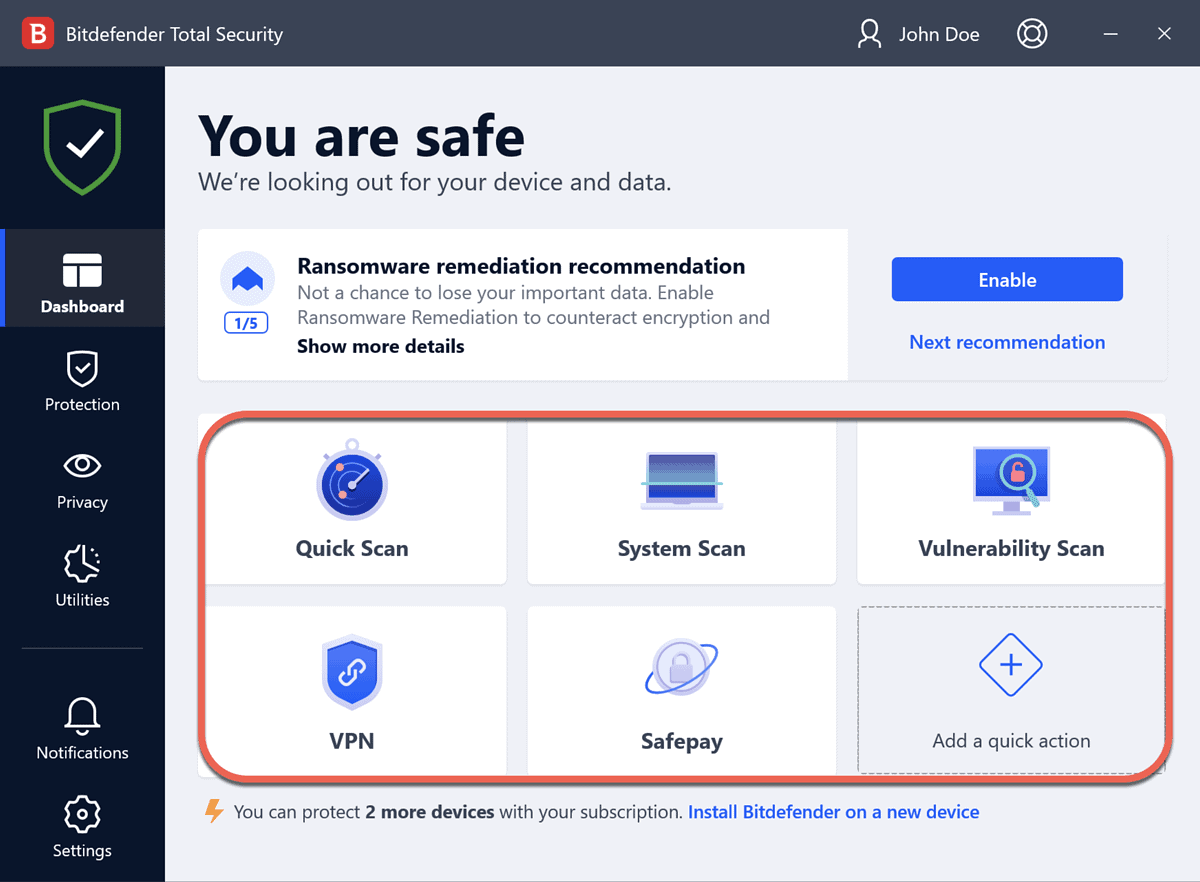 Bitdefender's malware scanner is one of the best on the market, with perfect malware detection rates. The software has every cybersecurity protection feature users need to stay safe on the internet and provides all-around protection against almost all types of malware.
It uses a huge malware directory along with machine learning to identify and combat known and emerging threats. Moreover, Bitdefender does most of the malware scanning in the cloud, leading to very low local resources consumed. So, you can easily run Bitdefender on older, slower computers without worrying about lags or crashes.
The default settings offer various scans, including scans for potentially unwanted software, network shares, boot sectors, keyloggers, and much more. Bitdefender's Junkware Removal Tool is regularly updated to keep pace with emerging threats, providing users with reliable protection against the latest forms of junkware.
Pros:
Strong malware detection and removal.
Efficient and low impact on system resources.
Regular updates.
Additional features like firewall and parental control.
User-friendly interface.
Cons:
Can be resource-intensive during scans.
Full suite can be costly.
---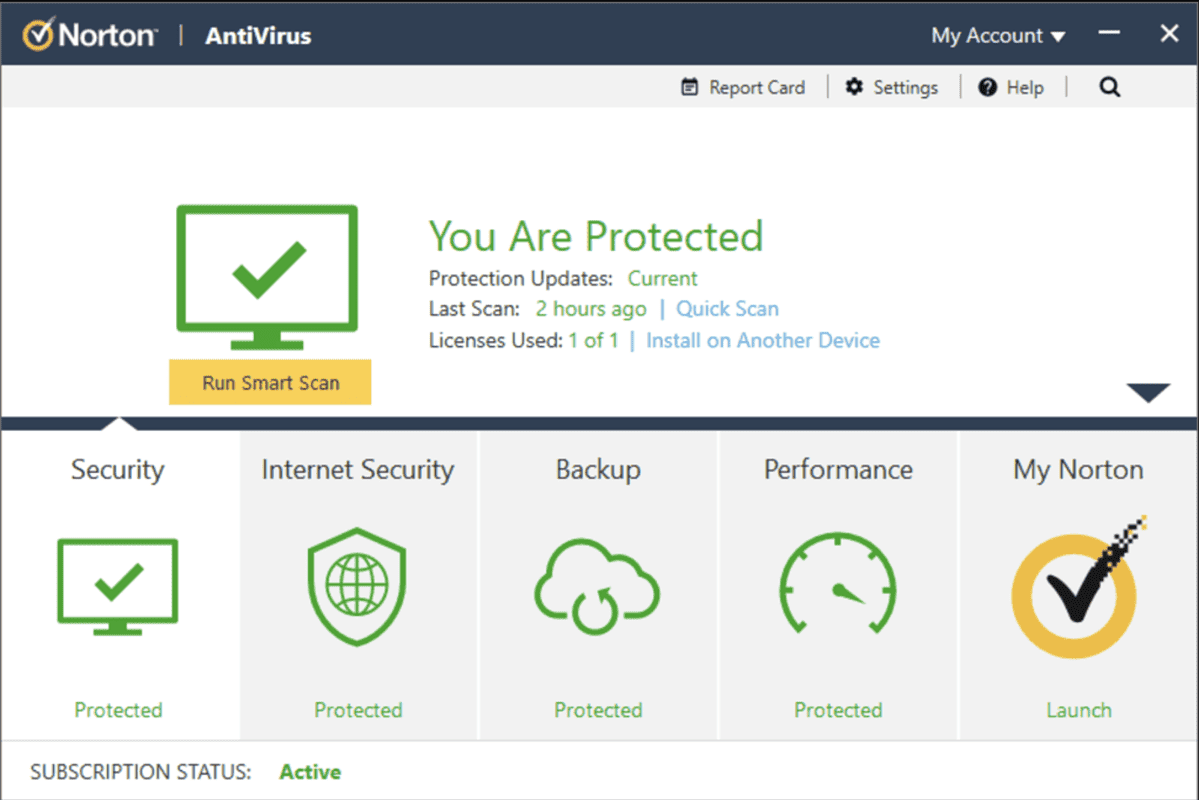 Norton is another popular antivirus software mainly known for its robust firewall that works round the clock to protect your device from hackers, phishing scams, and other cyber threats. The Junkware Removal Tool is part of its broader security suite, designed to combat a wide range of threats, including viruses, malware, and, importantly, unwanted programs that can clutter and slow down your system.
The tool uses a combination of machine learning, heuristic analysis, and a massive directory of malware to detect even the latest junkware threats. It offers multiple scanning options, including real-time protection to keep malware away from your devices.
Norton is supported on Windows, Mac, iOS, and Android. Apart from junkware detection and removal, the tool provides several add-ons, including a VPN, a password manager, parental controls, and a cloud backup service.
Pros:
Comprehensive protection against malware.
User-friendly interface.
Regular updates and real-time protection.
Firewall and network monitoring.
Parental control features.
Cons:
Can be resource-intensive.
Can be expensive for multi-device licenses.
---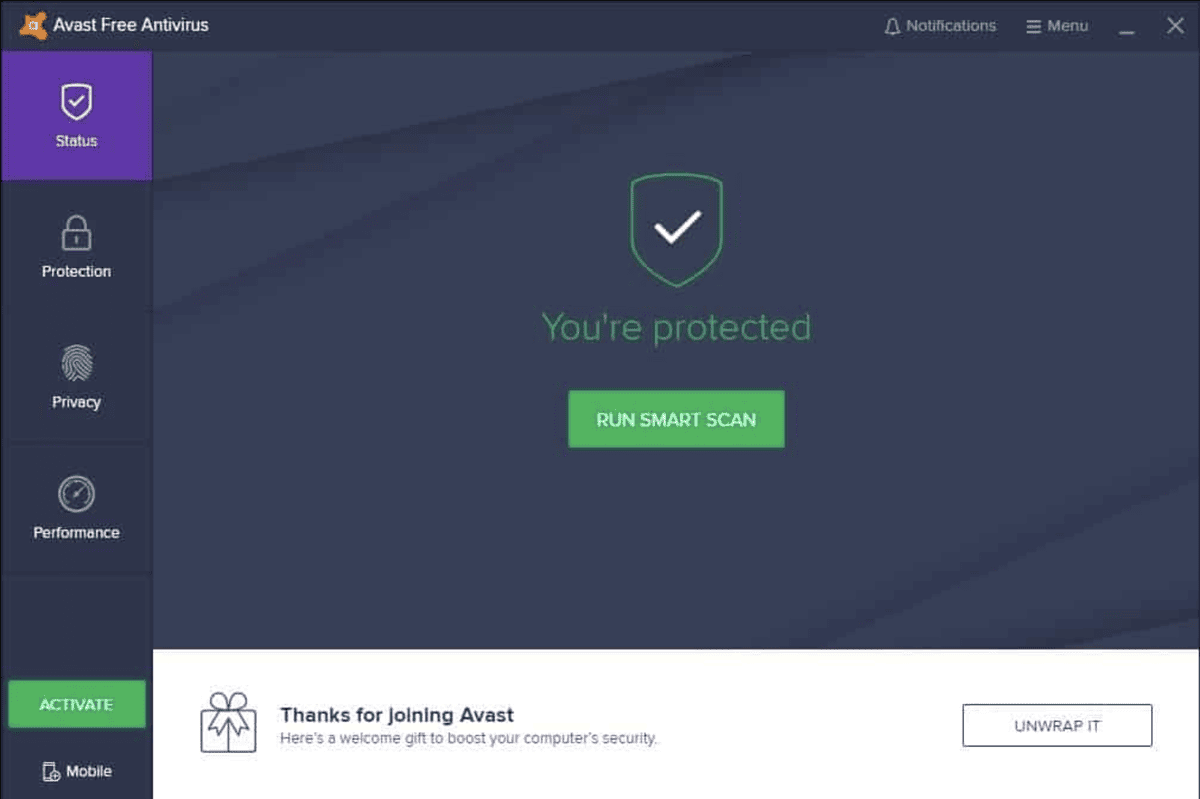 Avast is another popular cybersecurity software suite that offers protection against a wide range of threats, including malware, spyware, adware, worms, trojans, rootkits, etc. You get one of the most intuitive user interfaces that makes it accessible to beginners and professionals alike.
Avast promises a robust scanning engine that not only identifies existing risks but also employs heuristic analysis to identify emerging threats. It offers multiple types of scans, including a quick scan, full scan, boot time scan, and real-time protection.
The real-time protection works exceptionally well against malware downloaded from the internet. It prevents unsafe downloads, scans encrypted websites, and blocks botnets and malicious scripts. The antivirus software is compatible with Windows, MacOS, Android, and iOS phones and tablets.
Pros:
Robust malware detection and removal.
User-friendly interface.
Regular updates.
Free version available.
Additional features like network security scanning.
Cons:
The free version includes ads.
Can be resource-intensive during scans.
---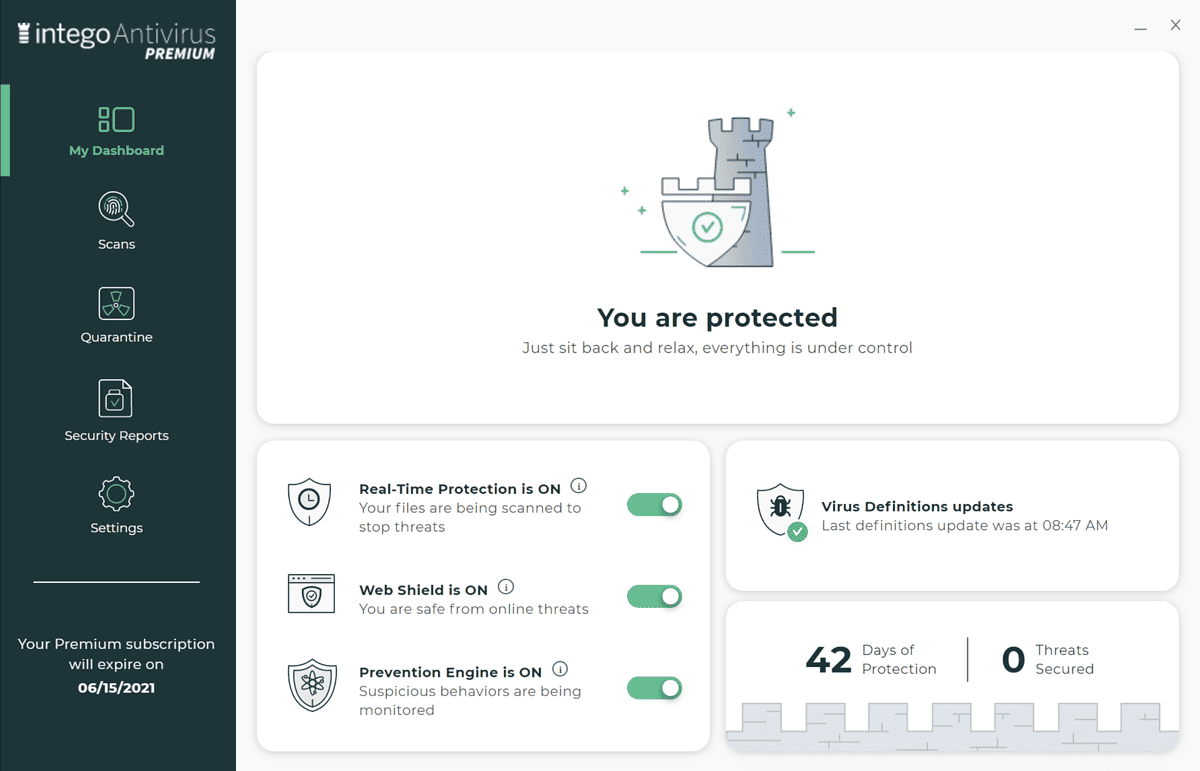 Intego has been a popular antivirus suite for MacOS that has recently launched a Windows version in 2021. It is a lightweight but powerful cybersecurity software that provides comprehensive protection against viruses, malware, and other security risks.
The Windows iteration noticeably misses some features from its MacOS counterpart, which include a built-in firewall, dark web monitoring, parental controls, anti-theft protection, VPN, etc. It does one thing right, i.e., provides all-round protection against basic and advanced malware threats.
Intego is clearly designed with novice users in mind. The simple, neat user dashboard neatly lays out all the options that the user can navigate easily. Intego's advanced scanning algorithms change the scan behavior as new malware and virus definitions are detected. As a result, there is no noticeable effect on system resources, allowing users to continue their work with the scans running in the background.
Pros:
Comprehensive protection for macOS and Windows.
User-friendly interface.
Real-time scanning and updates.
Privacy and data protection features.
Cons:
May not be suitable for Windows users.
Limited features for recently launched non-Mac platforms.
---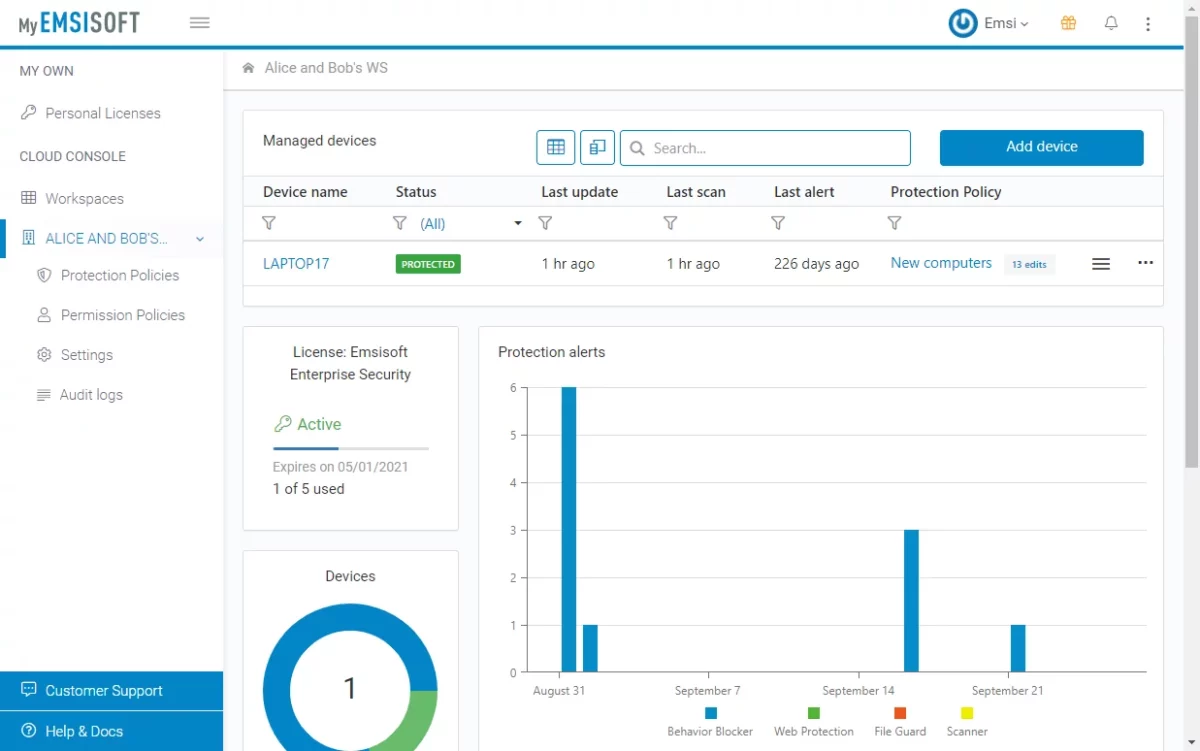 Emsisoft Anti-Malware is a powerful and versatile cybersecurity solution renowned for its effectiveness in protecting computers from various digital threats. It brings a super-clean user interface and powerful security protections with a strong emphasis on malware detection and removal.
At the core of Emsisoft's capabilities is its advanced dual-engine scanning technology, which combines the strengths of two leading antivirus engines to provide robust protection against viruses, trojans, spyware, adware, ransomware, and other forms of malware. This dual-engine approach ensures high detection rates and minimizes false positives.
Emsisoft lacks some of the latest security features that other entries on this list provide. These include password manager, parental control, and VPN, limiting use cases. However, it adds a couple of unique security features, i.e., the Emergency Kit to clean a heavily compromised computer, and the Behavior Blocker to analyze and block suspicious files.
Pros:
Dual-engine scanning for high detection rates.
Real-time protection and behavioral analysis.
User privacy-focused.
Regular updates.
Junkware and PUP removal.
Cons:
No free version is available.
May require technical expertise for advanced settings.
Is a junkware removal tool legit?
Yes, there are reputable and legitimate antimalware tools available in the market. These tools are specifically designed to find and remove unwanted software installed without your consent. As a result, such tools can quickly and effectively find hidden settings that can steal your private information and hamper your user experience.
However, you need to ensure that you download junkware removal tools from reputable sources to ensure that you are installing legitimate and safe versions of these apps. Be cautious of downloading such tools from unfamiliar or unverified websites, as counterfeit or malicious versions may exist.