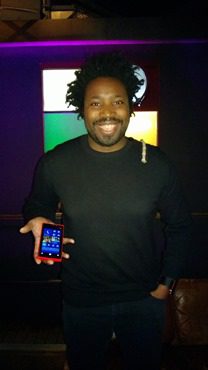 At the blogger meeting on Wednesday I not only have the opportunity to take a look at the Lumia 620, but I also had a talk with David Akinjise, product manager at Nokia Germany. I asked him some questions about Nokia and Nokia's and Windows Phone's future and of course I don't want to withhold the answers from you.
David works for Nokia for about twelve years already. Of course he also uses a Nokia Lumia 920 personally and he uses it for emails, calendars, and everything else a smartphone is good for.
The interview was conducted in German. I translated everything, so what you will read is not what was said literally, but of course I tried not change the meaning of the words.
Q: How is morale in the company?
A: Much better. As you know transformations and changes are never easy. But with the current Lumia smartphones we have great products and get real positive feedback from the market. We still have a lot work to do, but the morale is good.
Q: How does Nokia cooperate with developers to push the Windows Phone eco system and the name "Lumia"? What can we expect?
A: Advertising is one thing, of course. Also events like the one today. We explain to the people what Lumia means, that it stands for design, location services and imaging. We are still in a phase where we need to explain to people what Lumia and Windows Phone means, but we can expect much. Especially things like imaging and location services will provide a unprecedented experience. Of course also a stronger integration in the whole operating system, like using a Windows Phone 8 with a Windows 8 PC. You can already see that with Windows Phone and Xbox, but we are still not finished with that.
Q: Will there be something exclusive in apps thanks to the cooperation?
A: Thanks to Nokia's location services it is definitely possible. We provide the developers APIs others don't and because of that developers can create an experience you can't find on other platforms. Also Lumia does provide a great imaging experience with its PureView camera and camera features like lenses. I can imagine that 3rd party developers will use the lens API in the future.
Q: Why did Nokia expect the Lumia 920 sales to be so low that 4.4 million Lumia sales exceeded the expectations?
A: Generally I cannot comment on sales numbers. With Lumia, we are just starting. Of course it is great to see the positive response to our products and how popular it gets.
Q: What's behind the poor availability of the Lumia 920? Are the supply issues now solved?
A: Like I already said, we are at the beginning. We are working hard to make sure, that everyone who wants to buy a Lumia 920, can do it.
Q: Are more Lumia 920 colors coming?
A: At this moment, we have the Lumia 920 in Germany in four powerful colors red, yellow, black and white. We will surely continue the colorful way, as you already see with the Lumia 620 and its changeable covers in fuchsia, cyan, matte-white, yellow, green and black.
Q: What can we expect for the Lumia 920's successor?
A: I cannot comment on rumors or speculations on potentially upcoming products. What I can say is that Nokia wants to develop and the successor devices will have new innovations in the three main areas design, imaging and location services, so you can expect more to come, of course.
Q: Does the company see a role for QWERTY models?
A: Nokia concentrates on the consumers' demand and QWERTY models are not being requested that much. It is no secret that touch only devices are actually the most wanted devices, and Nokia wants to focus on the customers' desires.
Q: How cheap can Windows Phone go?
A: Generally Nokia wants to open up as much as possible, that means we also want to offer devices everyone can afford. With the Nokia Lumia 620 we think we have right now a very affordable and good device..
Q: Will there ever be luxury models?
A: The Lumia 920 already is a very luxury device with its high-quality polycarbonate and very tough display glass, and it already shows the direction future developments will take.
Q: Will the 808 PureView type sensor ever come to Windows Phone?
A: I cannot comment on that. Sorry.
Q: Are there any features in Windows Phone 8 Nokia can take credit for?
A: Location services are a very good example. Bing Maps uses Nokia's here maps data which can be downloaded to the phone for offline usage. Also the cooperation does last for about two years now and of course that is not everything and there will definitely come more.
Q: Which kind of other devices does Nokia plan to release to push the name "Lumia" and the Windows Phone eco system?
A: I cannot comment on rumors or speculations on potentially upcoming products. But as said earlier we will continue to innovate in the three main areas design, imaging and location services.
Q: What is Nokia planning with Microsoft for the future?
A: I am not involved into every little detail, so I don't know everything myself, but what we already offered will definitely be developed and for example in location services will come more.
Q: How long will Windows Phone 7 Lumia support last? What kind of features can we expect?
A: We have just started the update for Windows Phone 7.8 in the last weeks, a fact that was very much appreciated by our users. They have now features like live tiles in 3 different sizes or Nokia signature apps like Nokia Cinemagramm.
Q: Why is the portico update rolling out so slowly?
A: There is not that one day when everyone is getting the update. This also has got to do with the servers and the infrastructure. Let me say it that way: It is way better when everyone gets the update without any problems than everyone gets the update on the same day with many problems.
Q: Which kind of campaign does Nokia plan to use to advertise the Lumia 920 (globally)?
A: There is advertising of course, guess you have already seen them on TV, cinema or in magazines. One thing is to promote "Lumia", another to inform for example how Nokia Lumia does in comparison to other devices and what its advantages are. But there´s a lot more we do, e.g. having training measures for developers to show them the Windows Phone ecosystem and how to develop for it. And of course we are very visible online and on our Social Media channels like Facebook and Twitter.
Q: What can we expect for future Windows Phone releases/updates?
A: Nokia and Microsoft do listen to costumers and if something is requested very badly then we try to convert it. Good examples are the Nokia signature apps like Nokia camera lenses or location based services which are continuously updated.
Thank you very much, David, for the interview!