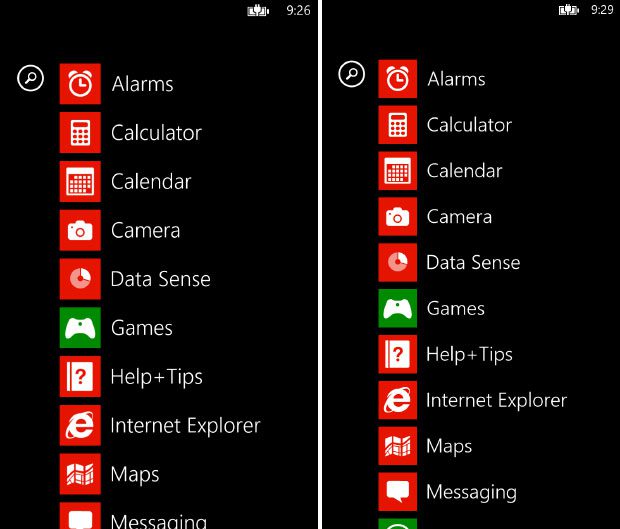 Notice something in the two screenshots above – on the left 768×1280, on the right 720×1280? That's right, the 720p screenshot actually shows more content – ten instead of nine apps – despite having a lower resolution. Even though a non-final Windows Phone 8 SDK leaked a while back, this fact seems to have been consistently overlooked, so we reinstalled the leaked SDK to shed some more light on the differences between these two new resolutions.
Basically, the two new HD resolutions Microsoft introduced with Windows Phone 8 operate at different dpi scales. Since 768×1280 has the same 9:15 aspect ratio as 480×800, it also shows the exact same amount of content, only with more pixels – 160%, to be exact. Everything is sharper.
Now, it would be easy to assume – too easy, in fact – that the lower 720×1280 resolution behaves identically, except that it shows less horizontally as it has 48 less columns of pixels. Nokia also rather strongly implied this with their "PureMotion HD+" branding for the Lumia 920's display, the only Windows Phone with 768×1280.
However, there's one problem with this approach: it would break compatibility with existing WP7 apps designed for 480×800, as there simply wouldn't be enough horizontal space once you scaled them up to 160%.
So, Microsoft had to add a third dpi scale for 720×1280: 150%. If you do the math, you'll notice that 150% of 480×800 is 720×1200 – this resolution will be used to display the exact same amount of content as in 480×800 and 768×1280, while the remaining 80 rows of pixels become additional vertical (in portrait) or horizontal (in landscape) space.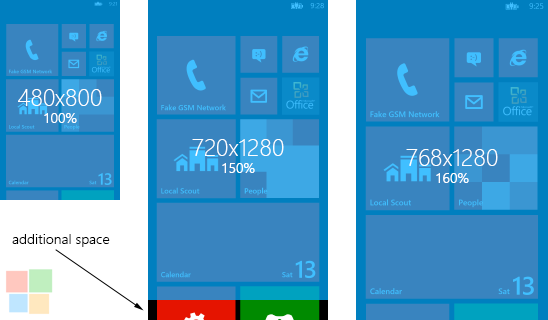 This creates the counterintuitive – and frankly ridiculous – situation that the nominally lower 720×1280 resolution actually shows more content and will thus be more useful in most cases than the higher 768×1280 resolution. Sure, the latter does allow for slightly sharper graphics, but it'll probably be impossible to tell the difference between 150% and 160% anyway.
We can't help but wonder why Microsoft decided to add two instead of just one new resolution in Windows Phone 8. It could be because of OEM demands: maybe Nokia insisted on a way to differentiate their Lumia devices from the rest so it could apply the (actually misleading) "HD+" moniker, maybe HTC and Samsung wanted to reuse as many components from their Android flagships – the One X and Galaxy S III, both of which have 720p screens – as possible. In any way, it creates an unnecessary inconsistency for developers and consumers alike.
Keeping in mind the subtle difference between 768×1280 and 720×1280, would you now consider an HTC 8X or Samsung ATIV S for their additional screen space, or does the Lumia 920 still have enough selling points? Let us know in the comments.
Two more comparison screenshots after the break.