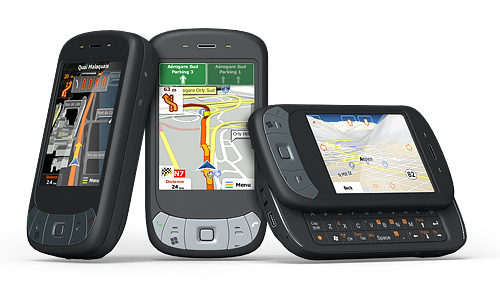 iGO My way™  is a new GPS Navigation application for Windows Mobile™.
The software claims:
Stunning 3D visualization
iGO My wayâ"¢ offers stunning 3D visualization. Complex junctions are displayed in 3D to provide a rapid understanding of your next maneuver while true-to-life 3D models of famous landmarks and display of the terrain around you – such as valleys, hills and mountains.
Lane assistance and realistic signposts
iGO My wayâ"¢ makes navigation easy even in complex situations. Lane guidance and realistic signposts assist in choosing the right lane well before the upcoming maneuvres.
Sophisticated route calculation
iGO My wayâ"¢ calculates not only fast, short, and economical route variants, but also easy-to-follow routes, which include fewer and simpler maneuvers, using main roads where possible.
Precise voice guidance in numerous language
iGO My wayâ"¢ supports numerous languages. Please check out the description of the individual packages for the list of the languages included.
Optimized in-car use
Extra large buttons, simple icons, and a truly intuitive interface with streamlined workflow ensure optimized in-car use and maximum attention to the road.
Current version supports 800×480 resolution phones with touch screen and GPS capability and is compatible devices are Samsung Omnia II, HTC HD2 and other WVGA devices.
New devices and resolutions will be added continuously, please check back later.
Read more here.