Introduction
Hello there,
I came across a lost iOS device on my street right now, and would like to return it to the owner by contacting any close pal on the contact list. However, there's no way to do that, as the device is passcode protected by the previous iPhone owner. Is there any way I can bypass the locked screen? Please help me out!
Finding a missing iPhone is not a new thing, but what do you do with it when you don't have the passcode? Whether you wish to return it or start using it, you need to unlock it. Here we have several ways which have been confirmed by experts to be highly effective. Ready to learn these techniques? Then let's delve in.
What Do I Do If I Found an iPhone? Find the Owner
When you come across a missing iPhone, you can choose to return it to the owner or take it as yours. But we advise that you find, and return to the owner to avoid trouble, should the issue be reported to any security agency. If finding the owner seems stressful to you, then report to the nearest Police station for proper investigation.
Can't Find the Owner? Can I Unlock an iPhone I Found?
Yes, you can unlock a found iPhone if you cannot locate the owner. By holding the right keys, you can quickly factory reset the iPhone you found, and bypass the locked screen on your iPhone. Although this is a great solution, you may be faced with Apple ID issues if the device has an active Apple ID on it, you need to remove the Apple ID from iPhone without password.
To avoid this, and any related issues, you should employ any of the solutions given in the next section of this article.
How to Unlock a Lost or Found iPhone?
Unlock a lost or found iPhone today with the solutions given down here:
Method 1. Unlock a Found iPhone via iPhone Unlocker [Most Effective]
Firstly, we suggest the use of an iPhone Unlocker like AnyUnlock – iPhone Password Unlocker to bypass the locked screen on a lost or found iPhone. AnyUnlock is an all-in-one software that offers excellent unlock services on all iOS models, whether old or new generation.
This software comes with powerful features such as the Unlock Screen Passcode functionality – an icon that lets you remove screen locks effortlessly with just a few taps.
Key Features
Removes all types of screen locks including 4-6 digit numeric passcode, Face ID, Touch ID, and more.
Unlocks your iPhone without crashing the operating system, or compromising your stored data.
The software requires no tech skill for operation- thanks to the comprehensive interface.
AnyUnlock boasts a high success rate to bypass screen lock on all iOS versions (from iOS 5 to the latest iOS 16).
To unlock a found or lost iPhone with AnyUnlock, follow the illustrative guide below:
Step 1: Download and install AnyUnlock on your computer system for free, then choose the Unlock Screen Passcode.
Step 2: Connect the lost or found iPhone to the computer via USB cord, then tap Start Now button to proceed with unlocking the found iPhone.
Step 3: Click the Download icon to download the firmware package that matches your iDevice.
Step 4: After downloading, simply click Unlock Now, so AnyUnlock can bypass the screen lock on the lost or found iPhone.
Method 2. Unlock a Found iPhone via iTunes
With Apple iTunes, you can conveniently reset your lost or found iPhone to unlock it so you have full control of it. This solution lets you bypass screen lock from the comfort of your home by installing a new iOS version. Unlocking a lost or found iPhone via iTunes is simple, effective and cost-free, however, it often results in data loss.
Below we have the steps to lock a found iPhone using iTunes:
Step 1: Confirm that you have the latest version of iTunes on your computer, if not, kindly install via the official website. Launch iTunes, and connect the found iPhone to your computer using a USB cable.
Step 2: Once connection is established, a new screen as below will come up: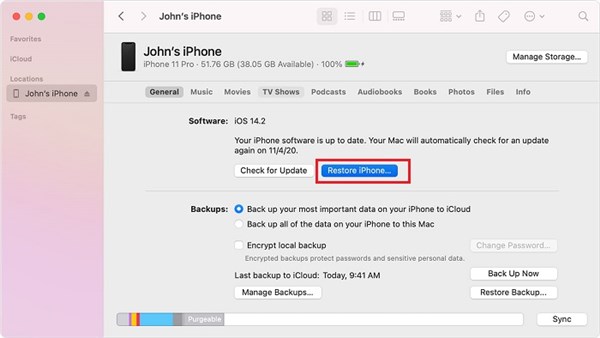 Click on the found iPhone name, and navigate to where you have the Summary tab. Click on the tab, and select Restore iPhone to proceed.
Step 3: Next, tap on Restore again to validate your action, so iTunes can commence screen unlock. Wait for iTunes to unlock the found iPhone, then disconnect it from your computer, and start using it.
Method 3. Unlock a Found iPhone without Computer Using Find My
Although the Find My feature on an iPhone is designed to help users locate or track the whereabouts of a device, you can also use it to unlock a found iPhone without hassles. However, it's crucial that this feature is enabled on the found device for you to use it. Additionally, you must know the Apple ID details.
If you meet these conditions, apply the illustrative guide down here to unlock a found iPhone without computer via Find My:
Step 1: On another iDevice (whether iPhone or iPad), install the Find My app, and sign in the Apple ID on the found iPhone.
Step 2: Next, a new screen with a map will appear on your display screen. Locate and click on the found iPhone's name to proceed.
Once done, select Erase iPhone.
Step 3: All data stored on the found iPhone will automatically wipe away. After that, you can unlock it without entering a screen passcode.
Method 4. Enter into Recovery Mode
Lastly, we have the activation of recovery mode to unlock a found iPhone. Recovery mode is a built-in solution designed to fix numerous iOS-related issues, including screen locks, white screens, and more.
This solution has a simple mode of operation. Entering into recovery mode removes screen lock on a found iPhone by restoring it. Mind you, Finder or iTunes is required to implement this solution.
Here's a quick guide on how to enter into recovery mode to unlock a found iPhone:
Step 1: Launch Finder on your Mac computer, or iTunes if you own a Windows PC, and connect the found iPhone using USB cable cord.
Step 2: With the right key combinations, put your iPhone into recovery mode. Here's how to put the different iOS model in recovery mode:
iPhone 6S and Earlier Generations
Simultaneously hold down the Home key and Side button until the recovery mode screen appears.
iPhone 7/7S
Long press the Volume Down button plus Side button. Hold on to both buttons till your iPhone displays the recovery mode screen.
iPhone 8 or Later Generation
Long press the Volume Up key, and release it. Do the same for the Volume Down button. Immediately you release the volume down button, hold down the Side button till you see the recovery mode screen.
Step 3: Now that you've successfully entered recovery mode, iTunes or Finder will send a prompt requesting whether or not you wish to restore your iPhone. Tap on Restore to unlock the found iPhone.
Limitations
When you unlock a found iPhone by entering recovery mode, the data on it disappears after restoration.
Entering recovery mode can be challenging if you do not hold the keys correctly.
Frequently Asked Questions
Check out our frequently asked questions and answers to understand the topic better:
Q1. I Found an iPhone But it's Locked How Do I Unlock it?
You can try the methods we suggest above. The best way to unlock a found iPhone is to use iMobie AnyUnlock. It can remove the screen passcode or Apple ID account.
Q2. Can You Unlock an iPhone if You are Not the Original Owner?
Yes, you can. However, you need an iOS unlock software to do that. AnyUnlock is a powerful tool well-known for the quality of iOS unlock services it offers. This software does not only unlock screen passcodes, but it can also be used to bypass iCloud activation lock on a lost or found iPhone.
Video tutorial:
Conclusion
Now that you have our tutorial guide, unlocking a found iPhone shouldn't be a challenge anymore. Our best solution from the guide is AnyUnlock. The software is one of the best iPhone Unlockers that offers all the services it promises.