| Sponsored |
There is a common method for unlocking iPhones: the lock screen passcode. Face ID is used in the iPhone X and later, which is convenient but can be problematic when it fails. On occasion, Face ID problems prevent users from accessing their iPhones. Both the Face ID and the passcode might stop functioning. You undoubtedly want to know how to get around unlocking an iPhone without a face ID or passcode because of this. Check out this guide to learn how to unlock your iPhone if your passcode or face ID won't work for whatever reason.
Can you Unlock an iPhone without a Passcode or Face ID?
It might be annoying to lose your Face ID or passcode on your iPhone. If you can't access your smartphone, you could feel helpless and unable to obtain vital information. The iPhone may be unlocked in several ways without a passcode or Face ID, though. Three approaches will be covered in this article: utilizing iTunes, using PassFab iPhone Unlock software, and calling Apple Help. You can regain access to your iPhone and get your valuable information and access by using the following methods: Continue reading to learn more about unlocking an iPhone without a password and which method is more suitable.
Unlock iPhone without Face ID or Passcode – PassFab iPhone Unlock [100% Work]
Are you trying to find a quick, secure, and efficient way to unlock your iPhone without a face ID or passcode? The best app for unlocking your iPhone without a passcode or by utilizing face recognition is PassFab iPhone Unlock. You may use the program to quickly unlock your phone. Recognize that nobody wants to spend so much time trying various fads and hacks to unlock their iPhones. It is an advanced program that enables hassle-free access to your iPhone. The software is user-friendly, and the entire process can be completed in just a few minutes. PassFab iPhone Unlock can remove various types of screen locks, including passcodes, Touch ID, and Face ID, without causing any data loss.
The key features of PassFab iPhone Unlocker
Unlock an iPhone, iPad, or iPod Touch with a locked, disabled, or damaged screen.
Your iDevices can be factory reset without a password or Apple ID.
Delete your Apple ID without any verification or password.
Without a passcode, turn off screen time after a few minutes.
Completely compatible with the most recent iOS (iPad OS 16), iPhone 13, and other devices.
Bypass remote management to avoid being supervised by others.
Fully functional with the most recent iOS.
Steps on Unlock an iPhone without Passcode or Face ID
Step 1: PassFab iPhone Unlock must be downloaded and run on your Mac or Windows computer. Four key features may be seen on the primary interface. Click "Start" there to begin, then move on to the next stage.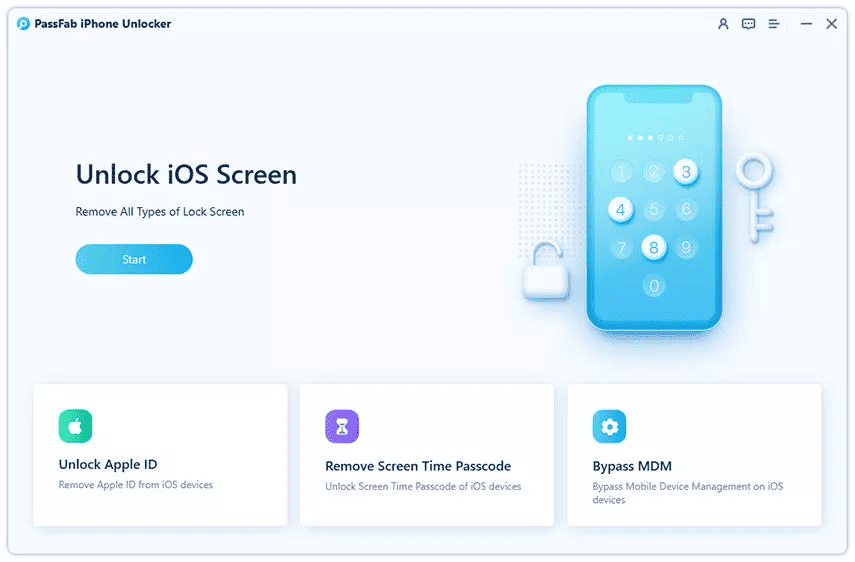 Step 2: Connect your iPad or iPhone to the computer running PassFab iPhone Unlock, then click the "Next" button.
Step 3: Put the software into recovery mode, or DFU mode, by following the instructions on the screen.
Guide to Enter Recovery Mode
Guide to Enter DFU Mode
Step 4: To download the firmware package, select the file save directory and click "Download." Just upload your firmware manually if you have it downloaded.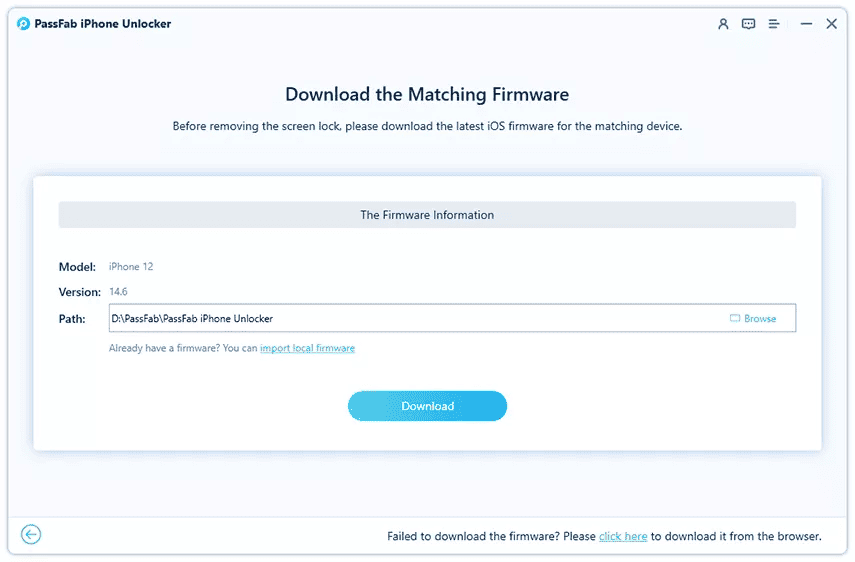 Step 5: To remove the passcode after downloading, click the "Start Uninstall" button. Your smartphone will thereafter be accessible without a password.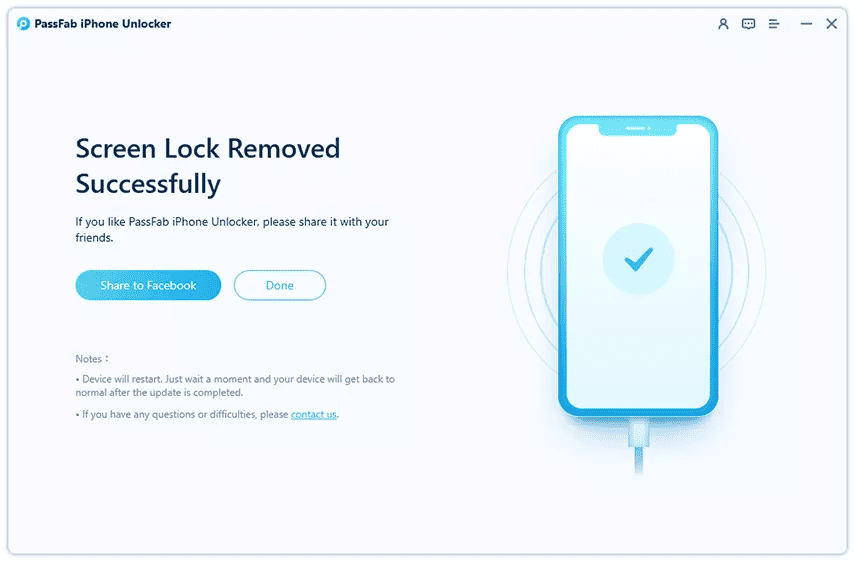 Video Tutorial: How to Unlock iPhone without Passcode or Face ID [New]
Unlock an iPhone without a Passcode or Face ID with iTunes
Apple suggests putting the iPhone into recovery mode and restoring it using iTunes to unlock it without a passcode or face ID. Use iTunes to give it a try if you'd like to get around the iPhone 11 lock screen in an official manner. The "Restore" option will be available in iTunes when you put your iPhone in recovery mode. Yet doing so will also result in the loss of important data.
Step 1: Open the most recent version of iTunes on your computer, then use a USB cord to connect your iPhone;
Step 2: Directly restore your iPhone if iTunes detects it. If not, Apple's iPhone must enter recovery mode.
Step 3: A pop-up window containing the choices "Restore" and "Update" will appear. To restore, click.
Unlock an iPhone without a Passcode or Face ID by Calling Apple Support
Keep in mind that passcodes and Face IDs are created to safeguard user privacy on the device. The best course of action if you lose your passcode is to use Apple's built-in solution.
With the instructions below, you can restore your iPhone: 
1. A computer with iTunes installed should have your iPhone connected.
2. Start the recovery mode on your iPhone:
3. Select the "Restore" option to delete all data on your iPhone and install the most recent iOS software. All the data on your iPhone will be deleted if you restore it.
Hot FAQ About Unlocking iPhone You Should Know
1. How long will an iPhone stay locked?
Ans: The iPhone will always be locked. If you enter the incorrect passcode on the tenth attempt to unlock the iPhone, Apple's software does not provide a backdoor for unlocking iPhones. But, with PassFab iPhone Unlock, you can still unlock your iPhone.
2. How do I remove the passcode from my iPhone without using a computer?
Ans: It is impossible to unlock an iPhone passcode without a computer.
Nevertheless, you may remotely wipe your device and reset the passcode if you've synced your iPhone with iCloud and turned on the Find My iPhone function. But you may unlock your iPhone without losing any data if you use software like PassFab iPhone Unlock.
3. What are the disadvantages of bypassing iPhones?
Ans: Loss of some capabilities may result from bypassing the security measures of the iPhone. Potentially invalidate the device's warranty and support, making it challenging to obtain repairs or technical help from Apple. It's challenging to upgrade the iPhone to the newest iOS versions or install new apps, and in certain places, it's even forbidden.
Conclusion
Now, you learned the three best ways to unlock iPhone without a face id or passcode. I'm hoping you found it useful and were able to unlock your iPhone. Utilizing iTunes or the recovery technique will cause you to lose vital data. And the first option is passfab iPhone unlock. You can experiment and employ the method that works best for you. I have a definitely preferred approach among all of them, and it is PassFab if you worry about the data, then PassFab iPhone Unlock can help.