| Sponsored |
Do you have an iPhone but have not been able to get it unlocked since you purchased it? Activation locks on iOS devices occasionally must be bypassed so the device may be used. If you've ever bought a used iPhone or iPad online, you know the hassle of discovering the activation lock is still on. Or maybe you are activating the iOS device of a dead family member after having it restored via iTunes. A message reading "Activation Lock" or "iPhone Locked to Owner" will appear on the screen in such a situation. To use an iPhone or iPad, you must get past the lock screen.
It's a major issue since removing a previously linked iCloud account requires the prior owner's Apple ID credentials to unlock the device. But have no fear because we have discovered several viable options. The following article has covered all the genuine ways to remove the activation lock. Let's begin!
How to remove iCloud Activation Lock without the previous owner
The activation lock is a safety measure, and individuals who have just purchased their first iPhone may be wondering what it is and why they must use it. With "Find My" turned on, it activates immediately. This function is intended to keep your iPhone, iPad, or iPod touch secure by locking out unauthorized users. Fortunately, there are a few ways to bypass the activation lock, even if the prior owner is no longer available. Let's have a look and find out what it is.
Method1. Using DNS Bypass
The first method to bypass the activation lock is changing your WiFi network's DNS settings. To begin, we must have an understanding of what DNS is. It is an acronym for the Domain Name System, and it can translate human-readable names, also known as domains, into numeric IP addresses.
By manipulating the DNS server, also known as iCloud DNS Bypass, an iCloud lock may be circumvented. This is accomplished by rerouting the activation route of your iPhone away from Apple's servers and toward those of select third-party iCloud bypass servers. When you need to unlock a pre-owned iPhone or iPad but have no information about the person who previously owned it, iCloud DNS bypass may be of great assistance. Have you forgotten the credentials for Apple ID? — Try DNS Bypass!
Follow the steps below to use the DNS bypass method:
Step 1: Power up the gadget or restart it if it's currently on.
Step 2: Proceed with the setup until you reach the "Choose WiFi network" screen.
Step 3: After selecting "More WiFi Settings," you need to hit the "i" symbol next to the WiFi network.
Step 4: Select "Manual" from the "Configure DNS" menu.
Step 5: After clicking the "+Add Server" button, input the server address that corresponds to your location. To connect to the servers, please utilize the following:
· USA: 104.154.51.7
· SAT: 35.199.88.219
· Europe: 104.155.28.90
· Asia: 104.155.220.58
· Oceania and Australia: 35.189.47.23
· Other: 78.100.17.60
Step 6: Go back to the WiFi page when you are finished.
Step 7: After the device has connected to the regional iCloud DNS bypass server, you may stop clicking "Next" and "Back" until the device is set up with your Apple ID.
However, there are some limitations to using the DNS Method; they are as listed below:
· There is no assurance that the service will successfully unlock your device.
· Non-technical folks may find it challenging.
· After unlocking your iPhone, it's possible that you won't have access to all of the capabilities that it has to offer.
· It is not compatible with most devices, particularly those running iOS 10 or later.
· It's possible that newer versions of the iPhone or iPad won't be compatible with this procedure.
To overcome the limitations of DNS Bypass, we recommend using the AnyUnlock software to unlock your iPhone easily. iMobie software developers are the ones who came up with the idea for AnyUnlock iCloud activation unlocker, and they promise that their product is useful in removing the activation lock with no need of details of previous owner. Using this app on your iPhone, you'll have access to all of iCloud's services. iTunes, the App Store, and FaceTime are all included.
For those who misplaced their Apple ID or have acquired a secondhand device that has been locked with iCloud verification, AnyUnlock is a helpful program. The program will instantly get you back into your Apple devices by evading iCloud. AnyUnlock is a solid choice for unlocking an Apple device.
Method2. Using AnyUnlock – iPhone Password Unlocker
The second method used for unlocking iPhones is AnyUnlock – iPhone Password Unlocker. This is a straightforward feature that gives users several choices for liberating themselves from the confines of locked Apple products and services. This feature has a proven track record of successfully unlocking Apple devices that have been jailbroken, and it is very fast and simple to use.
The primary benefit of using this program is that it can unlock an iPhone protected by iCloud Activation Lock, and the process of doing so is rather simple. Connecting your iPhone and following the directions that appear on the screen is all that is needed of you. AnyUnlock – iPhone Password Unlocker has the additional capability of locating the active Apple ID logged in to your iPhone, unlocking Apple ID without password, verifying device with a few clicks, etc.
Follow the steps below to remove the activation lock without the previous owner:
Step 1: Click on Bypass iCloud Activation Lock and follow the on-screen guide.
Step 2: Click on Start Now button once the device is detected.
Note: Make sure to read the terms of use and check the option afterward.
Step 3: Connect any of your iOS devices, such as an iPod, iPhone, or iPad, to your computer using a USB cable of your choosing.
Step 4: You'll see the device's interface on the screen. Click on Jailbreak Now to continue the activation lock bypass process.
Step 5: Once the device is done through the Jailbreak, click Next to proceed. On the next screen, click Bypass Now to remove the activation lock.
Step 6: AnyUnlock – iPhone Password Unlocker will remove the activation lock automatically. The process will take a few minutes, and you'll see the "iCloud Activation Lock is Bypass Successfully" message on the screen.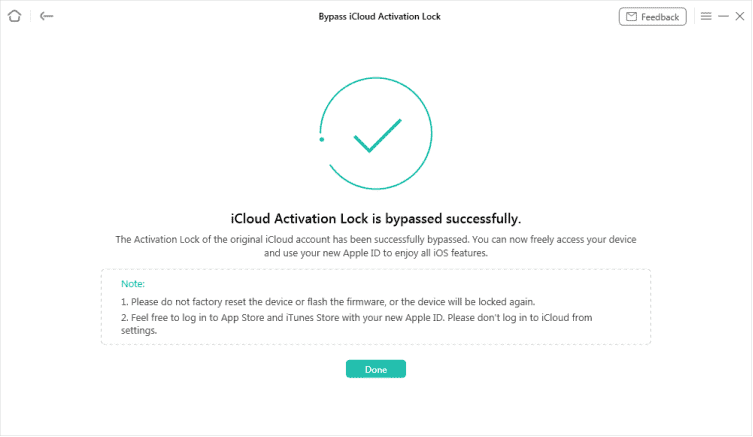 Conclusion
One of the most frustrating things that may happen while using an iDevice is that it becomes stuck in the "Activation Lock" state. To accomplish this goal, you may use tools such as any unlocker. Since you are now more informed about AnyUnlock – iPhone Password Unlocker, you are better positioned to decide whether or not to put it to use on your device.
This all-inclusive iOS program may assist iPhone, iPad, and iPod users in unlocking lost passwords, avoiding iCloud Activation, unlocking Apple IDs, removing SIM Locks, and other similar tasks. You should take advantage of any free trials before choosing to employ this tool. This will give you the greatest idea possible of whether or not the product is going to meet all of your requirements.