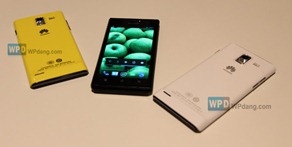 WPDang is claiming the newest Windows Phone OEM, Huawei, has 70 engineers in China working on Windows Phone 8 handsets for the end of the year.
Apparently the company is working on a budget device costing 2,000 CNY (317 USD), likely modelled on an Android handset, while a high end model with a 4 inch screen is also rumoured.
Huawei is said to be working with a US team and Microsoft on these handsets.
Huawei is apparently also working on a LTE Windows 8 tablet project similar to the Huawei MediaPad 10 FHD.
Huawei is not normally associated with smartphones, but have sold 20 million smartphones last year, and aim to sell 60 million this year, making them a significant player.
Via WPSauce.com