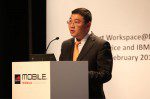 Huawei promises to be an important Windows Phone OEM, especially in China, Russia, Africa and eventually even Europe.
Speaking to Business Insider Wan Biao, CEO of the company explained why they were supporting the OS.
"For us all the focus is on Android, but we will also try Windows. Right now, the sales are good, but it's pretty hard to predict Windows Phone. For one OS [operating system] – Android – the consumers have spent time and their money to like it. We developed Windows 8 because we do believe some consumers will like it."
Huawei's first Windows Phone, the Ascend W1, has just one on sale in Russia.  Winphonelive.ru reports  that online store The Messenger is currently shipping out pre-orders for the handset, and will only serve new customers if there are any left over, with a second shipment expected in a week.
The device is on sale for only 8990 rubles, which is around $290, and is available in black, white and blue.
While we tend to devote most of our attention to high end Windows Phones, one of the OS's strengths is providing a premium experience even at the low-end, and that is where sales have also been concentrated. It could very well be that handsets like the Huawei Ascend W1 could be one of the keys to Windows Phone success in 2013.