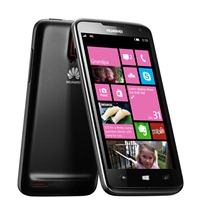 Not content to let its device leak out over the coming weeks, Huawei has just jumped in and announced their new Windows Phone 8 handset, the Huawei Ascend (mocked-up right).
The handset will be part of the Huawei Ascend family, currently consisting of Android phones.
The Huawei Ascend with Windows Phone 8 is expected to be available in Europe, China and United States, with other markets to follow. It will be marketed through a series of promotional activities in conjunction with key mobile operators around the world.
"2012 is building up to be a great year for Huawei. Now, we are poised to end the year with a big bang – with the introduction of our first smartphone running on the Windows Phone platform. We're very excited about this relationship with Microsoft which will enable us to provide our customers with a bigger array of Huawei smartphone choices," says Shao Yang, chief marketing officer, Huawei Device.
"It's great to welcome Huawei to the Windows Phone family. The only phone with Live Tiles, Windows Phone brings you closest to the people and things you care most about," said Terry Myerson, Corporate Vice President of the Windows Phone Division at Microsoft. "With Huawei's impressive global capabilities, together we can bring Windows Phone 8 to more people around the world."
Via Engadget.com
Thanks Arun for the tip.