For all the talk about China Mobile and Android (and their so-called OPhone implementation) one would never think a Windows Mobile handset would win flagship status for the 500 million subscriber strong carrier. I guess we would be wrong, as the carrier has just announced the HTC Qilin, which bears a striking resemblance to renders we have seen to Verizon's HTC WhiteStone and being sold under their Dopod subsidiary, has achieved that status.
Dopod CEO Dennis Chen said the Qilin handset is the first result of China Mobile's $7 million in subsidies to encourage TD-SCDMA handset development. Dopod has expanded investment in manpower and funding towards TD-SCDMA R&D and will release numerous high-end TD-SDCMA handsets next year.
The Windows Mobile 6.5 handset is pretty well specced, as can be seen below: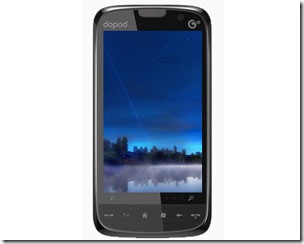 Model: Dopod T8388 (HTC Qilin)Â 
Type: PPC (non-QWERTY keyboard)
Platform: Windows Mobile 6.5
CPU: TI OMAP 3430 600MHz  (Same as the Palm Pre and iPhone 3GS)
ROM: 512MB
RAM: 256MB
Display: 3.6 "WVGA (480×800)
Frequency: GSM; GPRS; EDGE; TD-SCDMA
Network: Wi-Fi 802.11g
GPS: SiRF (GPS / AGPS)
Main Camera: 5 million pixels; auto-focus camera, front: VGA
Features: gravity sensors; light sensor; proximity sensor; CMMB mobile TV
The handset is expected to reach the market by December 2009.
Source:Marbridge consulting