Google has finally made the HTC Nexus official today, which means its time for a comparison between the two Snapdragon superphones.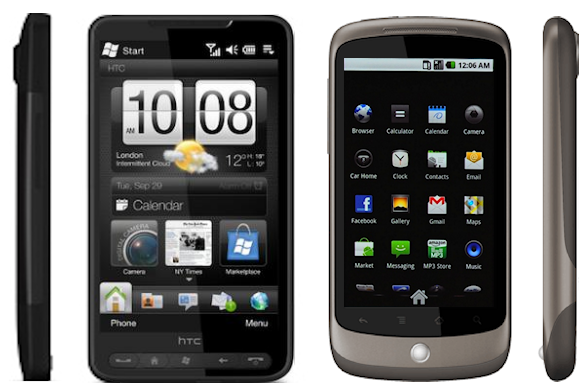 HTC HD2
HTC Nexus One
Operating system
Windows Mobile 6.5
Android 2.1
Processor
1 Ghz Snapdragon
1Ghz Snapdragon
RAM
448 MB
512 MB
ROM
512 MB
512 MB
Screen
4.3 inch TFT, Capacitive
3.7 inch AMOLED, Capacitive
Multi-touch
Yes
No
Size
120.5 x 67 x 11 mm
119 x 59.8 x 11.5
Weight
157g
130 g
Battery
1230 mAH
1400 mAH
Battery life
Talk time 5.3 hours on 3G
Standby 390 hours on 3G
Talk time 7 hours on 3G
Standby 250 hours on 3G
Camera
5 megapixel with Dual LED Flash
5 megapixel with LED Flash
Video
640×480 at 30 fps
720×480 pixels at 20 fps
Connectors
3.5mm headphone, microUSB
3.5mm headphone, microUSB
Control
5 hardkeys, volume keys
4 softkeys, illuminated trackball, volume keys
Additional features
proximity sensor, digital compass, car cradle
proximity sensor, digital compass, dual microphone
Engadget has posted a review of the Nexus, and note the AMOLED screen is very oversaturated and washes out extremely badly in bright light, negating one of the major features of the handset. They also note the trackball, which serves to increase the height to virtually the same as the HD2, appears completely superfluous and does not contribute to the use of the device.
In the end the device does not appear to be either very ground breaking or much more super than existing devices, including the HTC HD2, and the new additions to the UI strangely serve to bring it closer to the HTC Sense and again not very groundbreaking.
What do our readers think?  Let us know in the comments below.