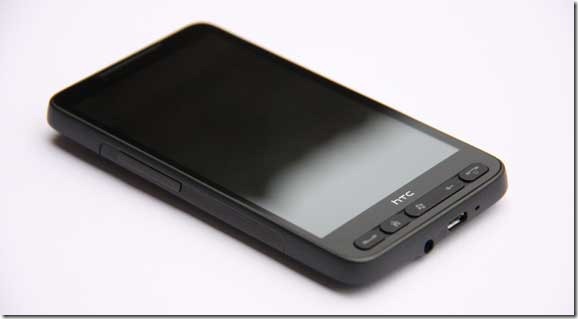 MobilityMinded have published their review of the HTC HD2 and like everyone who has had a hand on the device have been  pretty impressed.
I found most interesting their collection of opinions in the device, which I hope will be reflected by the general public when they seem the device:
Mark Briggeman

Quietly brilliant. I would rather say quite brilliant. I was really impressed when I saw a pre-production version of this new HTC flagship. First I thought it would be to big for my hands, but it fits perfectly. The vivid capacitive 4,3? screen reacts extremely fast and this is also due to the latest Snapdragon processor. I am more a hardware keyboard user, but a quick demonstration of the onscreen keyboard showed me that I might not need a hardware keybaord anymore.

I now use a Touch Pro2 and I was finding things to compare it with, but to be honest, there weren't to many. The HD2 is bigger, faster, more stylish and packed with the latest HTC features like HTC Sense with Twitter integration and HTC Footprint. Multitouch is a great addition to this device and makes it even more usable.

HTC is showing again a great new device with a great design and I can't wait to start using it !
Paul Willen

The HTC HD2 can be named the new flagship from the Windows Phones portfolio from HTC without a hardware keyboard.

The capacitive touchscreens works brilliantly. I think HTC set a new standard with this capacitive touchscreen. Due to the snapdragon chipset, the device is really fast. In fact it feels like it's the fastest Windows Phone I've seen.

In my opinion there is only one thing missing on this device and that is a Large build-in storage. Of course there is a possibility to insert a Micro-SD card, but that needs to be purchased separately. 8 or 16GB internal memory would be great to store some music or video's on.

Overall I would say this is really the best Windows Phone without a hardware keyboard currently on the market.
Remo Knops

Every mobile technology geek must be excited about this powerhouse fresh from the HTC factory, and so was I during the review process. I was very curious about the Qualcomm Snapdragon processor running at 1GHz. The experience is a blazing fast device, and we have done some comparison scenarios with the HTC Touch Pro2.

Furthermore the massive ultra clear 4.3? capacitive WVGA screen is really awesome. With such an amazing screen you hope even for resolution larger than 800×400. You might recall the example where I could read an article in pdf-format without any problem, so this has really amazed me.

The capacitive technology works really well, and it's the first Windows (touch) Phone without a stylus -a true milestone in Windows Mobile history. Also the onscreen keyboard, especially in landscape mode works fine, but in my opinion it can't beat the HTC Snap hardware keyboard.

The HTC HD2 is a very well balanced Windows Phone for various usage scenarios, and with a bulk load of added value not only in terms of technology and hardware but also in terms of software innovations as well. HTC has done an amazing job and set the bars significantly higher.
Their conclusion:
What we like about the HTC HD2 ?

Huge screen

Super fast processor

HTC Sense
3,5? headphone jack
Design. Only five buttons on the front panel and a touchscreen is all you need

What we like a little less about the HTC HD2 ?

Position of the camera lens.  I think the lens will damage quickly because the device rests on it when it is placed on it's back.
Again no camera hardware button. I really miss that.
No Video-out.
Not a real disadvantage, but switching to Micro-USB requires me to carry an extra cable to charge in the office or on the go. Until now I could perfectly manage that with one Mini-USB cable.
Read their full review here.