Is Copilot the best AI companion out there? Help us find out by answering a couple of quick questions!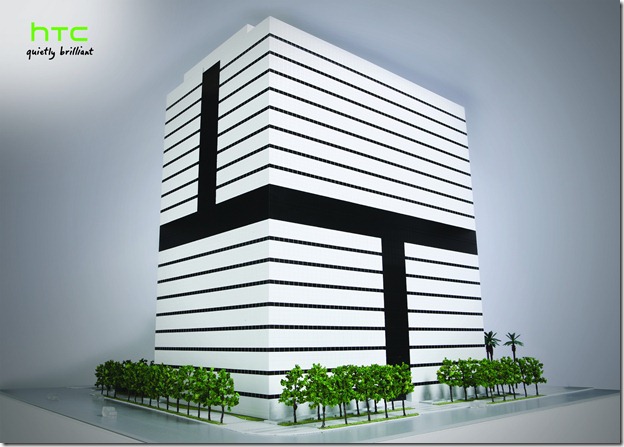 Press Release: HTC Corporation, a global smartphone designer, today held a ground-breaking ceremony for its new Taipei headquarters. The event was jointly hosted by HTC Chairman Cher Wang and Chief Executive Officer Peter Chou. Among the guests were several government officials, including Premier Wu Den-yih and  Governor of Taipei County Chou Hsi-wei, as well as industry leaders.
"Innovation has always been a core value of HTC since it was founded in 1997. I am very pleased to see HTC grow into a leading global brand," said Premier Wu Den-yih at the ceremony. "HTC's brand development and global visibility together with its focus on people are key factors in realizing HTC's unique brand commitment. I look forward to seeing HTC create more innovation opportunities for our local youth while continuing to market Taiwan to the world."
"As Taiwanese citizens, we are very proud that HTC has become a global leader in smartphones. We truly believe that with HTC's new Taipei headquarters located in Taipei County will continue our reputation as a country of innovation and further our goal for future development," said Governor of Taipei County Chou Hsi-wei.
"Through HTC's cutting-edge innovation and our continued focus on listening to customers, we've established ourselves as a global smartphone leader," said HTC Chairman Cher Wang. "Providing a venue for young people to contribute innovation will be a key component of our success in the global market."
"As HTC has grown globally in the smartphone industry, we thought it was the appropriate time to build our new headquarters in Taipei that fully represented our unique spirit, value and brand," said Peter Chou, Chief Executive Officer, HTC Corporation. "A key to our future growth and success will be our ability to provide local opportunities for the nation's most innovative young minds.  The establishment of the HTC Taipei headquarters is significant in opening the door to a bright future."
"As an important global partner, Qualcomm Incorporated has worked with HTC along the way," Dr. Paul E. Jacobs, Chairman and CEO of Qualcomm said. "HTC's new headquarters expands their operations and investment in R&D and further illustrates the realization of a vision which they have long shared with Qualcomm for a converged mobile communications future based on innovation.  Together, HTC and Qualcomm are igniting the next mobile revolution which is dramatically changing the way businesses operate and communities and individuals connect, communicate, and grow."
Andy Rubin, VP of Engineering, Google, remarked; "HTC's continued investment in R&D demonstrates their commitment to innovation in a highly competitive market."
"I truly admire HTC's dedication to smartphone research and development. We all know that it is never easy for local companies to develop self-owned brands in the international market," said Yulon Group Chairman Kenneth KT Yen. "We are so proud of HTC and it has set an example for us. They have come a long way and tasted the fruit of success. The Yulon Group will be following the steps of HTC striving to secure its position on the international stage."
John Kalkman, Vice President, OEM Engineering & Services, Microsoft Corporation, remarked; "We are pleased to be a part of the efforts driving HTC's achievements in the wireless communications space. HTC has been an important strategic partner since it was established. We are looking forward to cooperating with HTC on delivering additional Windows Phone devices to global consumers in the near future."
"Taiwan has the highest mobile phone penetration rate in the world, resulting in strong market competition. HTC is dedicated to meeting consumer needs with the design and development of innovative mobile devices. Because of this dedication, HTC has maintained its leading position in the industry," said CHT Chairman Lu Shyue-ching. "As a long-term strategic partner that has worked closely with HTC in Taiwan, we have had many successes and have won wide recognition in telecommunication and mobile phone industries.  We look forward to future collaboration opportunities and continuing the win-win partnership between HTC and CHT."
Harvey Chang, President and Chief Executive Officer of Taiwan Cellular Corp, also offered congratulations. "HTC is known for its best-in-class innovation, research and development.  It is committed to its hometown market as well as global markets," he said. "I look forward to seeing HTC guide Taiwan's telecommunication industry toward a brighter future and providing our customers with the best mobile experience possible."
The HTC Taipei Headquarters building is scheduled to be completed by the end of 2011 with a total floor space of 25,900 pings, 17 floors on the ground and five floors under the ground, among them 11 will be taken by research and development team. The building will be able to accommodate up to 2,200 employees. To create a pleasant and healthy work environment for employees there will be one floor reserved as multi-functional space for a cafeteria, gym, and relaxation area.
Comment: The FT.com notes that despite its size, HTC seems to have inveigled themselves into being an essential partner of nearly everyone, with Microsoft, Google and Qualcomm all showing up at what is simply an ground-breaking ceremony. In some ways this small ceremony is really a case of the mouse roaring.