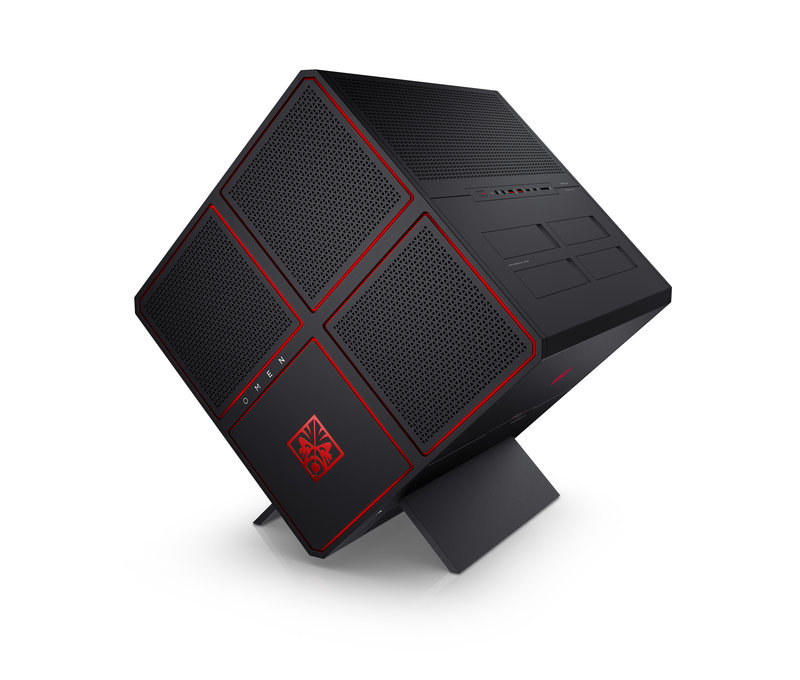 HP today announced OMEN X Desktop, a fully customizable, powerful desktop built with a revolutionary thermal management solution, which includes a tri-chamber design with dedicated cooling for each chamber.
httpv://www.youtube.com/watch?v=embed/-cthd-Y9m-8
The OMEN X is powered by the latest graphics chips up to dual NVIDIA GeForce GTX 1080 and up to dual AMD Radeon R9 Fury X. The 6th generation Intel Core i5/i7 processor with overclocking capability paired with a VR-ready GPU will enable flawless VR and 4K experiences.
HP engineered superior thermal management allowing customers to stay cool under pressure and get the highest possible performance and full potential of the hardware. This revolutionary thermal management includes a tri-chamber design to separate components and optimize thermals with dedicated cooling in each chamber. The OMEN X also includes support for up to three 120mm liquid cooling radiators with top mounted exhaust vents and a stand that lifts the case off the ground to help pull cool air in, allowing for maximum ventilation.
Other top features include:
OMEN Control software provides complete design control, allowing for custom LED light modifications and brightness adjustments in real time
Chassis adheres to industry standards for seamless upgrades and modifications
Tool-less access to the internals and a hidden toolkit in the chassis accommodates upgrades
Builders and modders can purchase an empty OMEN X chassis as a standalone option for a completely immersive do-it-yourself (DIY) PC experience. The standalone chassis provides the same thermal benefits of the tri-chamber design and industry standards, making a custom build as seamless as end-users expect.
Also, HP is collaborating with Maingear to build customized PCs. The Maingear OMEN X Desktop will be available to customers in early 2017 and pricing will vary.
Pricing and Availability: 
The OMEN X Desktop will be available at select US retailers on October 16 with a configuration starting at $2,099.99.
The OMEN X is planned to be available on HP.com on August 17 starting at $1,799 with the standalone OMEN X chassis with a starting price at $599.99.