How to Use ChatGPT to Write a Children's Book: From Idea to Realization
10 min. read
Updated November 6th, 2023
Published October 16th, 2023
---
Readers help support MSPoweruser. When you make a purchase using links on our site, we may earn an affiliate commission.
Read the affiliate disclosure page to find out how can you help MSPoweruser effortlessly and without spending any money. Read more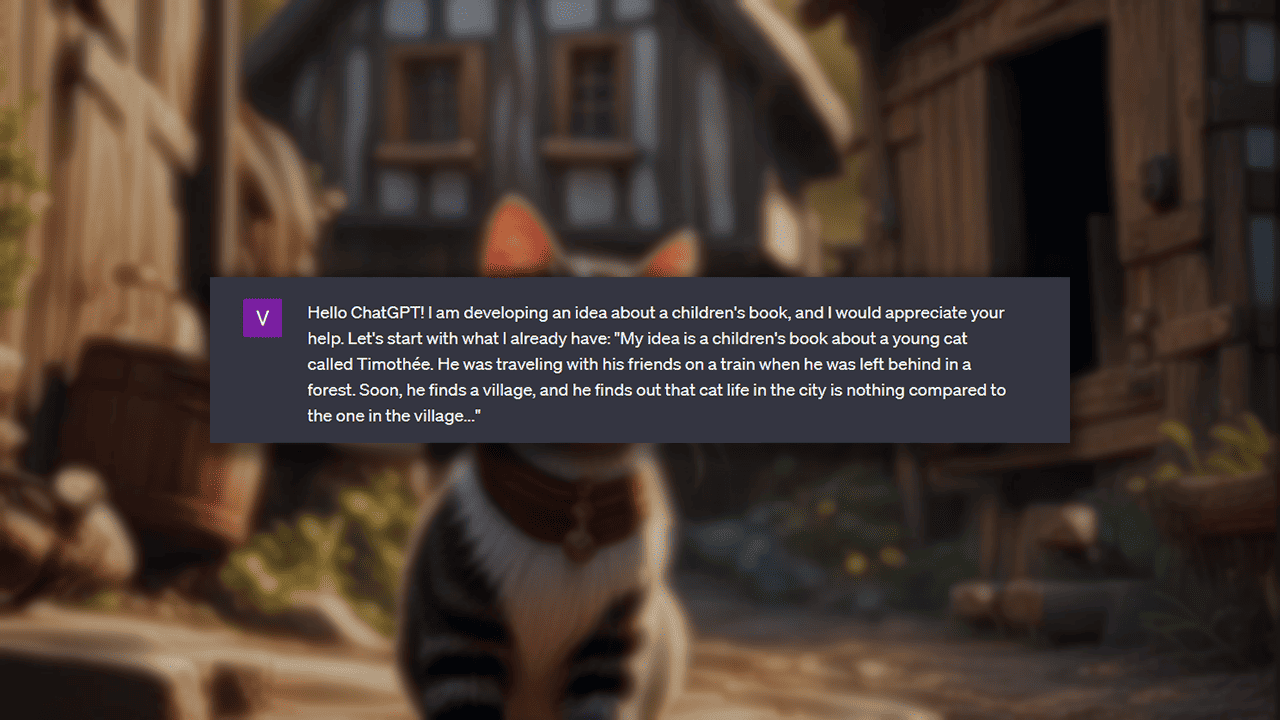 Wondering how to use ChatGPT to write a children's book?? It's time to stop pondering and start working on your idea. I went through the process several times and compiled this guide to walk you through ChatGPT children's book prompt creation.
Besides prompts, there are several things to consider and steps to take to make your book successful. Be patient, read the guide thoroughly, and don't skip any steps. Everything is interconnected, and ignoring the steps will result in poor output.
How to use ChatGPT to write a children's book
Since the debut of ChatGPT in late 2022, authors worldwide have been exploring its potential for book creation. Many have discovered they can produce books for kids using ChatGPT with only a few additional tools.
Important: ChatGPT is fantastic, but remember that the more effort you put into navigating it, the better the output will be.
1. Developing the idea
For this one, I think you should only partially rely on ChatGPT. Although you may use ChatGPT t0 to develop the idea, the output might not be the best. 
Yes, I know this guide is about writing a children's book with ChatGPT, but imagine the idea of your book as a seed. You cannot expect a plant to grow if you have planted a rotten seed.
With this out of the way, you have two approaches available:
Develop the idea together with ChatGPT (Recommended)
Using ChatGPT as your diary regarding your book idea and being actively involved in this phase, you will co-create the context valuable in the following steps.
Head to ChatGPT and press the Log In button.
You can just create a free account if you don't have one.

Hit the + New Chat button.

Say Hello to ChatGPT and explain your intention.
Hello ChatGPT!
I am developing an idea about a children's book, and I would appreciate your help. Let's start with what I already have: "INSERT YOUR NOTES"

Exchange as much information as possible. At least 15 messages.
The more you chat with ChatGPT, the more your idea will develop, and it becomes easier to transform into a book.


Please consider ChatGPT as your co-author at this phase, and talk about anything that comes to mind.
Develop the idea on your own
If you already have an idea ready or want to do it entirely alone, you are down to a more rough path. The problem is that you must communicate all of the information you have up until now to ChatGPT, and this is by no means easy.
ChatGPT sometimes fails to understand or completely ignores the information. This happened to me way too often – I tried to "feed" it with a page or two of information about my idea, and it didn't even read half of it.
Here are some tips to effectively give information on your children's book idea to ChatGPT:
Cut the fluff – Omit unnecessary information and write only the essential details.
Use bullet points – ChatGPT loves information served in this form.
Use clear language – Please don't assume it will (correctly) understand your notes.
Below are the good and the bad examples of feeding ChatGPT with existing information.
Bad example:


Good example:

Whatever approach you choose, don't forget that ChatGPT isn't perfect and can often misinterpret the information you provide and create inconsistencies in the idea. Please pay close attention to any signs and address them promptly to avoid problems later.
2. Setting up the structure
Now that you and ChatGPT have the initial idea, it's time to create a structure for your book. 
The next important step is creating a structure for your book. This means you must transform the freeform idea into something slightly more detailed than a content page. This approach will allow you to generate the book's content piece by piece in the next step.
Decide on another detail: Will your book be on rhymes, or is it a story?
Once you make that decision, send the following prompt to the chat in which you developed and discussed your idea with ChatGPT:
Based on the information I provided and the idea we co-created, create a structure/outline of our book. The book will be a story. This structure/outline will later be used to write the book, so make it chronological and use short yet descriptive names for each bullet point. Later, I will ask you to write content for each topic, so it's important that they are clear and understandable.
Important: The output you get doesn't necessarily have to be the final. Use the prompt below to change part(s) of the outline:
I want to change part of the outline:
"BULLET POINT CHATGPT PROPOSED" let's put "BULLET POINT YOU WANT" instead.

Repeat this step until you are satisfied with the final structure. Now is the last opportunity to make important changes to the core of your story. Minor changes will still be possible when the writing phase starts, but anything more significant can disrupt the story's consistency and overall quality.
Once you have the final structure in place, it's time to expand it one more time:
I am happy with the outline. Make more sub-bullet points so it's easier to write the whole story later.

Please look at everything in detail; if you find anything unsatisfactory, you can use the prompt we used for the main outline and replace the bullet point(s) you don't like.
3. Writing the book
Preparation is the key. If you're well prepared, this step will go smoothly!
Let's start by checking if ChatGPT has questions about our outline and the story. This is essential if you made many changes to the outline or (mainly) developed the idea independently.
I am happy with this final outline. Do you need any more information before proceeding to the next step?
If there are any questions, reply to them, considering the tips I shared in the previous step. Once everything is clear, enter the following prompt:
Amazing! Remember everything we discussed so far regarding the style and the intention of our children's book about MAIN CHARACTER. Expand on bullets and sub-bullets of "X. NAME OF THE BULLET" in the form of paragraphs.
In my case, it looks something like this:

Repeat the same process for all the bullets and sub-bullets from the list we generated while forming the structure.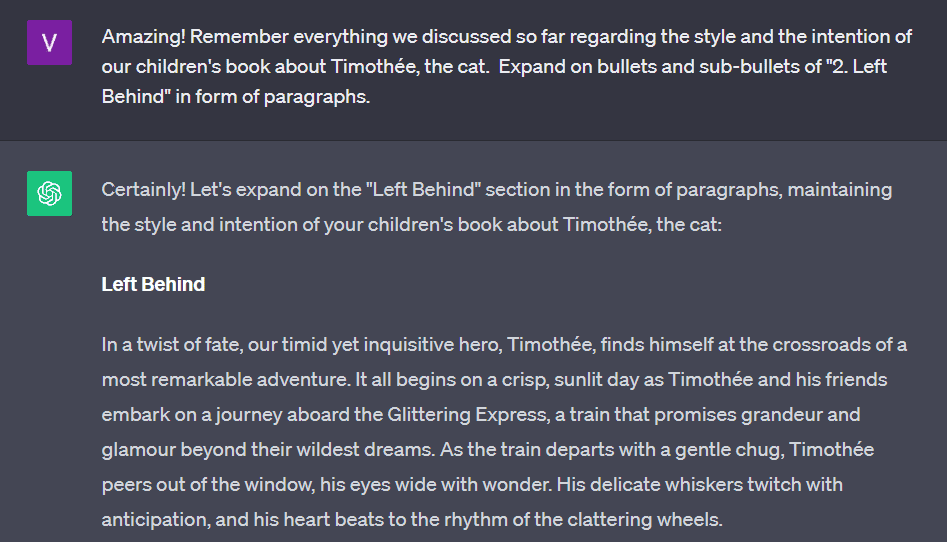 Important: Please closely monitor the story's details and integrity. ChatGPT isn't perfect and can easily drift off from the main idea if you don't guide it properly. These inconsistencies can be fixed by using natural language, and the prompt can look something like this:
I noticed an inconsistency in our story: The train embarked on a trip in rainy weather, and suddenly, it was sunny. Please resolve this by describing the shift in temperature.
You should have the complete story once you finalize the process for all chapters. That said, wait to pop the bottle of champagne! You are still missing an essential element – the book title.
Similarly to the ideation, you have two options:
Come up with the book title on your own (Recommended)
Generate the book's title using ChatGPT
Although ChatGPT can give you some great ideas for book titles, I recommend you develop the book title independently. Remember to double-check if the book title exists by Googling or checking on Amazon.
If you are lacking inspiration, you can use the following prompt to get some ideas or even the final book title:
Considering the complete story we generated, what book title could you propose? Could you give me 10 ideas?
In my case, the results were generic.
So, spend some extra time coming up with the book's title. Although the saying goes, "Don't judge a book by its cover," most of your readers will do just that. Once you have this element ready, you are almost there. Check the following section to find out what else you are missing.
Additional tools for creating a children's book with ChatGPT
Writing a book for children using ChatGPT is only part of the journey. To ensure your book isn't just another AI-generated story, you must use additional tools to significantly boost the final output's quality.
NightCafe – AI art generator
When you see a book for kids, you first notice illustrations. So does every child and parent across the globe!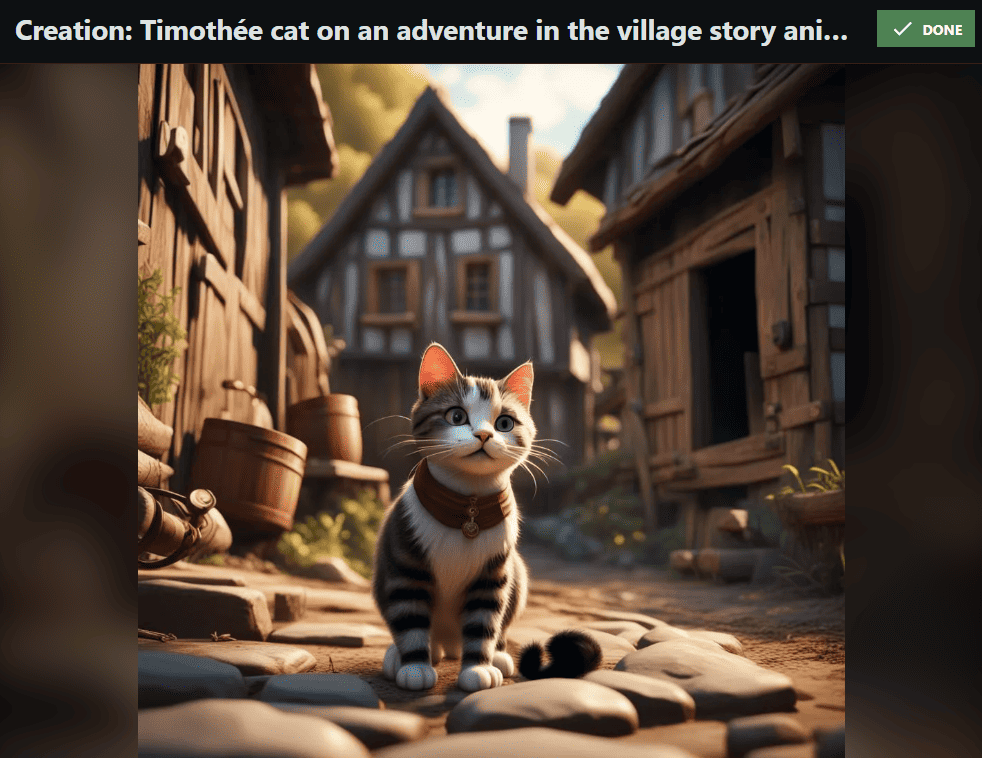 Even if you've written the book using ChatGPT and our guide, for it to succeed (whatever it means for you), spend some time dealing with the visuals. There are endless solutions, almost all of which integrate AI art generation features.
Once you have your NightCafe account ready, use the text-to-image feature, and the tool will generate fantastic visuals for your book. You can always experiment with different prompts to get diverse results. The output can be used for the book's cover and the illustration of specific segments of your story.
We covered everything around the AI art generation tools for children's books in detail. I strongly recommend you refer to it and find another solution if NightCafe isn't a fit for you.
Play.ht – Offer an audiobook
How about going one step beyond the written word and producing an audiobook?


If your book looks good and you are proud of the output, you can put in some additional effort and make it an audiobook. Instead of spending a little fortune on audio production costs, you can use an AI text-to-speech tool to do this.
Play.ht is my personal favorite when it comes to producing audio content for various purposes. The platform gives you generous welcome credits (2,500 words), which allows you to tweak different options. The best part is that it has integrated children's story preset.
Grammarly – Grammar and plagiarism checker
Although ChatGPT produces grammatically correct content, you surely want to double-check it.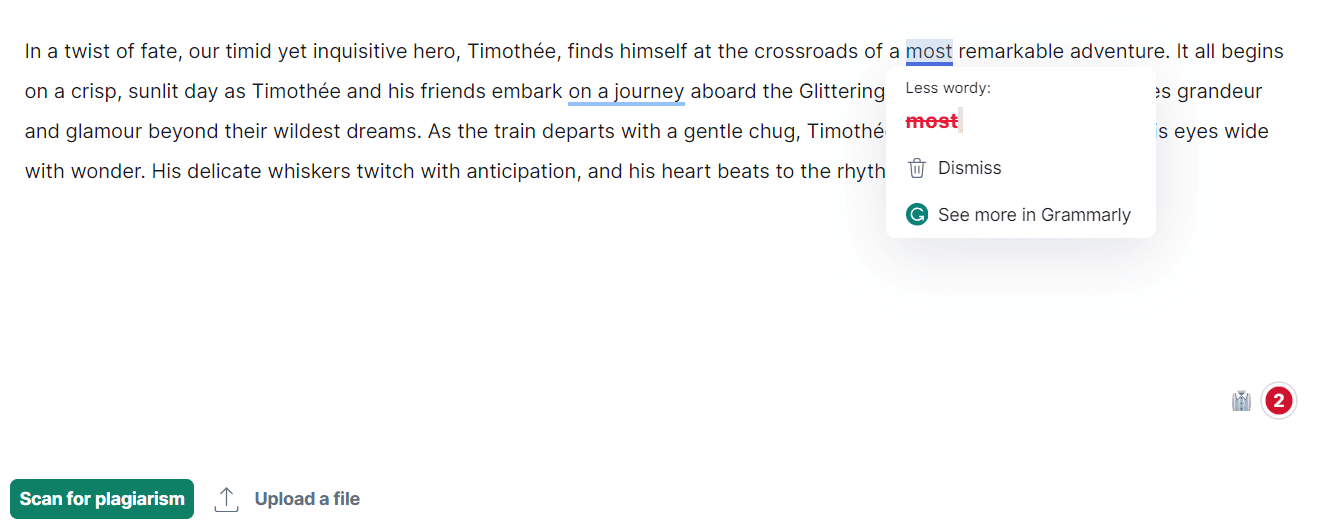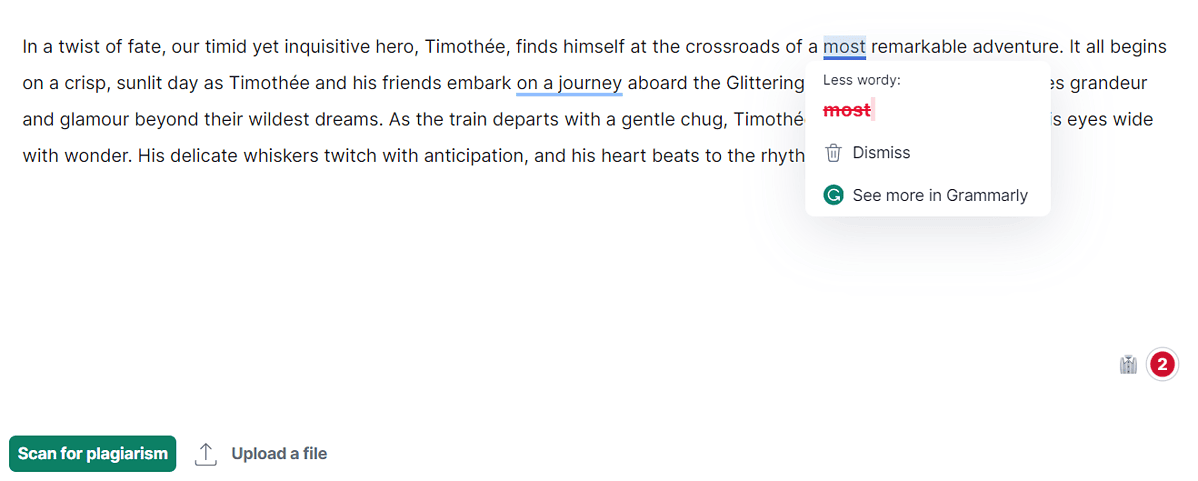 Native speakers immediately notice if something is off with Grammar, and parents surely want their children to read or listen to correct content grammatically. Also, checking whether ChatGPT sneaked in some sentences or paragraphs from existing content online is essential.
The good news is that you can do both with a single tool. Grammarly offers an extensive grammatical check and solutions to the discovered problems. The problematic words or sentences will get underlined. You can click on them to resolve the issue. This speeds up the workflow and makes grammatical checks so much easier.
In addition to this, it also has a Plagiarism Checker feature, which can significantly decrease the chances of your book breaking any copyright rules. With the rise of AI content, this is something worth attention.
Canva – Photo Editor
Your readers will appreciate it if you make consistent page layouts. 


Canva is an online photo editor incorporating various features you can access from your browser. I use it for multiple purposes, and you can effortlessly create an outstanding page layout for your book.
Important: Before using Canva to arrange the pages of your book, ensure that the content is final. Indeed, there will be some minor tweaks you will want to apply during this phase, but double-checking that everything is on the spot before arranging the book in Canva will save you a lot of time.
Final thoughts
Hopefully, now have a clear idea on how to use ChatGPT to write a children's book. My process includes ideation, structuring, and writing the book. Following these steps will ensure quality output and save you time. You can invest in creating excellent book layouts and illustrations or even turning your book into an audiobook.
After the book is ready, you can easily publish it for free with Amazon's KDP. This will let the world know of the new emerging author in this genre and open up many possibilities.