Custom instructions on ChatGPT are finally making their way to free users on the GPT-3.5 model. The feature, which was previously rolled out for those in ChatGPT Plus (GPT-4), is now available except for those in the UK and the EU. 
Custom instructions are now available to ChatGPT users on the free plan, except for in the EU & UK where we will be rolling it out soon! https://t.co/Y1IIjgDDPV

— OpenAI (@OpenAI) August 9, 2023
Custom instructions allow users to add preferences or requirements that they'd like ChatGPT to consider when generating its responses. For example, a teacher crafting a lesson plan no longer has to repeat that they're teaching 3rd-grade science. A developer preferring efficient code in a language that's not Python – they can say it once, and it's understood. And more.
"ChatGPT will consider your custom instructions for every conversation going forward. The model will consider the instructions every time it responds, so you won't have to repeat your preferences or information in every conversation," says OpenAI, the tech maker, at that time of the feature's release.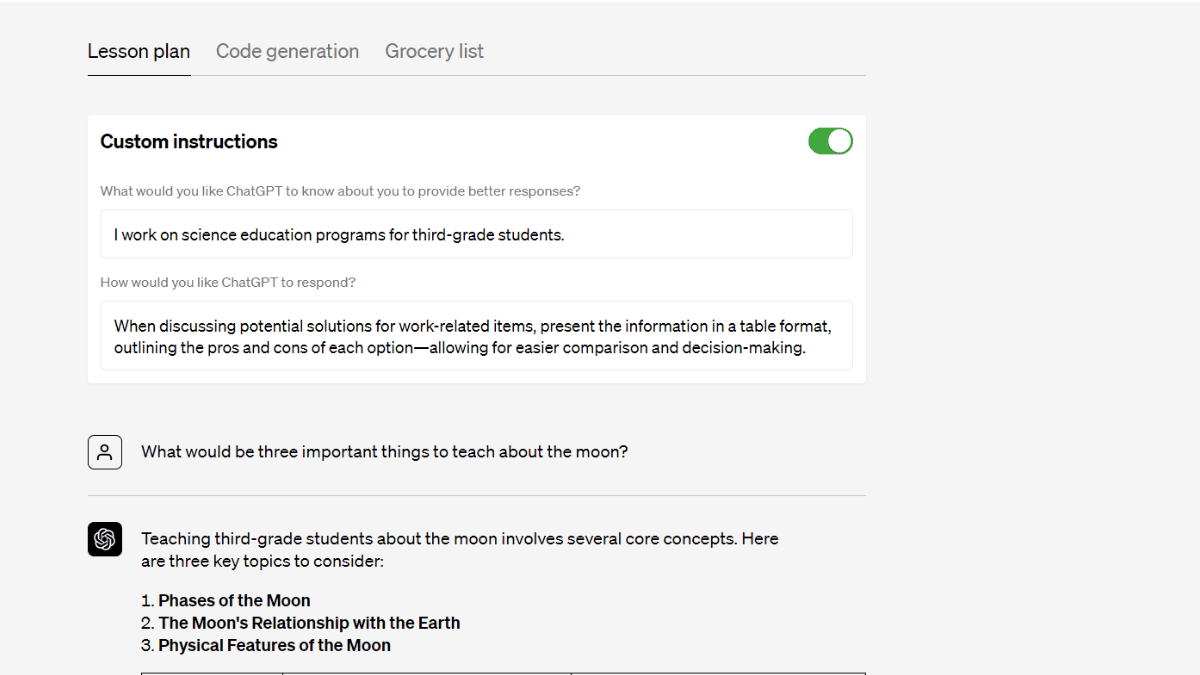 How to use custom instructions on ChatGPT
Web
Go to Settings > Beta features
Opt into Custom instructions
Mobile
Go to Settings > New Features
Turn on Custom instructions
Instructions can be as simple as a single word or phrase, or they can be more complex, providing detailed information about the user's preferences or requirements.
The AI chatbot has been getting a lot of updates lately. Some of the new features that have been released include prompt examples and uploading multiple files. Premium users can already test out these features, and some of them will be available for free soon.