Managing files has never been easier in Windows Phone with Windows Phone 8.1. There are two types of files you'll want to manage on a Windows Phone : Cloud Storage like OneDrive and local storage (both built-in and expandable)
 Local Storage – These are the files you may have stored on your phone. They include Office documents, music files and pictures. Now, while its far easier to manage these using the apps sometimes one just likes to get down and dirty and take care of it manually. There are two ways of handling this. One way is by making use of a computer. To do this, you'll need to use the USB cord that came with your Windows Phone and plug it into a computer. Once that's done and the system has finished installing the necessary drivers for your phone, you should see the phone pop up as a removable drive. You can now manage files using wither File explorer or Finder.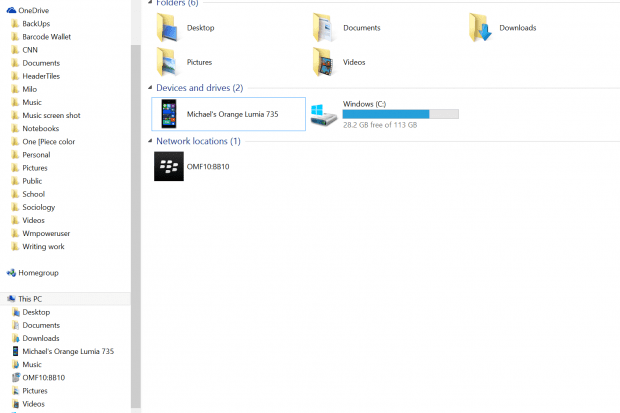 The second way is by using a file explorer directly from the phone. Now, while there are many file managers for power-users available in the store, I would like to focus on the "Files" app by Microsoft. This is the official first party Windows Phone file manager and it should come preinstalled on most new devices. If you are having trouble finding it, here's a direct link to the store. The app offers basic file managing capabilities, allowing you to manage files and folders with ease. You can move files within various folders, delete them or create new folders entirely. It also allows you to share files directly from a folder without needing to open an app first using Windows Phone 8.1's powerful native sharing capabilities.
Gallery
Cloud Storage – For the purposes of a Windows Phone, this would be OneSrive and can be accessed using the OneDrive app which is built into Windows Phone 8.1. clue storage refers to storage that is not on your phone but rather "in the cloud". This means that you'll need an internet connection to access files stored in OneDrive. This is useful because if for instance you lose your phone, you still have access to your vcation photos and favourite stored from any device that can access OneDrive. If you make use of Microsoft's Office Suite, you can also leverage OneDrive to work more powerfully by editing documents you create on your computer, on your phone while on the move or even vice-versa!
Gallery
Other apps that allow you to manage storage include Cloudsix for Dropbox, Pocket Explorer and Folders. Do you have any other questions about managing files in Windows Phone? Let us know in the comments.