As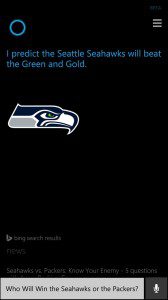 you may have heard, Cortana predicted the FIFA World Cup matches over the summer, and did exceptionally well. Since then 'she' has been predicting NFL games as well.
Ever since the NFL season began (2 weeks), Cortana has a 20-12 record in correct predictions. Although it's not as impressive as her 15-1 record in the World Cup, it is beating Las Vegas records (which is calculated using their own methods). The Las Vegas favorites have a 18-14 record.
These are Cortana's picks for week 3:
Tampa Bay Buccaneers vs. Atlanta Falcons — Falcons win, 71.6% chance

San Diego Chargers vs. Buffalo Bills — Chargers win, 51.5% chance

Dallas Cowboys vs. St. Louis Rams — Cowboys win, 55% chance

Washington Redskin vs. Philadelphia Eagles — Eagles win, 72.9% chance

Houston Texans vs. New York Giants — Texans win, 58.2% chance

Minnesota Vikings vs. New Orleans Saints — Saints win, 74.2% chance

Tennessee Titans vs. Cincinnati Bengals — Bengals win, 71.6% chance

Baltimore Ravens vs. Cleveland Browns — Browns win, 58.2% chance

Green Bay Packers vs. Detroit Lions — Lions win, 58.2% chance

Indianapolis Colts vs. Jacksonville Jaguars — Colts win, 64.4% chance

Oakland Raiders vs. New England Patriots — Patriots win, 82% chance

San Francisco 49ers vs. Arizona Cardinals — 49ers win, 58.2% chance

Denver Broncos vs. Seattle Seahawks — Seahawks win, 58.2% chance

Kansas City Chiefs vs. Miami Dolphins — Dolphins win, 53.3% chance

Pittsburgh Steelers vs. Carolina Panthers — Panthers win, 67.4% chance

Chicago Bears vs. New York Jets — Jets win, 58.2% chance
We will soon see how well Cortana does for the remainder of the season.
As an avid Basketball fan, I hope to see Cortana predicting NBA games when the season begins. What would readers like to see Cortana do in the future?
via BusinessInsider