| | | |
| --- | --- | --- |
| | | |
| Create a WhatsApp Audio folder under Pictures | Find your music under Music, copy and paste it into the WhatsApp Audio Folder. | Change the extension to MP4. |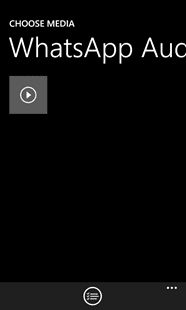 One day WhatsApp will finally release an update for their Windows Phone app which will probably let us send MP3's to other WhatsApp users.
In the mean time, due to the greater freedom in Windows Phone 8.1 and the bevy of file managers now available you can hack your way around the restrictions currently in place.
First, create a WhatsApp Audio folder under Pictures folder using your favourite file manager.
Next, find the music file you want to send under your Music folder, and copy it to the WhatsApp Audio folder.
Then using your file manager, rename the extension of your file from MP3 to MP4.
Then simply go to your WhatsApp conversation, click on the Attachment paperclip, select Album, find your file in the WhatsApp Audio folder, attach and send it.
The files will be received as MP3's even after being renamed as MP4s.
Thanks Swami Patil for the great tip.