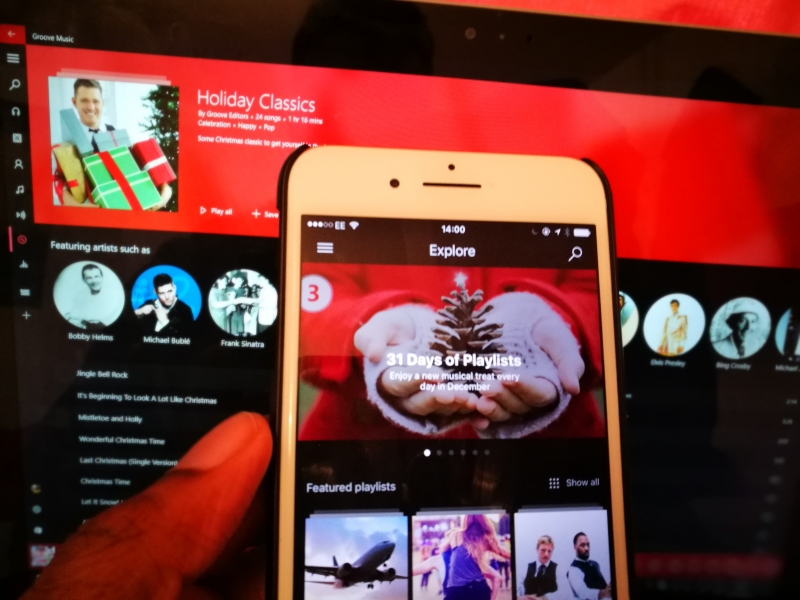 Groove Music is getting it in gear for Christmas this year with new experiences and offers for users. Aside from its free albums deal being offered worldwide to Microsoft Store users, the Groove team are also making Christmas more musical with a "31 days of Playlists" playlist being offered in the Groove app.
Located in the Explore tab, the "31 Days of Playlists" tab is a rotating playlist which is comprised of Christmas themed music – both classic and modern – from a variety of artists., The playlist will be updated every day, with Microsoft's Groove editors offering a "new treat every day" for presumably the 31 days of this month.
This is available not only for Windows 10, Windows 10 Mobile and Xbox users but also for iOS and Android users due to a new update which enabled the curated playlist features in their respective apps. Aside from that, Microsoft's "Your Groove" feature is also surfacing playlists of Christmas music based on Music already present in your library, if you already an avid Groove user – it may do you some good to check out what Microsoft has offered up for you (this feature is exclusive to the Windows 10 apps)
It should go without saying but this and the other experiences in this article are only available to Groove Subscribers. If you'd like to try out Groove this holiday, Microsoft is offering 4 months of Groove free for non-subscribers.