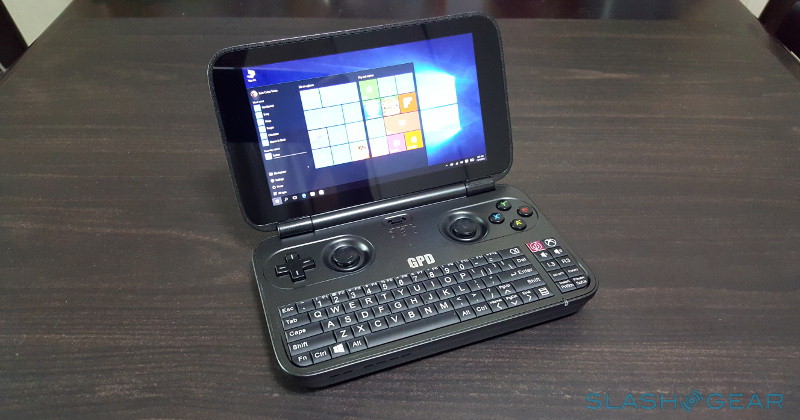 Nearly a year ago in January 2016 we wrote about the GPD Win Windows 10 handset which ran the full version of the desktop OS and which was designed for gaming.
The design for the GPD Windows 10 Game Console features  Windows 10 Home running on an Intel Atom x7-Z8700 processorwith 4 GB of RAM and 64 GB of expandable storage, and a 5.5 inch 720P screen.
Now after some tumult the device is actually shipping to some (but not all) backers and Slashgear had the opportunity to review it.
Calling it a Nintendo 3DS XL running a full Windows 10 (it can fit inside a case designed for the former)  they note the cramped keyboard and awkward lay-out made it unsuitable for extensive writing, which dashed one of my dreams.
The gaming keys do a bit better, with a full set as found on an Xbox or PlayStation controller, selectable via a physical switch. They note the build quality is surprisingly decent and the hinge strong and steady.
With an Intel Atom x7-Z8700 processor with Intel HD Graphics 405  GPU with DirectX 12 support, 4 GB of RAM and a 64 GB eMMC storage the handheld has the same specs as Microsoft's Surface 3. The battery's rated at 6900 mAh which should last around 5 hours of active use at most.
It also has a single USB-C port for both data and charging, a full-sized USB 3.0 port,  a mini HDMI type C port for a second or mirrored display, a microSD card slot that can support up to 128 GB cards and Wi-Fi and Bluetooth (no LTE).
The hardware can handle around 30 fps on the 720P screen, which has wide viewing angles but which is not bright enough to use in sunlight outside,  though the device is also limited by its small 64 GB internal storage and Slashgear notes the SD card slot does not seem to deal well with larger memory cards.
The full Windows 10 desktop is cramped on the small screen, but the tablet UI works well on the multi-touch screen.
The device reached around 16 fps on high and 24 fps on low settings in Devil May Cry and seemed quite playable. Skyrim on the other hand was "a disaster" and never peaked above 15 fps.
The battery lasts from 3 hours under heavy to 5 hours under light use, and the handset can be charged over USB-C from any 5V/2.5A source, meaning a good power bank could keep you going indefinitely.
As a PC the store apps make good use of the small screen, and using your finger is preferable to using the joystick as a mouse control. You can of course also connect it to an external screen, keyboard and mouse, either via the ports of wirelessly, and the device can do anything a Surface 3 can do, except use an active pen.
Slashgear calls it "the first truly mobile PC gaming device as well as an example of what a mobile Windows 10 could have been"  and while they think future versions may be better, the GPD Win has the advantage of being available now.
The full floated specs include:
SoC – Intel Atom x7-Z8700 processor
System Memory – 4GB RAM
Storage – 64GB eMMC flash + micro SD slot up to 128GB
Display – 5.5″ capacitive touch screen; 1280×720 resolution; Corning Gorilla Glass 3; In-Cell technology.
Video Output- micro HDMI
Audio Output – micro HDMI + 3.5mm headset jack
Connectivity – WiFi and Bluetooth
USB – 1x USB Type-C port, 1x USB 3.0 host
Battery – 6900 mAh non-removable Li-Po battery, good for 3 to 5 hours of online games.
Slashgear concludes:
Pros
Cons
Full Windows 10 PC in your pocket
QWERTY keyboard, mouse joystick for on-the-go computing
Decent CPU and RAM for most computing needs
Full-sized USB 3.0 *and* USB-C
Inconsistent build quality
Loud but low quality audio
Hard to press keyboard
Read the full 3600 word review at Slashgear here.
Lilliputing has also given the device a video review here:
The device is $340 at AliExpress.  Are any of our readers tempted?