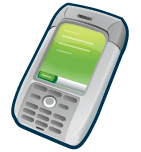 This is one many people have been waiting a long time for, and now its finally here. Google has just announced that Google Sync has finally come to Windows Mobile, allowing seamless exchange-like contacts and calender sync to your smartphone for free. In fact the technology is based on Exchange Activesync, which Google licensed from Microsoft.
Once you set up Sync on your phone, it will automatically begin synchronizing your address book and calendar in the background, over-the-air. Sync uses push technology so any changes or additions to your calendar or contacts are reflected on your device in minutes.
Sync is bi-directional, meaning changes made both on your phone or on the web are instantly reflected.  The data can also be restored to new devices should you lose your current one.
The service is currently in beta, so Google warns that a backup should be made before the software is installed.  For the brave the software is available to download from Google here.