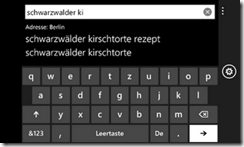 That was rather unexpected! Google has just announced the release of a Google Search app for Windows Phone 7!
The application has one stand-out feature – Google Instant Search, which produces search results while you type.
Otherwise the application is pretty standard, allowing search of websites, news and images, and uses the phone's location to make searches more relevant.
The app should be available for download from Marketplace today.
Via WPCentral.com