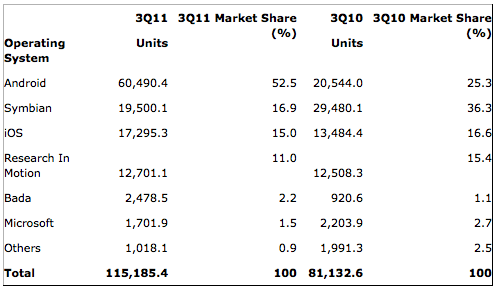 Gartner have released their numbers for Q3 2011, and as has become the pattern Windows Phone is in a holding pattern, with the OS not going up, but not really going down either.
The numbers include both Windows Mobile (which surely must be small by now) and Windows Phone 7 sales, and show a 0.5 million drop in shipments from last year, and is close to the 1.724 million shipped in Q2 2011.
Of course all of this is before Nokia steams into Windows Phone 7 sales, and if the huge marketing splash pays off we can expect a big return in the numbers for Q4 2011.  Nokia's Symbian OS still held second spot in global sales, ahead of the iPhone and behind Android,  despite a precipitous from last year and Q2 2011.
Roberta Cozza, principal analyst at Gartner noted that to compete with the Google camp and Apple, Nokia needed to expand its product portfolio and work with Microsoft on more ways to differentiate from the competition. He continued that tt the same time, Microsoft needs to add support for hardware features like LTE (Long-Term Evolution), which is becoming increasingly important.
"We don't expect to see a major impact on sales until the second half of 2012," concluded Cozza.
A Nokia LTE phone is rumoured for Verizon next year.
Besides the deal with Nokia, Microsoft has a number of other initiatives in place to turn the situation around, including training of carrier sales staff, allowing OEMs more independence in their advertising initiatives and expanding the number of markets addressable by Windows Phone by increasing the number of languages supported, which now includes 22 languages in Mango.
Do our readers think Microsoft can turn it around? Let us know in the comments.
Read more at PCWorld here.