Microsoft today announced that Gartner has recognized it as a Leader in the Content Services Platforms Magic Quadrant for 2018, thanks to its popular SharePoint platform. Microsoft is getting this recognition second year in a row. Microsoft was placed highest in Ability to Execute scale beating IBM and OpenText. More than 350,000 organizations around the world are now using SharePoint and OneDrive in Microsoft 365. Microsoft also mentioned that the active users grew over 90 percent, and data stored in SharePoint grew over 250 percent in the last year alone.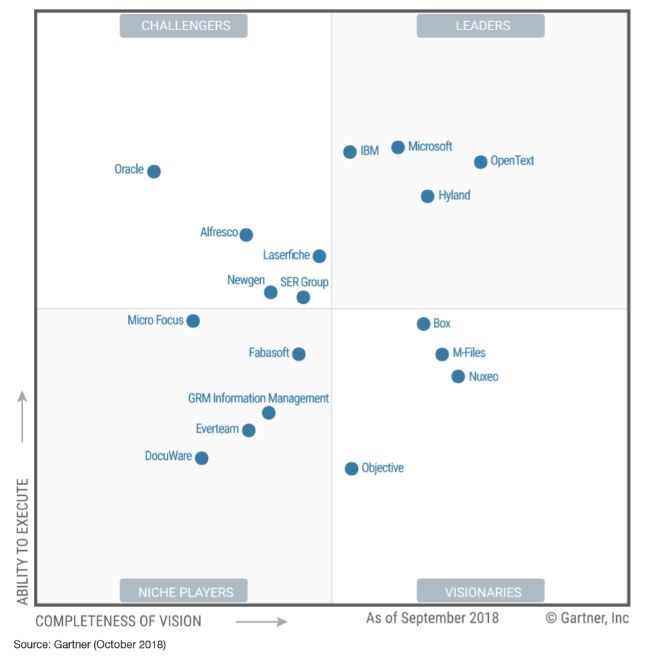 Gartner mentioned the following as strengths and cautions on Microsoft's content services platform:
Strengths
SharePoint reflects a continuum of services across the entire content life cycle, encompassing individual productivity, team collaboration, content management, process automation and workflow. It is enabled by a unified cloud-based platform that includes AI capabilities for content insight and process automation.

SharePoint has been improved to support increased single file sizes, larger storage volumes, optimized indexing and a better user experience with large file sets.

Reference customers scored SharePoint highly for its document handling functionality, metadata options and search, citing these as key features in developing corporate intranets.
Cautions
SharePoint as a stand-alone platform — without other Office 365 capabilities — requires add-ons and/or third-party tools for more complex scenarios such as records management, workflow and extended collaboration.

SharePoint does not include ad hoc capabilities or prebuilt solutions to address the requirements of specific verticals. Native integrations to external systems are not as strong as third-party integration solutions or a BPM layer.

Reference customers indicated that Microsoft's Consulting Services lacks technical expertise and referred to the Microsoft Product Group for advice, thereby delaying project completion.
Source: Microsoft