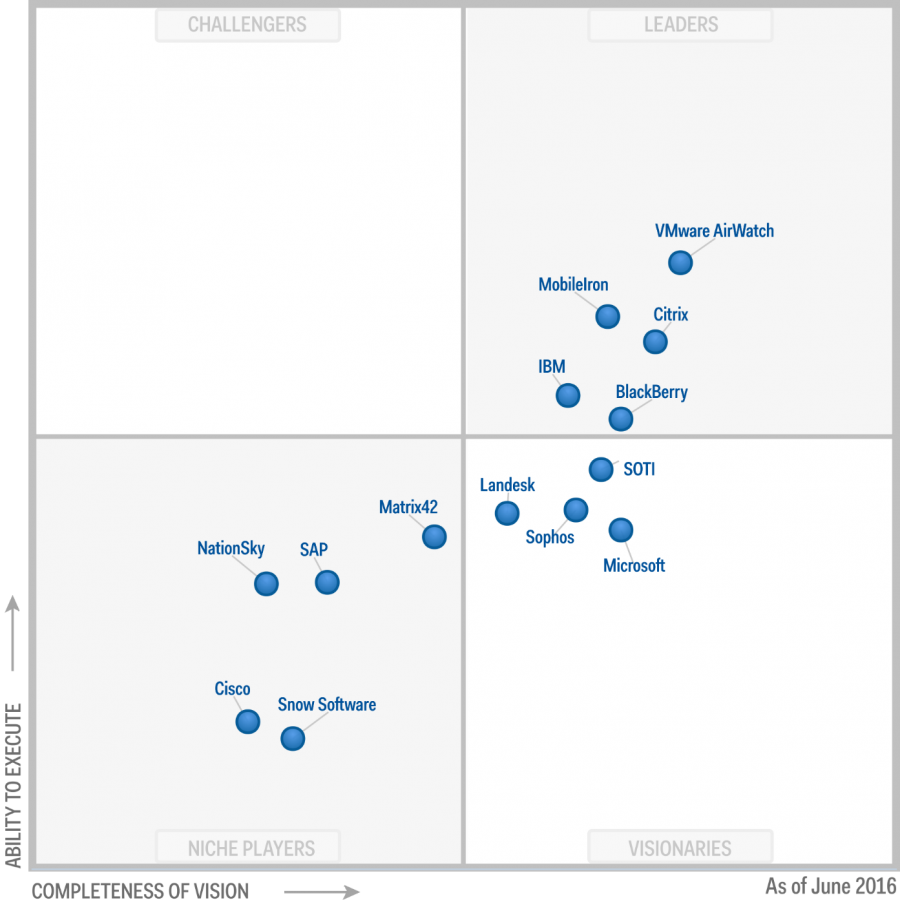 Gartner has recognized Microsoft with a visionary placement for Microsoft Intune and the Enterprise Mobility Suite in the Enterprise Mobility Management Magic Quadrant. Unlike the Identity and Access Management as a Service market, Microsoft has established players like AirWatch and MobileIron to take on. Right now, Microsoft's Enterprise Mobility Suite is growing at a rapid pace. Microsoft highlighted on their blog that during the Jan-Mar 2016 timeframe, for example, EMS grew 450% faster than VMware/AirWatch and 900% faster than MobileIron. EMS now has more than 27,000 unique paying customers and the number is expected to double in the coming months.
Gartner's comments on Microsoft EMS,
Microsoft's EMM product is the Enterprise Mobility Suite (EMS), which includes Microsoft Intune, Azure Active Directory Premium, Advanced Threat Analytics and Azure Rights Management. Intune provides the core EMM capabilities of MDM and MAM, and is only available as a cloud-based solution. Intune can be deployed in a stand-alone or hybrid mode, which integrates Intune with Configuration Manager (ConfigMgr) to support the management of user devices, Windows servers, Linux servers and Mac OS X from a unified console. Since November 2015, Intune has offered the ability to manage Outlook, the other Office 365 mobile apps and third-party ISV products that support Microsoft's standard without the need to manage the user's device.

Gartner frequently sees Intune used in what Microsoft calls "MAM-only mode," together with more mature EMM vendors that require clients to purchase full licenses for both products. Intune is increasingly deployed in organizations with Microsoft Enterprise Agreements (EAs), as EMS is frequently included. Intune is recommended for organizations of all sizes that have basic management requirements and are using Office 365 or Azure AD.

Strengths

EMS's Office 365 suite policy management gives it strong appeal as a total mobile productivity solution.

Organizations purchasing or renewing Microsoft EAs will find EMS to be a cost-effective mobility solution with capabilities that extend beyond just the support of standard mobility.

Intune has strong integration with ConfigMgr.

Cautions

Microsoft has made significant strides with Intune in the past year; however, its relative lack of maturity compared with leading products was apparent in several areas, such as the basic dashboard and self-service portal and its lack of Android for Work support.

Gartner frequently hears of product stability issues, especially with Android and Windows devices. Microsoft has stated that this has improved, but this has not been verified by Gartner, as the changes were made recently.

Clients report that the administrative interface requires three separate consoles and is difficult to use. Microsoft has promised to unify these consoles by year-end 2016.