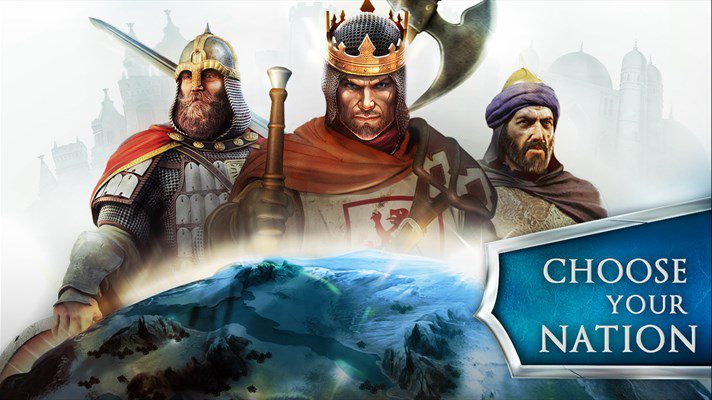 Gameloft's MMORPG March of Empires has seen a big update. The game challenges users to break away from reality and ascend to the throne through the art of war. Claim your title as Highland King, Northern Czar or Desert Sultan, and join this genre-redefining strategy game where you will wage constant war for real territorial conquest!
It features:
THE EMPIRE IS IN YOUR HANDS

Dispatch armies, construct buildings, and chat with players anytime

CHOOSE YOUR TITLE: KING, CZAR OR SULTAN

 Be one of 3 unique factions, each with their own strategic strengths

CONQUER REGIONS. BUILD A NATION.

Invade territory to watch your kingdom grow daily
Build regional structures you and your allies can benefit from

ENGAGE IN TACTICAL BATTLES

Picking the right battle formation is more effective than mere numbers
Time your actions to take advantage of the ever-changing seasons

JOIN IN MASSIVE ALLIANCE WARFARE

Plot with other players using the alliance management system
The update brings:
TAKE A CHANCE IN THE ROYAL LOTTERY

Win Exclusive Rewards you can't get anywhere else
Play using Royal Tickets earned from Daily Quests

QUICKLY EQUIP YOUR CHAMPION

Design custom Equipment Presets for your Champion
Easily switch between Presets so they always have the right gear for the job
Unlock more Preset slots as you advance

MORE NEW FEATURES & IMPROVEMENTS

Bookmarks: Navigate the World Map and check in on strategic locations with ease
5 New VIP Levels: You can now reach as high as level 15 for even greater rewards!
Improved Equipment Menu: It's now easier to gear up your Champion for battle
Added Brackets with improved rewards for Common Lottery
Longer Names: Player names can now be up to 10 characters long
Alliance Help: Ever wonder exactly who has your back? Alliance Help now reports that for you!
Improved filters to find more active alliances when searching for one
First 20 Alliances in New Realms will receive Regions to populate them with members
See the launch trailer for the game below:
Download it here from Windows Store.
Developer: Gameloft.
Price: Free+