AE Doodle Dash is a simple jump and run game – it is a little bit like Dalton – the awesome. It is a easy mini-game, but a nice time killer.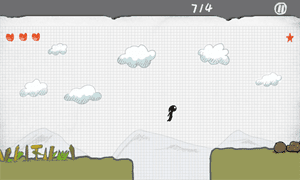 Overal score: 4/5
The gameplay is nice, the graphics are cool (but really nothing special), and you can have fun with this game for a long time.
Gameplay: 4/5
The gameplay is very simple: touch to jump; touch longer to jump higher. There are no special moves like swipe down to land softly, but it is still fun.
Presentation: 4/5
The graphics have no special textures, no mind blowing effects, or no super realistic look, but that doesn't matter, because the graphics match with the game. Well, the style is nothing special; we already know it, for example, from Doodle Jump or Dalton – the awesome, but the game is nice to look at.
Lasting value: 4/5
As I already mentioned, this is a mini-game. You probably won't have enough fun with it to play it for hours, but it is a nice time killer which just doesn't get boring that fast. If you are in the subway, this may be a really good game for you.
Doodle Dash is free and can be found here.