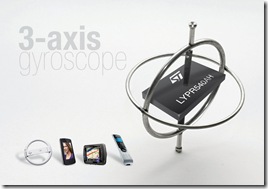 If you have played a game on the HTC HD or other phones which are G-sensor enabled, you might have noticed that it is not very precise. That is about to change, with STMicroelectronics releasing a new type of accelerometer.
Here is some more information:
STMicroelectronics has just announced its new 3-axis MEMS gyroscope, which promises 360 degree "angular-rate detection for high-precision 3D gesture and motion recognition in mobile phones, game controllers, personal navigation systems and other portable devices." The gyro is said to provide two separate outputs for each of the three axes at the same time: a 400dps full-scale value for slow motion, and a 1,600dps full-scale value to detect and measure speedy gestures and movements.
The company initially announced the new technology about a year ago and said it would be in mobile phones by now.  This has clearly been delayed somewhat, but the sensor should be in devices by early next year.
Read more at Engadget here.
WM