Securing your personal information and online data cannot be overstated, as we live in a digital age. As cyber threats constantly increase, a VPN is the best way to counteract these circumstances.
The statement above applies even more to Windows 11 users, targeted excessively since the OS was released. This article will explore the best free VPNs for Windows 11 you can try right now.
Below, you can observe a world map showing the hubs of global threat activity created by Microsoft, with a whopping 76,119,592 devices that were attacked and also some of the biggest threats.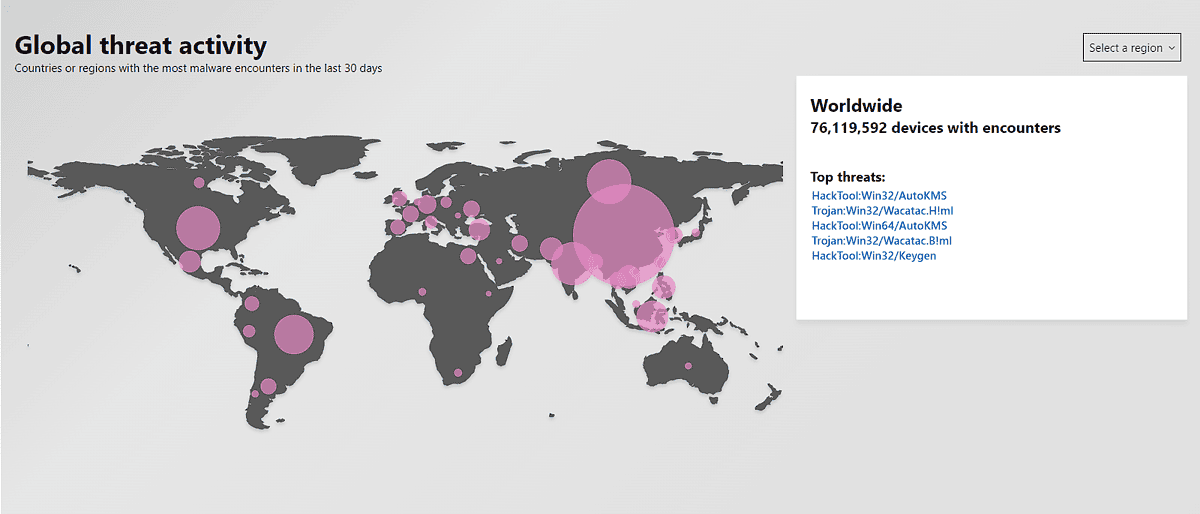 This guide will cover everything you need to know for a safe and secure online experience, no matter where you are located.
| | | | | | |
| --- | --- | --- | --- | --- | --- |
| VPN Service | Licensing | Security and Privacy | Connection Speed | Server Network | Streaming/Torrenting Support |
| Hide.me | 10GB Free Data/Month | Strong encryption & Multiple VPN protocols | **** | Servers in multiple countries | Basic protection for light usage |
| ProtonVPN | Freemium | Secure Core Technology & Strict no-logs policy | ***** | 1300+ servers in 55 countries | P2P support on all servers |
| Hotspot Shield | 15GB Free Data/Month | Military-grade encryption & No-logs policy | ***** | 1800+ servers in 80+ countries | Optimized for streaming and torrenting |
| Hola VPN | Free With Peer-to-Peer Network Acceptance | Peer-to-peer network & Access to region-restricted content | Varies based on peer resources | Shared resources from peers | Bypass region restrictions |
| UrbanVPN | Free | Strong encryption & Access to geo-restricted content | *** | Limited server network | Basic privacy, limited server options |
| ExpressVPN | Freemium | Strong encryption & No-logs policy | ***** | 3000+ servers in 94 countries | Optimized for streaming and torrenting |
| CyberGhost | Freemium | AES 256-bit encryption & Strict no-logs policy | ***** | 7000+ servers in 91 countries | Dedicated servers for streaming and torrenting |
Now, let's dive into the details of each software mentioned above and explore their capabilities further.
1. Hide.me – Protocols for Privacy (10GB Free Data/Month)
Hide.me is our first fantastic VPN software that, even though it is not accessible, offers its users a 10GB data allocation every month, making it a viable option for users who don't want to pay for this type of service.
This software uses strong encryption and a variety of VPN protocols to ensure basic-level protection during your online experiences. Even though the connection speeds are not high-end, the number of servers across the planet makes it a reliable VPN service.
Pros
It uses multiple security protocols and good encryption
It can be used on almost any platform
Perfect for light VPN users who need basic online security
Cons
Connection speeds are moderate when compared to other software
Has restrictions on heavy streaming and torrenting
2. ProtonVPN – Security Meets Simplicity (Freemium)
ProtonVPN is our second entry in the top 3 best freemium VPNs for Windows 11 users, and it has gained this position because of its focus on security and simplicity. Offering complex services to users and making them accessible and easy to use is incredibly daunting, but ProtonVPN has done it perfectly!
This app ensures that its privacy policies are always transparent and are based on Swiss jurisdiction, making it highly safe for your data. To complete this great software, the developers also included robust encryption features and a secure core architecture, which ensures stability and versatility.
Pros
Prioritizes user privacy and data protection
The Secure Core feature redirects your data through multiple servers
Unlimited bandwidth for the free version
Open-source build
Cons
The number of server locations is limited when compared to other options
The free plan is missing some of the advanced features
3. Hotspot Shield – Enhanced Security and Browsing (15GB Free Data/Month)
Hotspot Shield offers users a 500MB data allowance daily, making it a total of 15GB of free VPN data per month. This is one of the best free data offers on the market besides the free software.
The Catapult Hydra protocol built into this powerful VPN software allows users to browse the web quickly. It provides stability, making it an excellent online gaming or streaming option.
Pros
500MB data allowance/day (15GB total)
Catapult Hydra protocol for enhanced speeds and connection stability
Malware protection
User-friendly interface
24/7 customer support
Cons
A limited number of server locations for the free version
The data cap could be too low for some heavy VPN users
4. Hola VPN – Peer-Powered Freedom (Free by Using Peer-to-Peer Network)
Hola VPN offers users an exciting way to access free VPN without the need to pay for it by using a peer-to-peer network that shares your PC's idle resources with the VPN network.
Even though this method works perfectly, this type of networking has fluctuating speeds, depending on the number of users who chip in and how close they are to you.
Pros
An innovative way of using VPN software for free
Works perfectly across platforms
Great community support
Cons
Connection speeds are variable
Accessing the VPN relies on resources from other peers, which can affect performance
5. UrbanVPN – best free VPN for Windows 11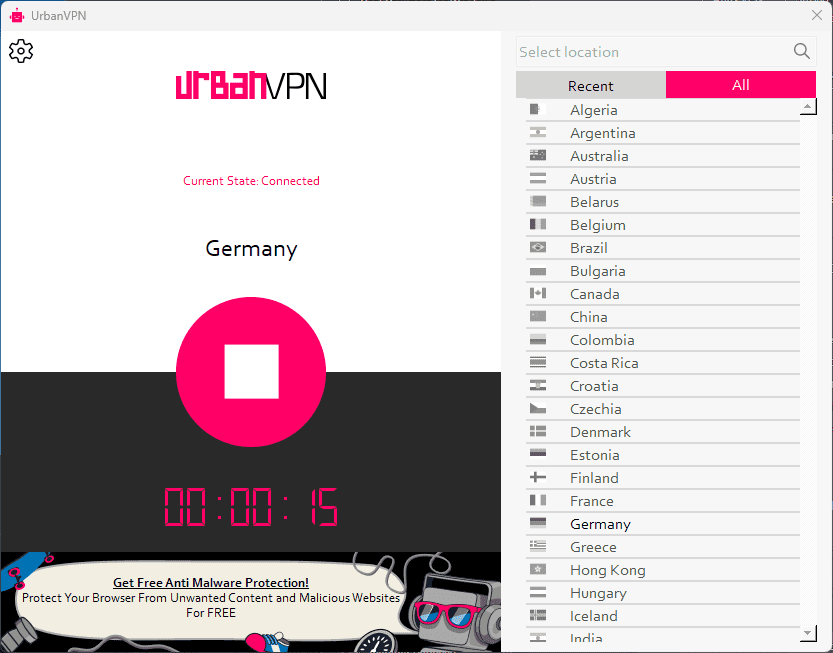 UrbanVPN allows users across the globe to protect their privacy and online identity from any third-party sources by ensuring encrypted connections. This software enables users to explore geo-restricted content without complications and the web without worries.
Even though server options are limited compared to Freemium and Premium software, UrbanVPN is an excellent option.
Pros
Robust encryption protocols to keep you safe
Allows you to access geo-restricted online content
Is available across platforms
Offers email support and access to Knowledge Base
Cons
The public servers are more limited compared with other options
The server location will determine connection speeds
6. ExpressVPN – Powerful Online Guardian (Freemium)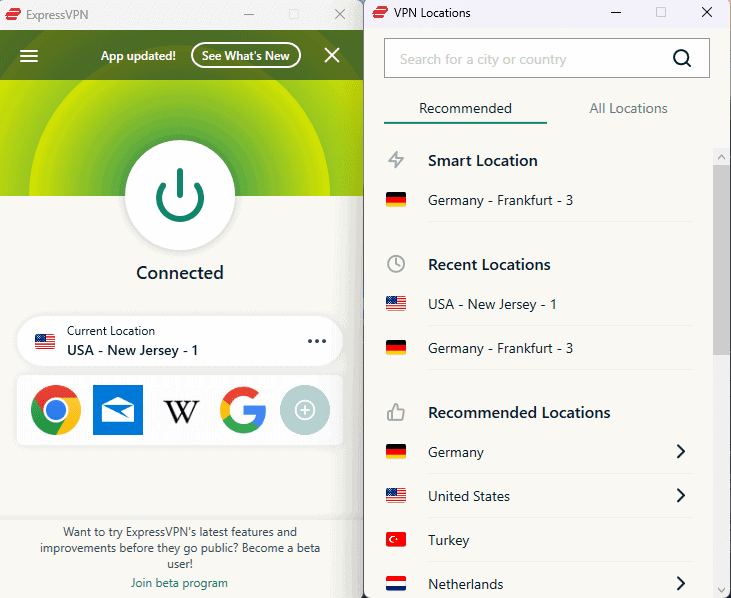 ExpressVPN is the top freemium software for protecting your online privacy and security. This powerful app is one of the best free VPNs for laptops running Windows 11, as it offers accessible protection against third parties without affecting your battery excessively.
The vast server network spread across the globe ensures that your browsing sessions will always be seamless and contributes to the browsing speed on any of their servers.
To round this software up, the user-friendly interface ensures that you can access any option with a few clicks and makes it accessible to beginners and experienced users alike.
Pros
Impressive browsing speeds for streaming and browsing
Powerful encryption protocols
A vast server network offers you access to a variety of IP addresses
User-friendly interface
Cross-platform compatibility
Cons
The free version is limited regarding the number of simultaneous connections.
Accessing the premium features will require a subscription.
7. CyberGhost – Protect Your Digital Footprint (Freemium)
CyberGhost is the last pick for the best freemium Windows 11 VPN list for a good reason. The wide array of tools included in CyberGhost makes it stand out from the crowd, and the user-friendly interface ensures that users can take advantage of this technology without worrying about their proficiency levels.
The software uses military-grade encryption and an automatic kill switch, and the company has a strict no-logs policy so that you can explore the web without any worries.
Pros
Easy-to-use interface suitable for all users
Automatic kill switch and powerful encryption features
No-logs policy
A large number of server coverage for accessing geo-restricted content
Allows multiple simultaneous connections
Cons
Some servers might have a slower speed than others
The free version has some limitations that are only resolved by getting the premium plan
---
As we live in a digital landscape constantly threatened by many privacy infringements, using a VPN is a wise decision. Our article covers some of the best VPN software for Windows 11 and includes free and freemium applications.
Choosing any of these options will be helpful, but only you can decide which VPNs above suit your needs completely.
Please share this conclusion with us using the comment section below.