When you're on a budget, premium software like PowerPoint just isn't ideal. However, there are now countless free options on the web to create educational slides and photo album slideshows. What's more, some don't even bombard you with ads or apply watermarks to your projects.
We put the leading tools to the test to help you find the best free online slideshow maker with no watermark requirement.
So, strap in, here's what we found.
Best Free Online Slideshow Makers (No Watermark) Comparison
| | | | | | |
| --- | --- | --- | --- | --- | --- |
| Free Online Slideshow Maker No Watermark | Text Slides | Free Limitations | Music/Audio | Presentation/ Playback Mode | Share/Collaborate |
| Adobe Express | Yes | 30-seconds per slide | Yes | Yes | Yes |
| Icecream Slideshow | Yes | 10 slides | Yes | Preview only | No |
| Media.IO | No | 25 slides | Yes | Preview only | No |
| Google Slides | Yes | Up to 100MB | Yes | Yes | Yes |
| Canva | Yes | Limited access to asset library | Yes | Yes | Yes |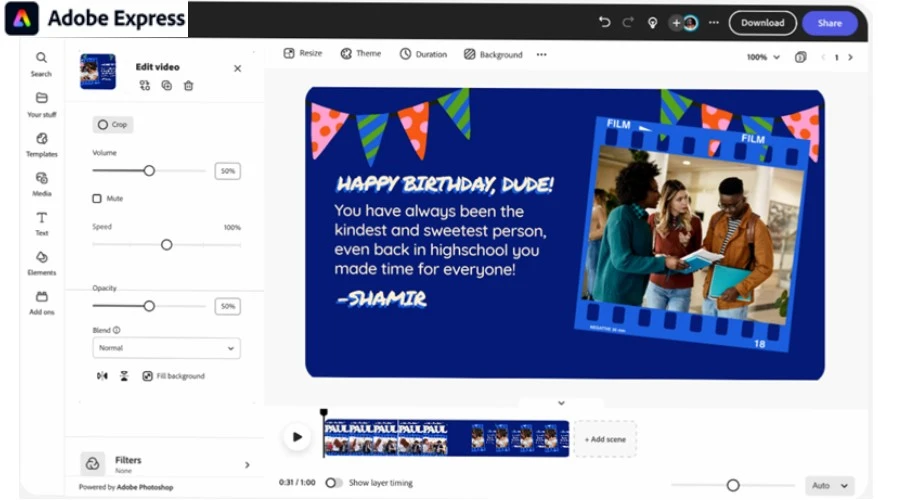 Adobe Express is a free, online graphic design suite that allows anyone to create professional-looking content without any prior design experience. One of its tools is an online slideshow maker that has excellent options for a free service and no watermark in sight.
Start by choosing from one of its many slide-ready templates, then upload your own media, or choose from Adobe's own vast library of images, videos, and music.
Unlike some free slideshow makers, adding text is a key feature and you get to choose from a range of fonts, colors, and formatting. Position it wherever you want on your slides with a simple drag function.
Adobe also has a huge selection of backgrounds, shapes, elements, and effects, so you're guaranteed a unique look to your slideshow.
When finished, hit download, or directly share it with others. You can even run the slide right there within your account.
You can't go wrong with a free slideshow maker from a design giant like Adobe.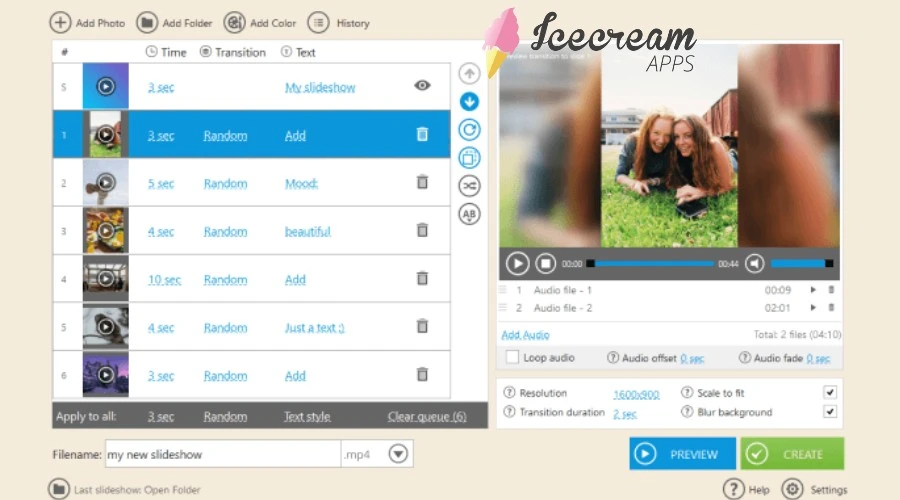 Technically, Icecream's suite isn't an online tool, but it's one of the best slideshow makers on Windows and deserves an honorable mention.
The easy-to-use software has a clean interface and beginners can easily add music and images to their slides without getting lost. You can adjust the timing, transition style, add text, and more, with just a few clicks.
It accepts images and audio files via drag-and-drop, but not video. However, you are essentially creating a video out of these elements.
Icecream has an almost AI-like creation option, where it applies the transitions and styles automatically with one click. But you also get full control if you need a specific type of slideshow in a certain order.
For slides with text or chapters, the best method is to start with the add color button. This creates a solid background slide of a single color or color gradient, which you can add text and images to, resizing them as you go.
Drag-and-drop or arrows let you easily reorganize your slides, and you can also rotate and duplicate slides and images. The time column is for manually adjusting the amount of time each slide stays onscreen. Transitions can also be customized, from the transition type to the time the transition takes.
The preview function lets you check how things look at any time before finalizing the project with no watermark. Uploading it directly to YouTube, Google Drive, or Dropbox. Save it to your PC, or even burn it to a disc.
While it's free, the pro version unlocks 4K quality and unlimited slideshow duration.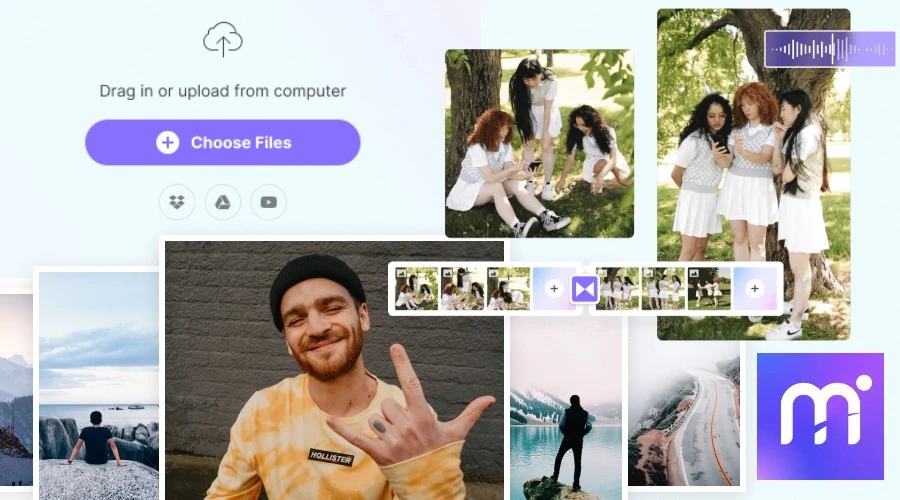 Media.IO has a whole suite of useful web tools, but today we're just going to focus on its simple and effective slideshow maker.
To get started, all you have to do is drag-and-drop the images and videos onto the choose files button and you can also benefit from built-in support for Dropbox and Google Drive. You can add more files later so don't worry if you leave something out in the beginning.
It then generates a timeline view and you can click and drag on the files you imported into a different order. Moreover, the toolbar on the right has a lot of useful settings, such as aspect ratio, cropping, duration between slides, and how to crossfade between slides.
What's most impressive is the ability to add music to all or part of your slideshow.
Media.IO Slideshow Maker supports multiple file formats to export your project, including common video formats like MP4 and MOV. As well as more obscure formats like SWF and FLV.
Essentially, you get a video or video-style animation file. Either way, you don't get much control over presenting your slide, other than hitting play. However, it's still impressive for a free online service. Plus, there's no watermark!
Try Medi.IO Slideshow Maker Online
4. Google Slides – Best for work presentations and slideshows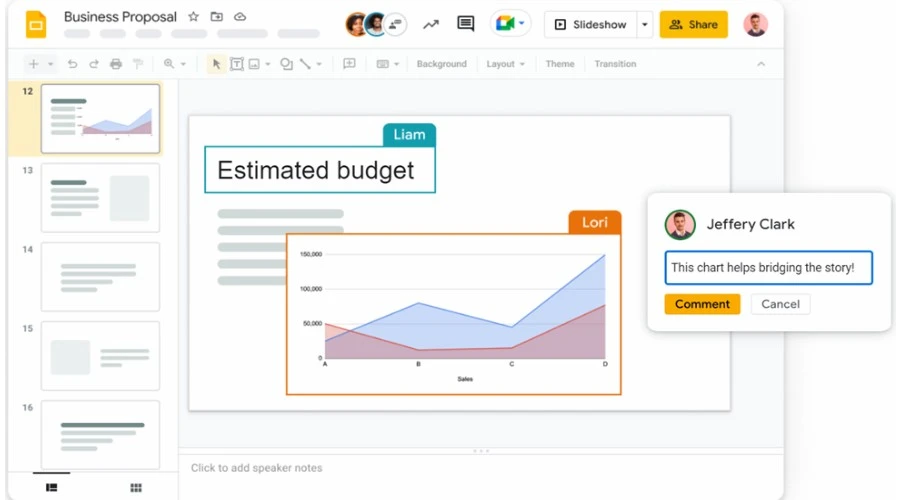 Google Slides is designed for both individual and collaborative use, making it a powerful tool for creating engaging and visually appealing slideshows and presentations. It's probably the closest to PowerPoint for free and is often applied in the workplace and education.
To start, you can either open Google Slides from your Google Drive or directly through the Google Slides website. You can create a new presentation from scratch or choose from a variety of pre-designed templates. These templates cover different themes and styles to help you get started quickly.
Once you're in the editing interface, you'll see a slide canvas where you can add various elements like text boxes, images, shapes, charts, and more. You can customize the layout of each slide by adding different elements, arranging them, and formatting them according to your needs.
5. Canva – Largest variety of templates and graphical elements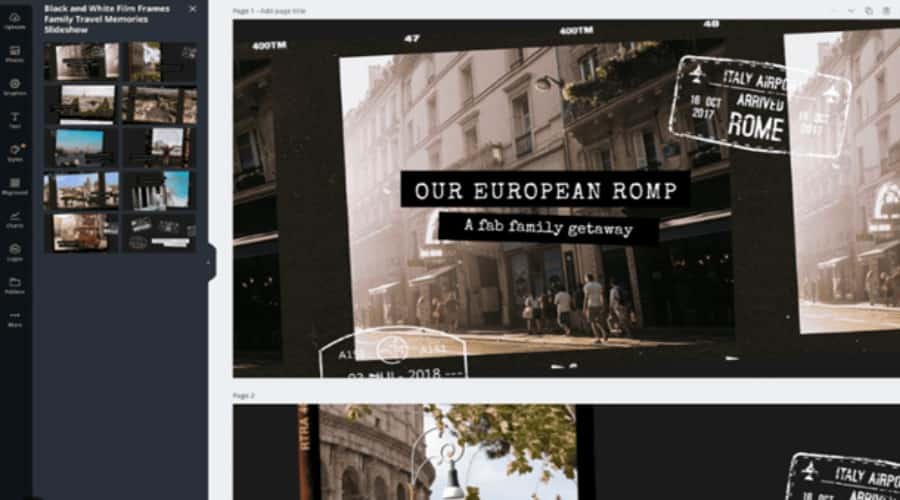 As part of Canva's comprehensive suite of online graphic design tools is a robust slideshow maker that makes it easy for beginners and experts alike to create fun and professional slideshows.
Choose from a huge selection of pre-designed templates suitable for different purposes, such as business presentations, educational slideshows, marketing materials, and family photos.
Customization options are endless, with the background colors and images, text and chapters, images and photo importing, and other elements from Canva's vast library of stock photos, illustrations, icons, and graphics.
Consider adding transitions, animations, music, and other effects to make the slideshow more engaging to your audience. What's more, it all works with a simple drag-and-drop interface.
You can collaborate with others by sharing access to the presentation and allowing real-time editing. Moreover, the presenter view lets you present the slideshow online and stay on time using presenter notes and a timer. Canva Live directs your audience to a special link where they can answer polls, ask questions, and give real-time feedback through emojis.
It should be noted that the free version of Canva has a 5GB storage limit and a smaller library of graphics and templates. However, it has no watermarks, and you can also download the finished video file to use offline.
Conclusion
Creating visually appealing slides and presentations on the web can be a headache, especially with so many options out there. But from the list above, you can find a free online slideshow maker with no watermark that's perfect for you.
From a few photo slides to an elaborate and engaging presentation with music and effects, there is a solution for everyone.