Have you recently been on an adventurous vacation, celebrated a wedding anniversary, or had a big birthday party? There must be lots of photos and videos left, so why don't you turn the still image into a captivating movie-like slideshow?
Starting with Windows 10, the basic Windows Live Essentials Movie Maker was discontinued, meaning you have to rely on third-party apps to create stunning slideshows.
In this article, we're going to talk about the top 6 slideshow makers for Windows 11. It's one of the most commonly used operating systems around the world, and only the best programs have been adapted to this version so far. So in this post, you'll find the most powerful, up-to-date, and feature-rich apps. Now let's see what these 6 programs for Windows 11 can impress you with.
Adobe Creative Cloud Express is a premier all-in-one content creation tool that lets you create stunning slideshows from various media formats. You can easily create social media posts, videos, photos, and documents like flyers, brochures, and resumes.
The app's user interface is very well designed, meaning you will feel right at home with the software and its various menus. You can select from a vast collection of professionally-designed templates to suit various themes and occasions. Since all the templates are already loaded onto the app, you can directly create a slideshow on the canvas of the platform you will post it to.
Just because it is targeted at social media does not mean Adobe skips out on the editing capabilities. You can edit nearly every aspect of your slideshow to achieve your desired effect. You can add artistic filters, overlays, and transitions to make your video visually appealing.
Simple, intuitive interface

Endless customization

Multimedia integration

Dynamic transitions and effects

Easy sharing and collaboration

Adobe Creative Cloud integrations
Get Adobe Creative Cloud Express
Movavi Slideshow Maker is also one of the best slideshow apps for Windows 11 that you can download for professional use. It has an uncluttered interface and up-to-date filters and effects. You will also find a big collection of pre-designed titles for your slideshow. You can even record a video and audio without leaving the program. 
Movavi Slideshow Maker will also be useful for those who want to directly upload a slideshow to YouTube, Google Drive, Vimeo, or other platforms. But before downloading the app, check out your hard drive because the slideshow maker will take up quite a lot of space on your PC.
Clear interface

Library of free music

Audio adjustment tool

Filters and titles available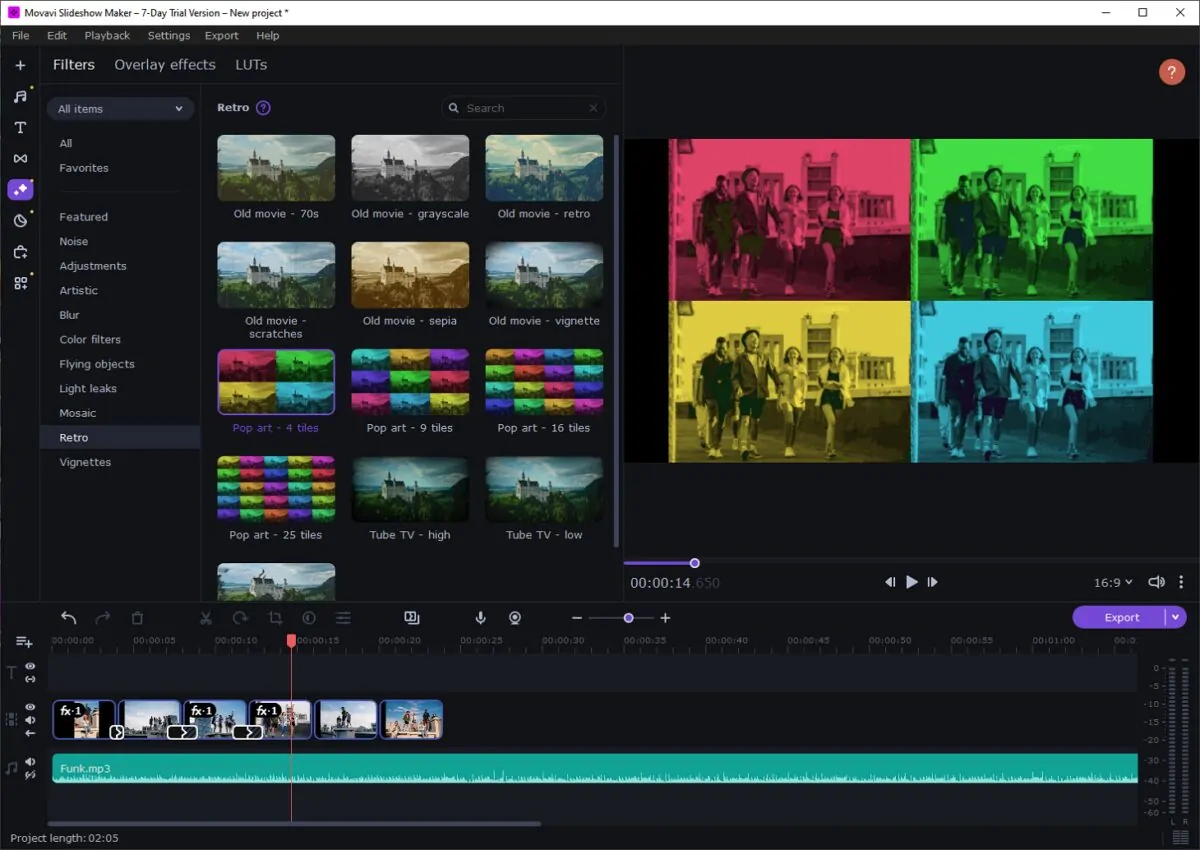 Icecream Slideshow Maker will be a suitable option for you in case you want a Windows app for basic edits. It's an extremely user-friendly program that even a child can master. There's a handy feature that you can find in hardly any slideshow maker – if the aspect ratio of the added files is different, you can not only crop them to avoid black bars but also make the extra parts blurry so that you don't lose any part of your image. You'll find lots of file formats to save a slideshow in – QT, M4V, WMV, MKV, MOV, MP4, and AVI.
However, the functionality is rather limited in Icecream Slideshow Maker – it will only allow you to add up to 20 files, and in the free version, you can create just 10 slides. You can write text on slides and add background music and transitions but don't expect any pro-level tools from this app.   
Ease of use

Big collection of effects

Popular file formats available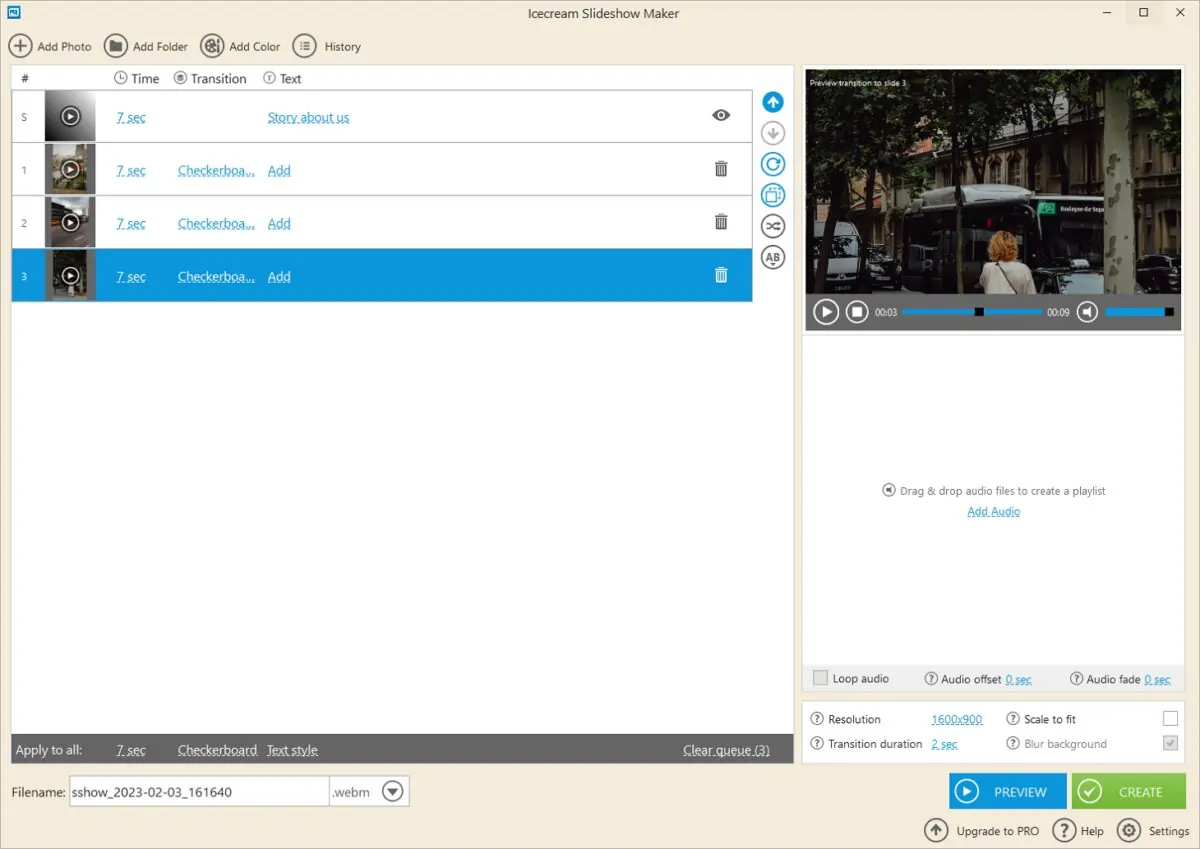 Magix PhotoStory Deluxe is a slideshow-making program available on a monthly and lifetime subscription basis. The software is also quite demanding in its technical requirements, so some computers might not be powerful enough to run it. Seems expensive and overrated? Let us prove it's worth it. 
In Magix PhotoStory Deluxe, you'll find over 1500 effects, templates, and transitions. What's more, you can include slides with photo collages that you create right in the software. Another interesting point is illustrating your trip route on an animated travel map. This will look especially impressive in a slideshow with vacation pictures and videos. And if you don't want to spend much time editing a slideshow, do it in one click using the automatic Photostory Wizard. It will generate the titles, transitions, effects, and music all by itself. 
Export in 4K 

Themed templates

Over 300 transition effects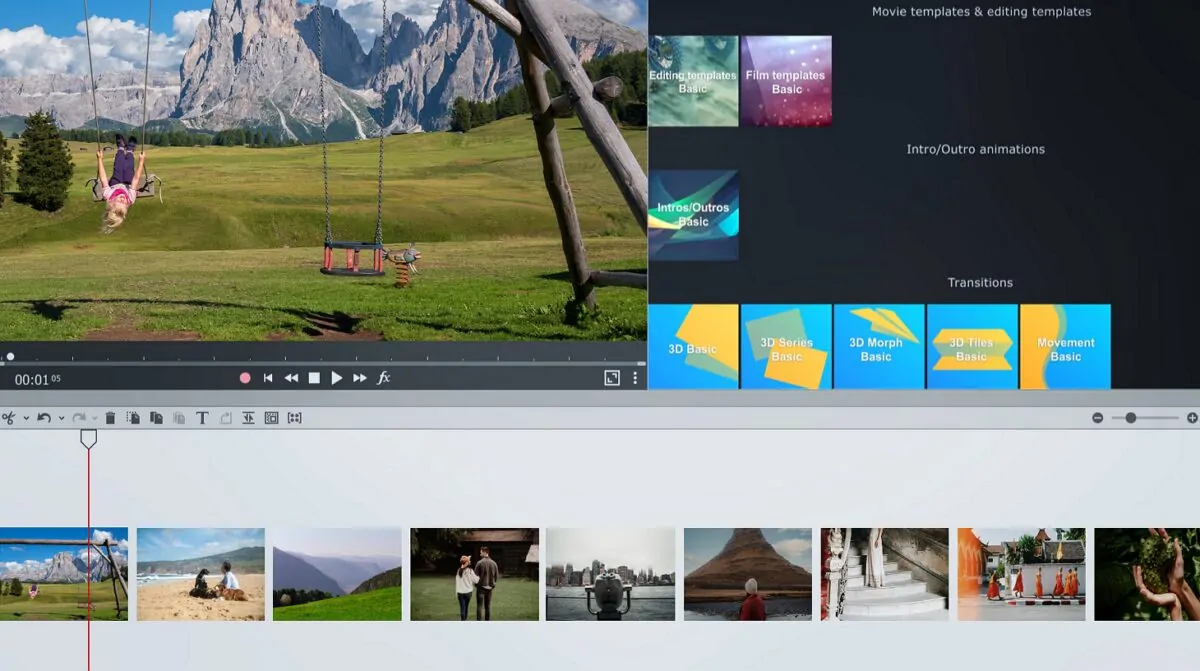 Another slideshow-making software for Windows 11 you can try is PhotoStage Slideshow Software. You can use this program to create customized slideshows with video clips and pictures. The photos you add can be rotated, cropped, and color corrected in this slideshow maker. It also enables you to add music, narration, captions, transitions, effects, and even an image overlay. 
There's also a big collection of clipart organized into several folders: Face Decorations, Holiday Decorations, Speech Bubbles, etc.  
However, the interface of PhotoStage might be difficult to navigate at first. Besides, the free version is only available for non-commercial use. 
4K and full HD support

Photo editing tool

Collection of sound effects & clipart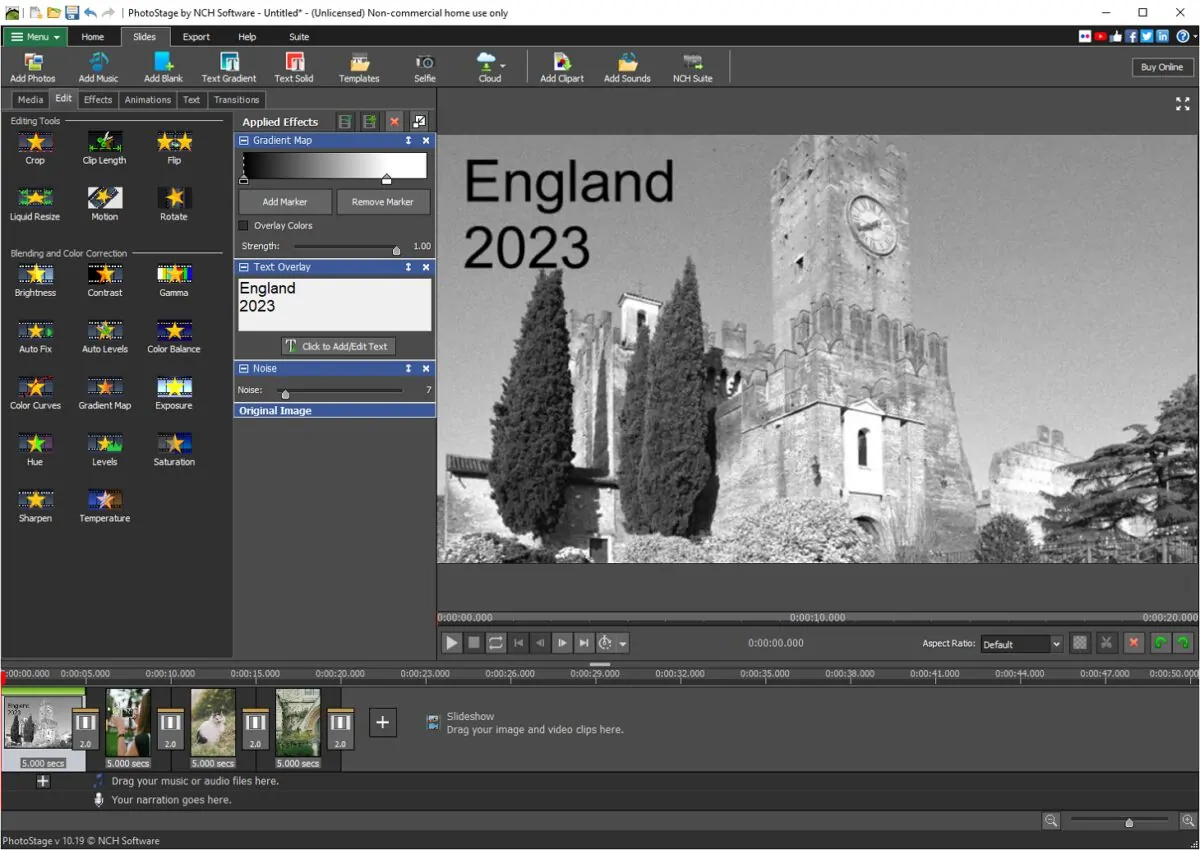 Get PhotoStage Slideshow Software
iSkysoft Slideshow Maker is the program you can install if you need a simple slide maker for basic adjustments. Even though the interface looks dated and there aren't many features in the software, iSkysoft Slideshow Maker still offers some commonly used tools. For instance, you can add your files and animate the slides with motion effects like Zoom In, Zoom out, Rotate, Top to Button, etc. 
The app also offers a big library of transitions, clipart, sound effects, and customizable titles. By the way, you can burn the slideshow to DVD and choose one of the pre-designed previewable intros for your video. 
Motion templates

Customizable intros

Direct sharing 

DVD converter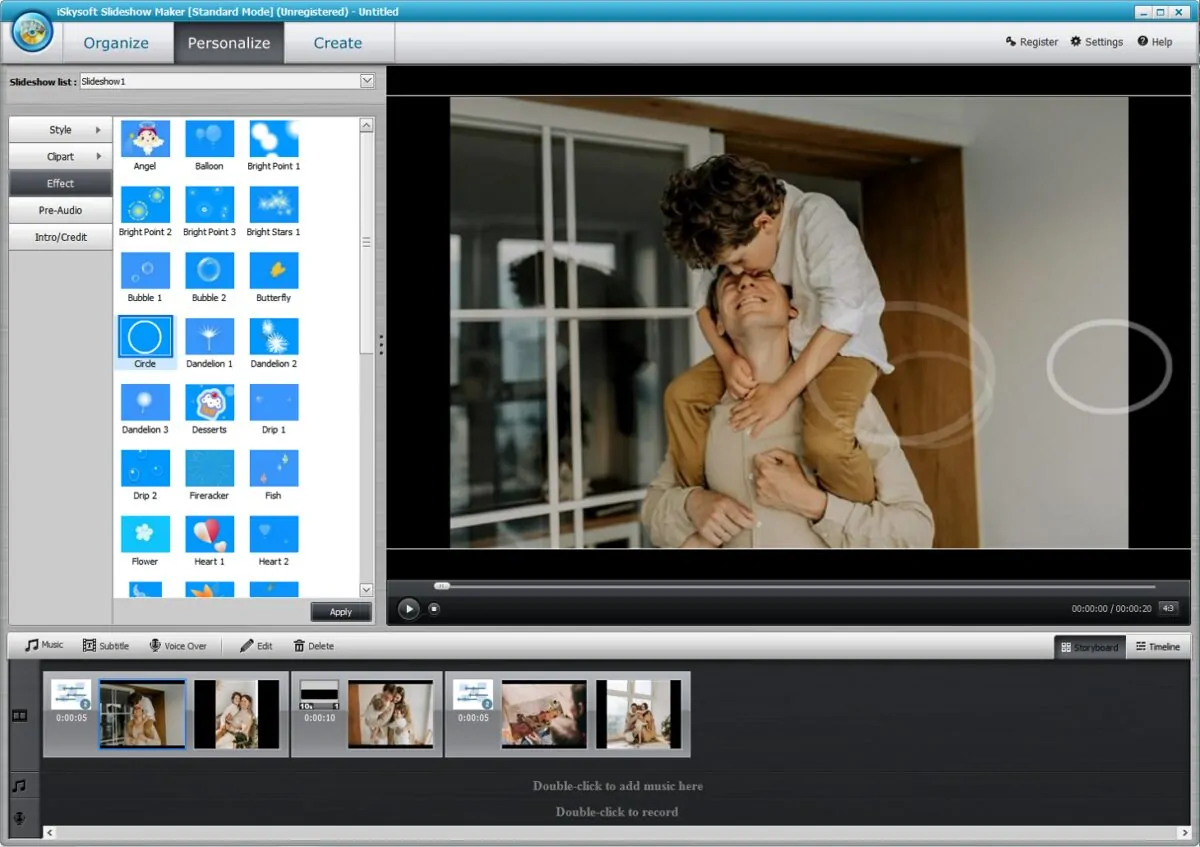 Summing Up
Now you know how to make a slideshow on Windows 11 using the best tools available in 2023. We showed you 6 programs that will let you create stunning videos on your PC with any level of skill you have. They also differ in their technical requirements, price, and sets of tools. So look through the post one more time and choose the slideshow maker that will meet all your needs.