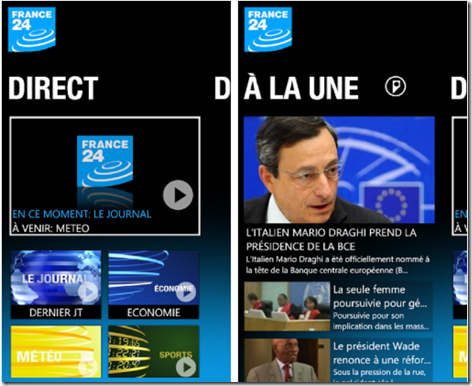 French international news channel France 24 have launched a new application for Windows Phone platform. You can watch live news or read them, etc,. The app is available in English, French and Arabic languages.
Boris Darlet, multimedia marketing manager at France 24 on the new Windows Phone app,
"France 24 offers a particularly rich innovative user experience while retaining its brand universe that has been adapted to the specificities of the Windows Phone 7 OS. The result exceeds our expectations, with a brand new ergonomic design, thanks of a fruitful collaboration with all the teams at Microsoft,"
Application Description:
Get all the latest world news, 24/7, on your Windows Phone with FRANCE 24!
Watch FRANCE 24 live and access the latest news bulletins, business and sports reports, and weather updates.
Discover our complete range of programs available on demand.
Find the news important to you with the geolocalisation function.
Its available for free from the marketplace.
via: Broadband tv news