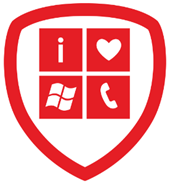 To the consternation of numerous iOS and Android fans, many FourSquare users were awarded "I love Windows Phone" badges without actually feeling that way about our favourite OS.
It turns out the problem was a bug with how the badge was awarded.  Instead of awarding it only to those who check in to a Windows Phone event or follow "WindowsPhone" on Foursquare, it was instead unlocked with everyone checking in.
Foursquare has responded to complaints by saying:
"We just wanted to send you a quick note to apologize for mistakenly awarding you the 'I Love Windows Phone' badge earlier today. Who's to say what you love, anyway? If you do love the phone, you can unlock the badge fair and square by following foursquare.com/windowsphone and attending one of their awesome events. Until then, we'll keep it out of your trophy case – and stop meddling with the affairs of your heart."
We say Microsoft could not have had a better stunt to raise awareness of Windows Phone amongst FourSquare users if they planned it 😉
Read more at Mashables here.