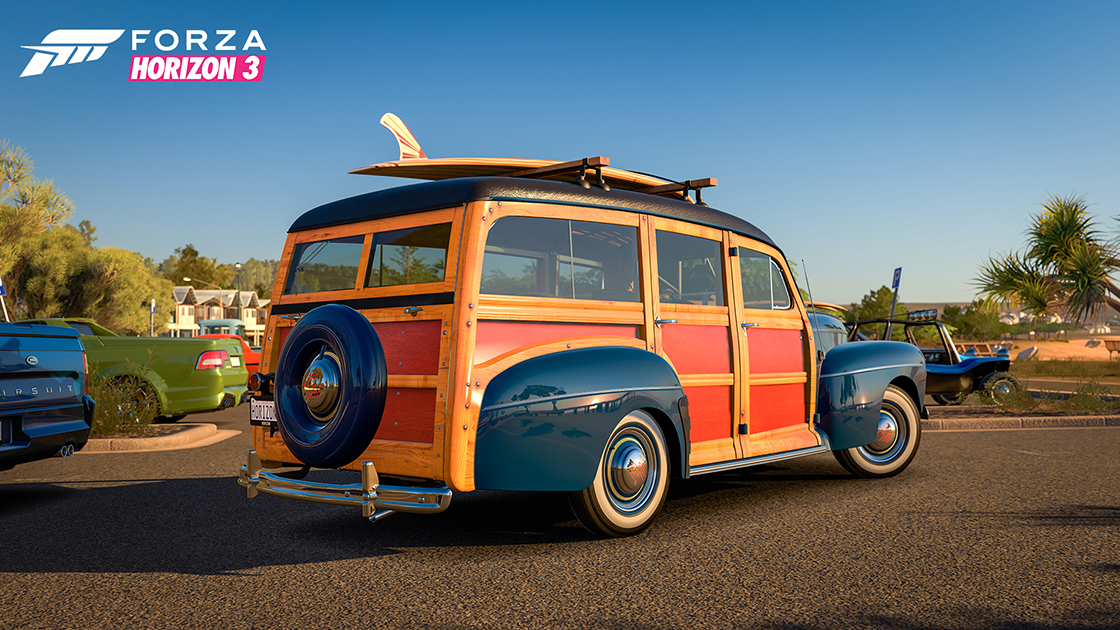 In this week's edition of the Forza Horizon 3 Garage, Microsoft is announcing new cars which includes the 1972 Reliant Supervan III, 1946 Ford Super Deluxe Station Wagon, 2015 Alumi Craft Class 10 Race Car and more. Also, this is the final 65 cars for Forza Horizon 3 they are announcing before launch.
Leading the way is an automotive eccentricity of epic proportions – the Reliant Supervan. This utilitarian oddball from Britain earns the distinction as the first three-wheeler appearing in a Forza game. Next up, the Ford "woody" with its sumptuous lines and textures is a visual delight and more than ready to attack any backwoods trail it encounters. Finally, buggies are big in Forza Horizon 3 and the Alumi Craft Class 10 checks all the boxes as a proven warrior.

The mix of cars found in the remainder of our announcement includes some of the great rally racers of the past, American and Australian muscle and super cars from the world over.
Find the full week 6 list of cars below.
| Year | Make | Model |
| --- | --- | --- |
| 1992 | Alfa Romeo | 155 Q4 |
| 1965 | Alfa Romeo | Giulia TZ2 |
| 2015 | Alumi Craft | Class 10 Race Car |
| 2012 | Aston Martin | V12 Zagato |
| 2011 | Audi | RS 3 Sportback |
| 2016 | Audi | R8 V10 plus |
| 1991 | BMW | M3 |
| 1969 | Chevrolet | Camaro Super Sport Coupe |
| 1970 | Chevrolet | Chevelle Super Sport 454 |
| 1960 | Chevrolet | Corvette |
| 1970 | Chevrolet | Camaro Z28 |
| 1953 | Chevrolet | Corvette |
| 1995 | Chevrolet | Corvette ZR-1 |
| 1968 | Dodge | Dart Hemi Super Stock |
| 1962 | Ferrari | 250 GTO |
| 2008 | Ferrari | California |
| 2013 | Ferrari | 458 Speciale |
| 1965 | Ferrari | 250LM |
| 1952 | Fiat | 8V Supersonic |
| 1995 | Ford | SVT Cobra R |
| 2013 | Ford | Shelby GT500 |
| 2017 | Ford | Focus RS |
| 1946 | Ford | Super Deluxe Station Wagon |
| 1973 | Holden | HQ Monaro GTS 350 |
| 2004 | Honda | Civic Type-R |
| 2015 | Jaguar | F-Type R Coupé |
| 2015 | Jaguar | XKR-S GT |
| 2011 | Koenigsegg | Agera |
| 1988 | Lamborghini | Countach LP5000 QV |
| 2010 | Lamborghini | Murciélago LP 670-4 SV |
| 1988 | Lamborghini | Jalpa |
| 1986 | Lamborghini | LM 002 |
| 1968 | Lancia | Fulvia Coupé Rallye 1.6 HF |
| 2015 | Land Rover | Range Rover Sport SVR |
| 1997 | Lexus | SC300 |
| 2002 | Lotus | Esprit V8 |
| 1956 | Lotus | Eleven |
| 2004 | Maserati | MC12 |
| 2010 | Maserati | Gran Turismo S |
| 1997 | Mazda | RX-7 |
| 2011 | Mazda | RX-8 R3 |
| 2016 | Mazda | MX-5 |
| 2015 | McLaren | 650S Coupe |
| 2015 | McLaren | 570S Coupé |
| 1954 | Mercedes-Benz | 300 SL Coupé |
| 1998 | Mercedes-Benz | AMG CLK GTR |
| 2012 | Mercedes-Benz | SLK 55 AMG |
| 1986 | MG | Metro 6R4 |
| 1992 | Nissan | Silvia CLUB K's |
| 1969 | Nissan | Fairlady Z 432 |
| 1993 | Nissan | Skyline GT-R V-Spec |
| 1997 | Nissan | Skyline GT-R V-Spec |
| 1966 | Nissan | Silvia |
| 2010 | Noble | M600 |
| 1984 | Opel | Manta 400 |
| 1984 | Peugeot | 205 T16 |
| 2000 | Plymouth | Prowler |
| 1987 | Pontiac | Firebird Trans Am GTA |
| 1972 | Reliant | Supervan III |
| 2013 | Renault | Clio RS 200 |
| 2016 | Rolls-Royce | Dawn |
| 2015 | Subaru | WRX STi |
| 1973 | Toyota | Corolla SR5 |
| 2012 | Ultima | GTR 720 |
| 1967 | Volvo | 123GT |