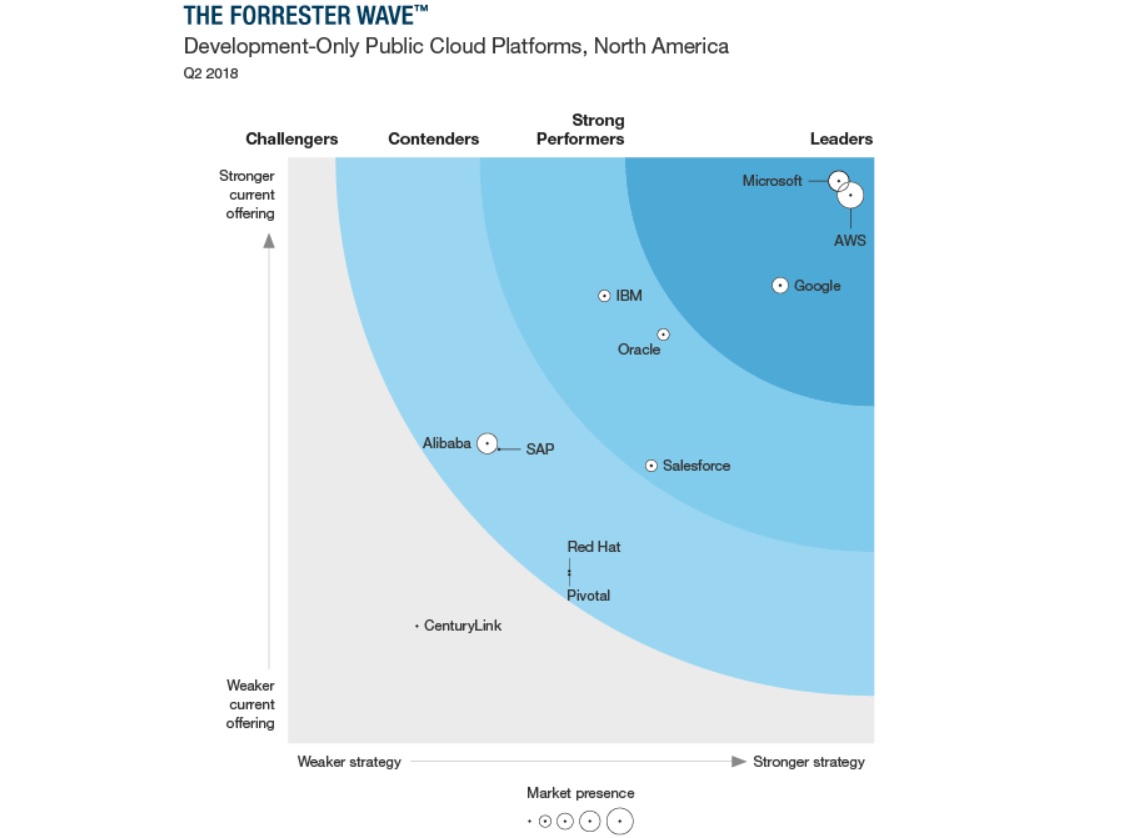 Forrester Research yesterday published its latest Forrester Wave report on platform-as-a-service (PaaS) platforms after evaluating the strengths and weaknesses of top public cloud PaaS vendors. Alibaba, Amazon Web Services (AWS), CenturyLink, Google, IBM, Microsoft, Oracle, Pivotal Software, Red Hat, Salesforce, and SAP were part of this evaluation. As you can see from the image above, AWS and Microsoft Azure are the current leaders in this market with Microsoft having a slight edge over AWS based on the stronger current offering.
Forrester mentioned that Microsoft took advantage of its expertise in development tools, database, business reporting to create important product differentiation from AWS and this strategy has made them the solid No.2 cloud player behind AWS. Forrester also highlighted that Microsoft Azure has the best developer experience among top cloud vendors.
All developer tasks are readily accessible and integrated, with CI/CD pipelines and ample preconfigurations available. Azure includes a huge roster of services, including many database services, among which the Azure Cosmos DB is uniquely suited for large, distributed applications. Overall operational tools and features are strong; Microsoft also operates a leading data-center network and offers Azure Stack for on-premises deployment. Microsoft offers a range of AI services on Azure, but only Azure ML is distinctive. 
Forrester listed the following as the negative things about Azure:
In natural language processing, Microsoft trails AWS.

While Microsoft provides FaaS, its administrative tooling is limited.

Reference customers praise Azure's ease of use, reliability, and flexibility, as well as Microsoft's support and guidance. They complained that Microsoft sometimes rushes new services to market without complete documentation;

O

ne reference customer would like to see less proprietary technology from the vendor.
You can read the full report from the link below.
Source: Forrester