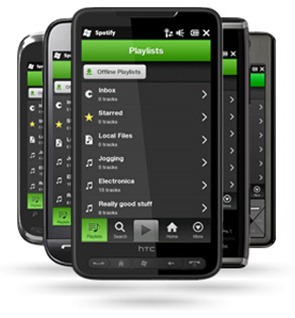 We have just heard recently that Pandora will not be there at the Windows Phone 7 marketplace launch, but the good news, for Europe at least (where we can not get Pandora in any case) is that Spotify, the popular music streaming app will in fact be available for Windows Phone 7, and in fact has just been released for Windows Mobile 6.x
Spotify writes:
If you're using a Windows 6.x phone you're good to go. For the best Spotify experience on Windows Mobile we recommend the following handsets: HTC HD2, HTC Touch Pro 2, Samsung Omnia 2, Sony Ericsson Xperia 1, Sony Ericsson Xperia 2.

First of all, you'll need to have a Spotify Premium account. If you don't have already have one you can create an account or upgrade your existing account here.

You can install Spotify either by going to Marketplace on your phone or by going to m.spotify.com in your mobile web browser.

Installing from Marketplace:
Open Marketplace on your phone and search for Spotify. Once you've found it, simply press "Install" and Spotify will be installed in your phone.

Installing from m.spotify.com:
Go to m.spotify.com and select to "manually select your version" unless your phone is recognized automatically. Choose your phone model in the list and press "OK". Follow the instructions on your screen and Spotify for Windows Mobile will be installed.

That's it. Done.
As usual for other handsets and operating systems Spotify Premium is required, which runs to about £10 per month, but the brand may make it worth while over Zune streaming for example, which is about £1 cheaper.
Read more at Spotify here.
Via Winmobile.se