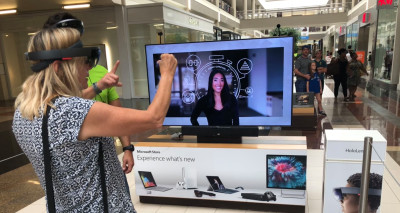 Venturebeat reports that Microsoft is doing mall demonstrations of the Hololens at location with Microsoft Stores.
The demonstrations are reportedly in fenced-off areas in the corridors rather than inside stores and delivered a terrible impression of the device and it's AR experience.
Venturebeat writes:
I won't tell you that I was either thrilled or blown away by the HoloLens demo, because it was actually a distracting and odd way to experience AR. The tutorial was blessedly short: Users are shown the two key ways they'll interact with the hand gesture-sensing interface — "bloom" open your hand to open a menu; pinch your fingers to select an item like tapping — and then get to put on the headset and try a couple of demo apps.

Thanks to the bright mall lighting and people constantly walking by, HoloLens' small, ghostly viewing area is particularly hard to see. It appears as a tiny window floating within your field of view, and it's hard for anything in that window to make much of a positive impression. That's doubly true when both you and the gesture recognition system are struggling to recognize menu navigation commands against constantly moving backgrounds.

The mall demos I saw didn't really show off conventional "this object looks like it's actually popping out of the floor" or "here's a sign pointing you towards the store" AR, either. I had to keep moving my head to see enough of a moving video map of the solar system to actually select something for more information, and the colors were so desaturated that nothing looked particularly real.
Venturebeat speculates that Microsoft wanted to win some mindshare ahead of the arrival of the Magic Leap One, which will soon be showing up in AT&T stores. It sounds rather that the demo would however drive those interested directly into the hands of the competition.
Thankfully it appears that this did not include too many people, with Venturebeat reporting that actual crowds we're lining up to try out an HTC Vive demo in the same store, with many more interested in the actual market-ready VR experience.
Do our readers agree Microsoft waited too long to claim the title of Mixed Reality Innovator in the public eye? Let us know below.
Source: Venturebeat.