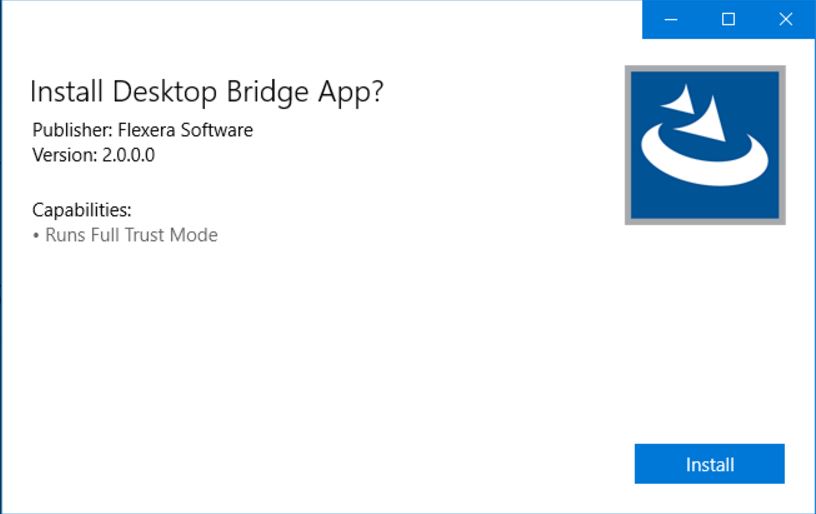 Yesterday, Microsoft started accepting Windows desktop apps in Windows Store. These desktop apps must be converted into Universal Windows Apps through Microsoft's Desktop App Converter. Microsoft also said that they are partnering with Flexera Software (InstallSheild), FireGiant (WiX) and Caphyon (Advanced Installer) to add support for the Desktop App Converter to their Windows Installer technologies.
Today, Flexera Software announced the latest release of InstallShield. InstallShield 2016 enables the transition to Microsoft's Desktop Bridge (formerly known as Project Centennial) and Windows Server Apps (WSAs) with automatic compatibility tests and continuous build capabilities.
"We are thrilled that developers can now use InstallShield 2016 to distribute their existing apps and games through the Windows Store or existing distribution methods and access Universal Windows Platform capabilities," said Kevin Gallo, Corporate Vice President for the Windows developer platform at Microsoft.
"Software vendors need the flexibility to support new technologies for Windows 10 and Windows Server, while still supporting Windows 7 and Windows 8 with MSI installers," said Maureen Polte, Vice President of Product Management at Flexera Software. "Working in parallel with Microsoft, we are making it easy for our customers to transition their existing InstallShield MSI projects to build Universal Windows Platform and Windows Server App packages. InstallShield is the only product that enables developers to test their apps for compatibility with the Desktop Bridge and WSAs – saving countless hours of time, effort and investigative work."
New Feature Highlights:
Tests Apps for Compatibility with UWP and WSA App Packages
Scans an InstallShield project in seconds and saves hours of investigative work by automatically identifying potential compatibility issues between the application and Microsoft's Desktop Bridge and WSA packages.
Creates UWP App Packages from MSI Projects
Prepares apps for the Windows Store and simplifies the software installation experience on Windows 10 by building UWP app packages from existing InstallShield projects. Builds Windows Installer and UWP app packages to support all deployment scenarios.
Generates WSA App Packages from MSI Projects
Prepares apps for Nano Server and Windows Server 2016 deployments by building WSA packages from existing InstallShield projects, while installing apps on Windows Server 2008 and Windows Server 2012. Simultaneously creates WSA packages and Windows Installer packages to easily support all deployment circumstances.
Combines Multiple UWP App Packages into One
Develops installations in modules for easier deployment and maintenance, and merges the components and dependencies at build time into a single UWP app package for the Windows Store. For direct distribution outside of the store, InstallShield 2016 bundles UWP app packages and other dependencies together with a Suite/Advanced UI installer.
Maps MSI Table Relationships
Developers gain insight into how MSI tables are related for more precise editing and troubleshooting, and quickly see how those changes will impact the installer to reduce unintended consequences of manual table editing.
Customizes Windows 10 Tiles
Makes Windows Installer and UWP desktop applications "pop" on the Windows 10 Start screen with vibrant tiles for increased user engagement.
More details on this release available here.